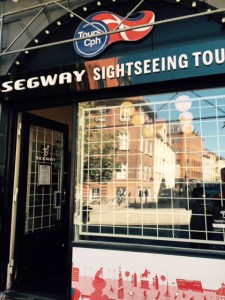 To see Copenhagen and learn as much as possible (without taking a car or bus), we couldn't think of a better way than by Segway tour.  The tour company's business office was easy to find and, walking from the Tivoli Hotel, we even arrived early enough to find a table and relax for a few minutes at a nearby café.
Side note:  I don't have a picture to show you of the "Copenhagen Downtown Hostel" next door to the tour office because it would have felt weird and ultra-tourist-ish to take pictures, but this very hip place had large mats of fake grass, giant lounge cushions, and outdoor heaters on the sidewalk/up against the building – it was packed with men…lounging, drinking beer, and napping.  We thought it looked like a very cool place.  Back to the story…
When it was time for the tour, we stepped into the small headquarters for Segway Tours Copenhagen and met our very nice guide (the only excuse I have for not making a note of his name is that I was suffering from jetlag).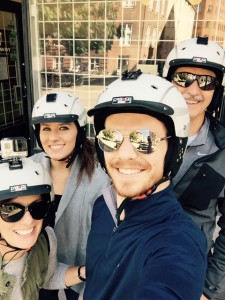 I'm no great Segway expert, but all three of the tours I've taken on these fun little vehicles began the same:  Helmet-fitting and safety lesson first, followed by some Segway practice, and then the tour.  I was really happy to find that I could get a helmet with a GoPro camera mount on it and that the helmets were wired for sound – we would hear our guide talking through in-helmet speakers!  Our family was touring with another small group and we'd be zipping around Copenhagen mostly via the city's extensive bicycle path system.  The number of bicycles in Copenhagen is staggering!  Luckily, we all managed to share the bike lanes safely.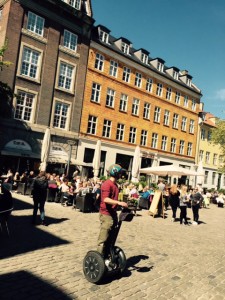 We had a tremendous amount of fun and adventure!  We sped (okay, a Segway can't really "speed", but you get the idea) around the city, stopping here and there for brief lessons on Copenhagen's history, culture, economy, and monarchy.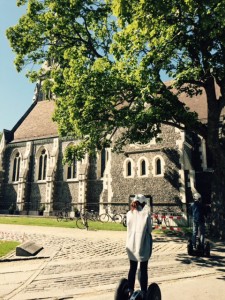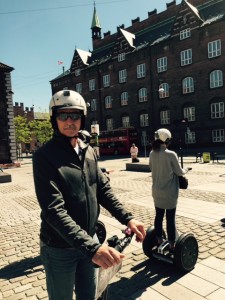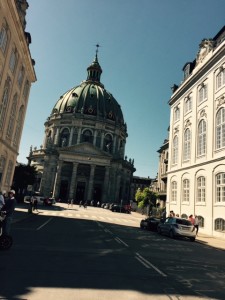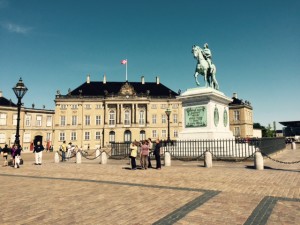 There was an enormous amount of construction going on everywhere – Copenhagen is a very proud city and is constantly being improved.  The tour was fast-paced and we were amazed by how much we got to see!  Churches, castles, opera house, shopping areas, statues, gardens and so much more!
Have you seen Pitch Perfect 2?  At the end, when they're competing in Copenhagen and the colorful waterfront buildings are shown – you know that part?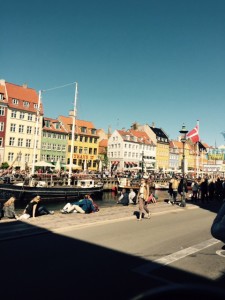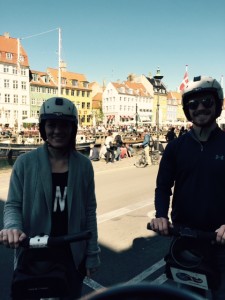 We were THERE!  That area is called "Nyhavn" and it is absolutely gorgeous and incredibly crowded!
If you've never been on a Segway, I have to tell you – it's a phenomenal way to sightsee and I highly recommend it!  Pros:  Easy to learn and maneuver, fun to ride, allows you to cover a lot of ground in a short time.  Cons:  It's like standing in one place for two hours and can be hard on your feet and legs, you have to pay close attention to what's going on around you and watch your wheels so they don't run into anything – this is a hazard that can make you fall off!
I'll continue our adventures next week with a recap of Tivoli Gardens and the first day of our cruise on the Disney Magic.  In the meantime, you can check out the YouTube video of random Segway tour scenes filmed on the helmet-cam here.