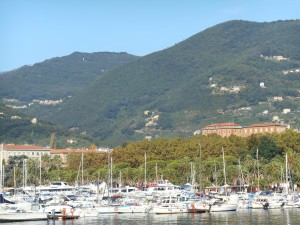 This is Part 5 of the trip report for our 2013 Cruise aboard the Disney Magic in the Mediterranean.  See the end of this post for links to the report's other parts.
Tuesday, August 13, 2013.  We have arrived in Italy and this day would be a BIG deal!  Courtesy of Rick Steves' advice, I'd contacted Florence Tours and arranged for guide Paola Migliorini to meet us at the cruise port in La Spezia to take us to both Pisa and Florence.  Paola would show and teach us as much as possible, then have us back to the Magic on time.  Kind of a challenging plan.  Rather than the closer and more popular port of Livorno, Disney has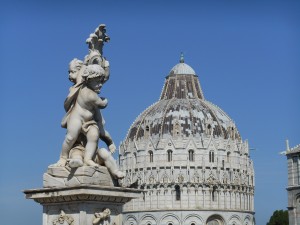 chosen La Spezia – a two hour drive from Florence!  Again, having only one day meant we had to prioritize, so we were basically just planning to make a very short stop at Pisa's famous tower before jumping right back into the van to spend as much time in Florence as possible.
The first obstacle – getting off the ship!  Once again we were up, dressed and ready to go – only to find ourselves in a holding pattern with all the other non-Disney excursion families waiting to take a tender to shore.  Finally, we were able to leave the ship and, once we reached the port on the tender, we dashed along the waterfront to find Paola holding our name sign and looking a bit worried about how much of the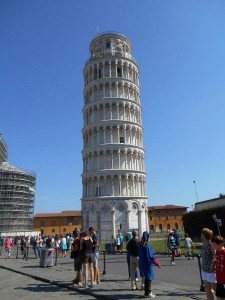 day had been wasted.  She'd been able to park very close so we jumped in the van – I rode shotgun – and hit the road.  I kind of felt sorry for Paola at this point – she put on her microphone so she could make a presentation about everything we were seeing in the Tuscan countryside and Raymond and I were the only one's awake and listening.  I could tell she was not angry really, but puzzled about Megan, Grant, Joseph, and Jason falling asleep so quickly!  I did my best to explain how much we'd packed into our trip so far and hoped that made her feel better.
First stop:  Pisa's Leaning Tower.  Looked just like we expected it to and we quickly started snapping pictures.  Walking around we noticed "keep off the grass" signs all around a grassy area – filled with tourists!  Finally a lone policeman with a loud whistle came around and shooed everyone off the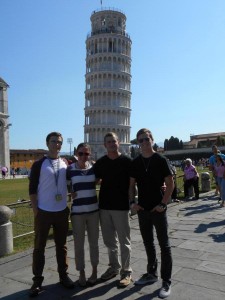 lawn – it was hilarious watching people try to quickly pose for pictures before the angry whistle-blowing cop got to them.  Back in the van, Paola took us for a quick tour around Pisa – pointing out the gorgeous architecture and beautiful bridges over the river Arno.  We learned that the shutters on all the buildings must be painted with only certain colors (green, brown, tan) in keeping with the town's history.  Had there only been more time, we would have loved to see and do more here.
A bit about packing for day tours in Italy.  I studied quite a lot (shocking, I know) about how to dress appropriately, how best to blend in and not to stand out too much as a tourist (pick my pocket, please), and, most importantly, how to dress properly for entering cathedrals in Europe.  I ended up asking everyone in our group to avoid shorts, jeans, graphic tees, and tennis shoes/sneakers.  Important:  Shoulders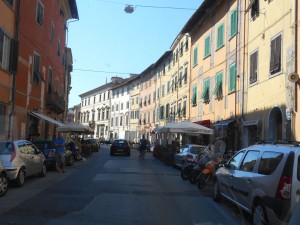 and knees must be covered to enter cathedrals and there are "fashion police" at church entrances checking for this!  Improperly dressed visitors are either not permitted to enter (what a shame to come all that way and not get to see everything!) or are required to wear a cover-up of sorts – I referred to as the "blue poncho of shame".  I'm guessing these must be available for purchase somewhere near each cathedral – we sure saw a bunch of them.  While it was August and pretty warm, we were all happy to be nicely and properly attired for our sightseeing adventures.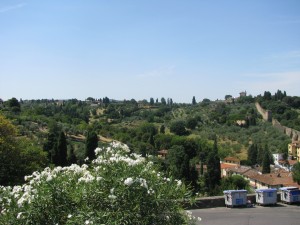 On the way to Florence, Paola once again pointed out places of interest from hilltop castles to leather processing centers.  Much of the Tuscan countryside was beautiful.  There were also, just like in the U.S., some abandoned and rundown homes and buildings.  Everything we saw and learned was interesting as Paola tried to make the most of an unfortunately long drive.
Raymond and I had both made a point of reading Dan Brown's Inferno earlier in the summer.  Most of that book (it's great, we highly recommend it!) takes place in Florence as the main character, Robert Langdon, visits all of the
city's most famous sites as he tries to solve a mystery.  We had visions of these places from the story and couldn't wait to see how the book compared with reality.  We had no idea that Florence actually restricts vehicle access in the city's center – unless you live in the heart of Florence, you are not allowed to drive your car anywhere near the museums and cathedrals.  This was why having Paola as our guide was so fantastic – she does live in Florence and skillfully navigated the narrow, crowded streets – getting us right to each attraction on our schedule – in air-conditioned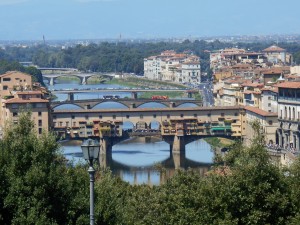 comfort!
First item on the agenda?  The Academia to see David!  Seriously, until you are standing next to this 17-foot-tall masterpiece, you can't really imagine how spectacular he is.  First Paola guided us through a few of the rooms full of incredible works of art from various eras.  We only had time to see a very few things before we entered the room full of  Michelangelo's sculptures.  The fact that we couldn't see it all was the only disappointment of the day.  David stood at the far end of the room – which was absolutely packed with tourists!  As we made our way closer to David, Paola taught us about the other Michelangelo works in the room.  Finally – there we were – gazing up at the most amazing, incredible, enormous, beautiful statue in the world.  Paola was very patient and encouraged us to walk all the way around and view David from every angle.  She pointed out how realistic Michelangelo had tried to be with David's musculature, but how the statue's head and hands are disproportionately large – possibly because David may have originally been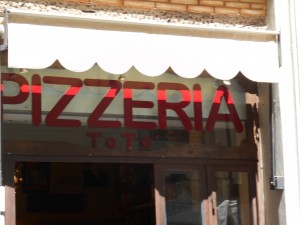 intended to adorn a building's rooftop.
A few minutes later and we were off again.  I'd requested only two things from Paola that day and otherwise left the touring plans up to her.  One was that we not waste time in a sit-down restaurant for lunch – I asked for a quick grab-and-go meal so we could keep touring.  The second request I made was to squeeze in a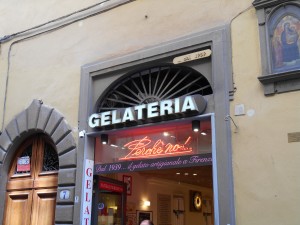 visit to a local wine store sometime during the day so we could continue what we'd started in Barcelona – buying a local wine to enjoy back on the ship.  Paola was very accommodating.  For lunch we bought pizza by the slice in the tiniest pizzeria I'd ever seen!  Delicious!  Paola guided us to a gelato stand for dessert and gave us a lesson on how to tell if the gelato is made on site (or manufactured in a factory and shipped in).  Pizza and gelato in Florence, Italy.  We were in heaven!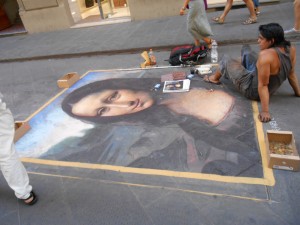 Before we moved on to the Duomo, the Santa Croce convent,  the Palazzo Vecchio, and the Ponte Vecchio – Paolo took us for a gorgeous drive to an overlook above the city so we could see the beauty of Florence from a distance and take pictures.  The rest of the day was wonderful and absolutely flew by.  Paola demonstrated some keen driving skills as she directed the van down a narrow street completely packed with tourists and gypsies performing with drums.  We were also treated to an amazing demonstration of the modern artists studying in Florence – they displayed their talents with chalk paintings on the street.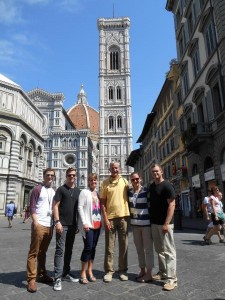 Our last site to visit would be the Ponte Vecchio (bridge over the Arno) lined with shops.  We walked along the bridge window shopping the many different shops until a jewelry store with reproduction silver coins that could be worn on a necklace caught our eye.  Megan, Joseph and I chose the coin we all liked best and bought three just alike – for which I asked the merchant if we would get a discount for buying "bulk" and he said, "of course"!
Very close to the bridge was a wine store Paola recommended and when we arrived we were delighted to discover that she had called ahead and arranged a wine tasting for our group with the shop's owner, Tony.  This was a completely unexpected treat – Tony actually turned away some patrons that came in after us and asked them to return in 30 minutes because we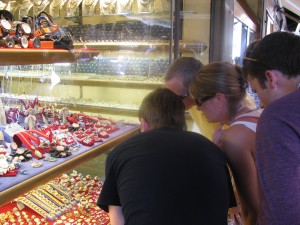 had an appointment!  The wine was delicious, Tony was a gracious and charming host, and we could think of no better way to end an absolutely perfect day.
I felt sorry for Paola on the long drive back to La Spezia.  I could tell she was really tired so I tried to keep a conversation going to keep her from getting too sleepy – like everyone in the back of the van.  Back at the port we exchanged European double-cheek-kisses and bid farewell to Paola, who was luckily spending the night nearby with a girlfriend.  Paola's husband is also a licensed guide in Florence and specializes in walking tours of the city.  We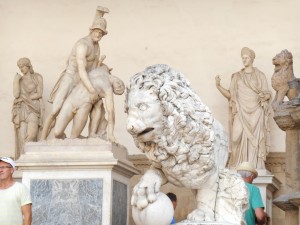 would love to return to Florence and see all the things we missed this time around.
Of course, we wished we'd had more time to explore Pisa and Florence, but instead of focusing on all that we hadn't seen that day, I thought about every incredible, fantastic, wonderful moment.  As we rode the tender back to the Magic, we marveled over the fact that we were in Italy and we'd walked the streets of Florence where the Medici family had ruled and the world's most famous artists had lived and worked.  There is absolutely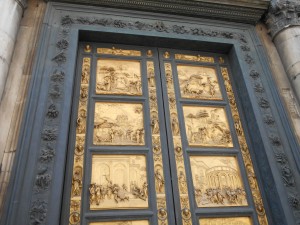 nothing I would change about this perfect day.
Up next:  Dinner at Palo and more adventures in Italy!
To read more about this trip, please follow these links: