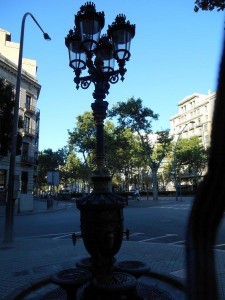 This is Part 3 of our Mediterranean Cruise on the Disney Magic Trip Report.  Part 1 can be found here and Part 2 here. (Links to all parts of the trip report are at the bottom of this post)
Barcelona, Spain:  Cruise Departure Day.  Raymond and I are early risers.  On Saturday, August 10th we were up, showered, dressed and packed in record time (too excited to sleep!).  We'd left the rest of our party the night before with strict instructions on what time we needed to meet in the hotel lobby, knowing they would sleep until the very last possible minute.  This gave Raymond and I an unexpected bonus adventure – we had plenty of time to walk leisurely from the hotel to (do not get mad at us!) one of the many Starbucks of Barcelona for breakfast.  After coffee and muffins, we strolled back to the hotel soaking up the early morning sights and sounds and saying goodbye to a great city…we vowed to come back someday and visit again.
Surprise!  Megan, Grant, Joseph and Jason were all up and ready to go by the time we got back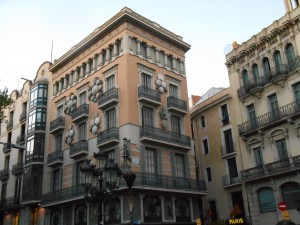 from breakfast.  We gave them directions to a couple of different bakeries (including Starbucks) and sent them off (yes, I was a little nervous knowing they were out there alone in a foreign city) – threatening them with dire consequences if they didn't return on time for our appointed port shuttle departure.  As usual, I worried needlessly and we were all situated with plenty of time to spare.
The lobby of the Renaissance is tiny (as are the rooms and most especially the elevator) compared to American hotels.  There were a ton of cruise passengers (many different nationalities) everywhere waiting to leave and in that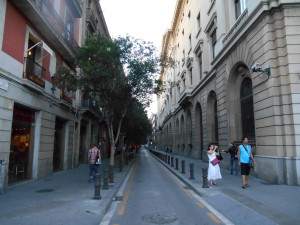 cramped space, it was pandemonium!  We were clumped together with our properly tagged luggage with several minutes to kill when one of the Disney reps approached us (seemed grateful we were both ready to go and in good humor) and offered to let us board the bus that was just about to leave – YES!  Even in Spain, Disney pixie dust is present.
Now WAY ahead of schedule, we were already on our way to the Magic.  Barcelona has such incredible architecture and scenery – I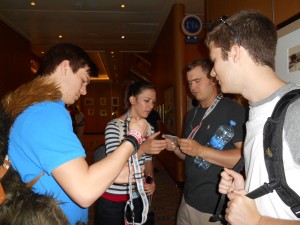 concentrated on seeing as much of it out the motor coach's window as I could on our way to the cruise port.  Soon, the Magic came into view and we found ourselves standing in line outside the cruise terminal.  The air was crackling with excitement!  The line moved quickly, we got our paperwork processed, received our Castaway Club lanyards and were boarding the ship in what seemed like no time at all.
The weather was gorgeous and we would soon be sailing for France – life was feeling pretty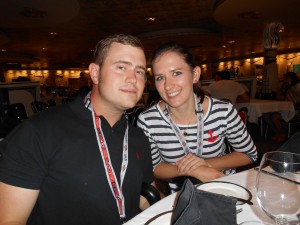 darned sweet as our group enjoyed the buffet in Parrot Cay (now Carioca's) before spending the afternoon exploring, completing our life-boat drill, and getting unpacked  while soaking up the the overall feeling of excitement among everyone on the ship.  Raymond's and my assembly station for the drill was actually in Animator's Palate – so, of course I then referred to our assigned location as our "mustard" station for the rest of the cruise.  We invited the rest of our traveling party to our cabin for happy hour (opened the wine we'd purchased in Barcelona) before our early dinner seating (which became a daily ritual).   Dinner that night was in Animator's Palate and the show for the evening was All Aboard Let the Magic Begin.
The next day (Sunday, August 11th) was spent at sea.  I believe at-sea-days intimidate some people – they worry there won't be enough to do on a cruise ship in the middle of the ocean.  This was the first of two at-sea days for our cruise and we absolutely packed them full of action.  For me this day started out (after breakfast) with a visit to the spa for a pedi.  Every member of our party had a spa appointment scheduled during the cruise – Joseph, Jason, and Raymond were each getting a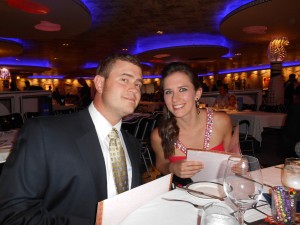 massage and Megan and Grant a couples' massage.  I just wanted cute toenails, but as it turned out, the pedi included a fantastic leg massage that did wonders for my poor still-swollen-from-jetlag feet!  Raymond and I had scheduled a Martini Tasting seminar in Sessions bar – Anne Marie from Jamaica was our hostess and we had a LOT of fun learning about martinis (which we drink….never).  As we were getting in the elevator after our seminar, I mentioned to Raymond that, while I'd enjoyed the Martini Tasting, I probably shouldn't have finished all the samples we were given – a lovely woman from Great Britain turned to me and exclaimed, "Why NOT?!!  You're on HOLIDAY!"  Yes, indeed!
We (all six of us) relaxed that afternoon by the Cove pool.  Then, as Raymond headed off for his massage, I got ready for Formal Night.  We had an "All Hands On Deck" cheese platter with our happy hour glass of wine before, looking very spiffy, we made our way to dinner.
Once again, we were back in Animator's Palate, but this time we were dressed to the nines.  We enjoyed our meal very much and the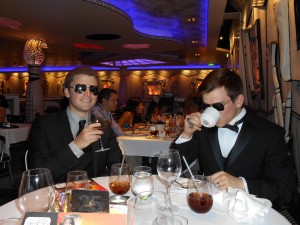 evening's show afterwards was Twice Charmed.  Honestly – we were so excited to arrive in Villefranche the next day and all of us, except Grant, had seen this show before – we kind of wound down and were ready for sleep once the show was over. Well – Raymond and I headed back to our cabin and the youngsters…. probably best we didn't ask.  (Really – they were well-behaved as far as we know.)
Back in our cabin, Raymond and I sat out on our balcony with a little bit of wine (leftover from happy hour) and the chocolate left on our bed by our cabin steward.  The Mediterranean was so calm, the weather beautiful, the stars in the sky so different from home – we loved this moment so much, it also became our habit every night of the cruise –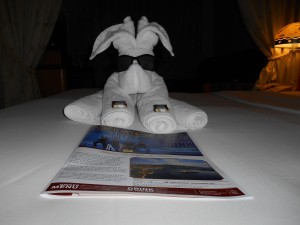 to end the evening just this way.
Tomorrow we would arrive in France.  I had studied French from 7th grade through my first year of college.  This was a big deal for me – not just because I had always imagined what France would be like – I had planned no formal tour or excursion in France.  We'd be on our own.  I had a plan – well, several in fact, but they depended on ME!  Getting us around and safely back to the ship.  Armed once again with Rick Steves' induced confidence…we drifted towards our next port and off to sleep.
Please come back for Part 4 (Villefranche) on Tuesday, February 11th!  If you have any questions about cruise planning, excursions, anything at all, feel free to ask and I'll do my best.
Links to other parts of this trip report: