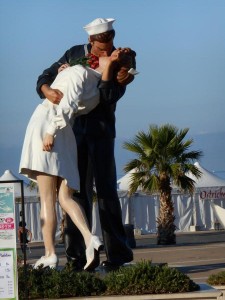 Links to the other parts of this trip report are at the bottom of this post.
Wednesday, August 15th:  Civitavecchia, Italy.  This cruise port is just a train ride away from the city of Rome!  Another all-day adventure in store, we again left the ship as early as possible.  We got a tiny bit confused for a minute walking to the train station, but a handy, friendly policeman assured us we were heading in the right direction.  I'd booked our tour for the day with Can't be Missed Tours – again another Rick Steves recommendation.  Peter, the company's owner, was very easy to work with and the tour, plus tickets for all necessary transportation and touring the Colosseum, were all taken care of with one very reasonable price.  We were able to pay in advance, too, which eliminated the need to carry more cash than necessary.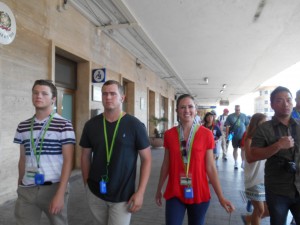 Peter was easy to spot outside the train station, holding a "Can't be Missed Tours" sign.  The very best part of this tour was that we would be traveling all over Rome, on public transportation like the locals do, but we'd have a guide the entire time – no chance of getting lost, missing a stop, or having to know a lot of Italian.  One of the tour guides (in our case, Peter himself) would ride the train to Rome with our group (made up of about 20 people from at least two different cruise ships) before handing us off to our guide for the day.  At the end of the day, the process would reverse – guaranteed to get us back to the ship on time.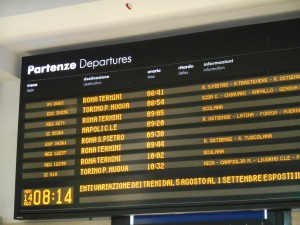 The train ride to Rome lasted a little more than an hour.  I didn't get the chance to see a lot out the window and the train was very crowded with locals on their way to work.  Sadly, we were visiting on a day when the Vatican would be closed, but we would still be able to visit St. Peter's Square and Basilica.  Raymond and I got to sit next to each other on the train and I remember how excited we were – Even though it would only be a single day, we were going to Rome and would get to see so much!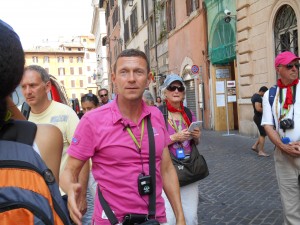 At the train station in Rome, Peter introduced the group to Stephano (who proudly told me later that he is also an Adventures by Disney guide) and we were each given a listening device on a lanyard with ear-buds so we could easily hear Stephano throughout the day – he was also easy spot in his bright pink shirt.  Then we were off!  First site for the day?  The Colosseum.  Because we would not be touring the Vatican Museum, the Colosseum stop would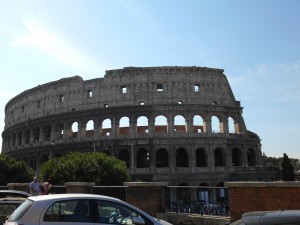 include an extended tour of the inside and we were really stoked!  Across the street from the Colosseum, Stephano stopped in a small shop with snacks and a restroom – the Colosseum would be hot and extremely crowded and we'd need to be careful to stay together for the duration.  Note:  The steps inside the Colosseum are VERY steep and footing is often uneven.  Elevators were available for those who needed them in some places, but overall there was a lot of walking on this tour.
The Colosseum was amazing, but due to some very particular rules about tour groups, we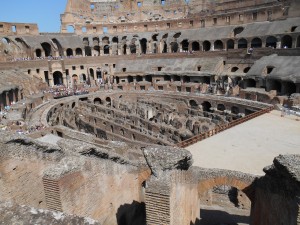 weren't allowed to use our listening devices until we had all passed through the super-crowded entrance.  Then Stephano began to explain the incredible events that took place in the huge amphitheater.  The sculptures and artifacts that survived gave us a good idea about how majestic the Colosseum was in its prime – before gigantic sections of it and almost ALL the marble which once covered every surface were carted off to build other Roman structures.  The entire lower section of the Colosseum would have been invisible to spectators (beneath a wooden floor).  Elevators and complex pipework communication-systems would be used to coordinate the action – to raise and lower things onto/off of the "stage" from below.  Animals (lions, bears, even rhinos,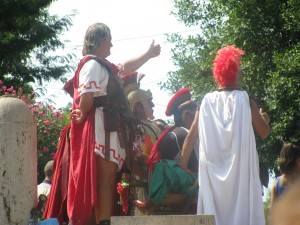 elephants and giraffes) were raised and lowered on cue – as were props like fake trees used to hide some of the carnage.  So many exotic animals were slaughtered at the Colosseum for entertainment, many species were brought to extinction (and others very close).  We had no idea the impact the Romans and their popular forms of entertainment had on the ancient world.
As we left the Colosseum to catch a bus, we were able to see the stunning Arch of Constantine which is adjacent to the Colosseum.  We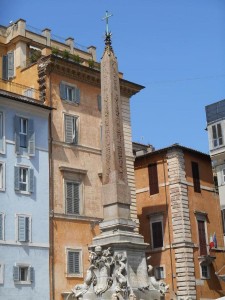 also saw some Gladiators – who would be willing to pose for pictures (for a price) – Megan snuck in a picture from far away for free.  They weren't the only street performers we saw that day.  Later we saw some very interesting characters – one Indian man seeming to hold another man in the air on a small wooden pole (pic below). Next we moved on by bus to some of Rome's most ancient and famous places.  Along the way, Stephano pointed out ancient water fountains – ornate figures like lion's heads (set in the walls of ancient buildings) that continuously ran with drinking water.  He encouraged those that needed to refill water bottles to take advantage of these fountains.  I thought to myself, uhm, NO! – and was thankful we were carrying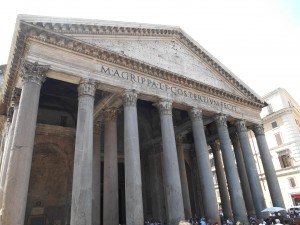 several full water bottles with us.   We passed the Roman Forum on our way to the Pantheon.  All over Rome, we saw Egyptian obelisks – stolen by Roman emperors as trophies and then used as decorations in Rome (and the Vatican).
The Pantheon was amazing.  Stephano was a font of information – his passion for his job clearly evident.  We had a lovely walking tour along some of Rome's back streets.  One of the best parts of the day.  Stephano explained how the buildings (that take up entire blocks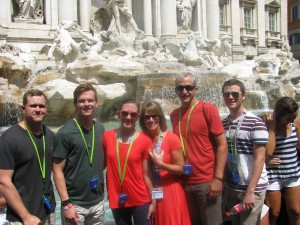 around central courtyards) were once the single family homes of Rome's wealthy citizens.  As time passed and fortunes changed, the families (many of which still own the buildings and live on the top floors) were forced to make much of the space into apartments – walking along, we looked up into open windows and could see breathtaking decorative painting, original to the buildings – on the apartments' ceilings!
Colosseum?  Check.  Pantheon?  Check.  Now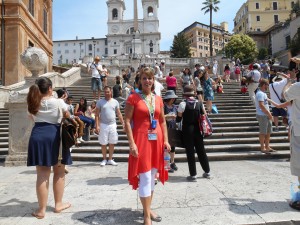 we were off to the Trevi Fountain where a wonderful, funny and friendly brother and sister from Great Britain in our tour group (from another cruise ship) took our group picture.  Of course, as custom dictates, we threw coins into the fountain to ensure a return visit to Rome!  Then we visited the Spanish Steps.  Both of these places were magnificent.  Much, MUCH better than we imagined – much "more" than we'd seen in movies and on TV.  The fact that we were actually there was incredible.  Surreal.  Every single thing we'd dreamed about, but much better!  We rode the train, the city bus, the Roman metro (subway), and walked a good bit – a fantastic experience that allowed us to see Rome both as tourists and as the locals do.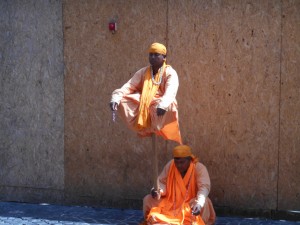 When it was time for lunch, Stephano directed us to a lovely, quiet café with a fantastic food selection and great outdoor seating.  We actually had time to relax and enjoy our food (and beer) before we moved on to the rest of our tour.  As the six of us sat outdoors on a gorgeous summer day in Italy, we talked about all the unbelievable things we'd seen so far.  It was one of those perfect moments – you know what I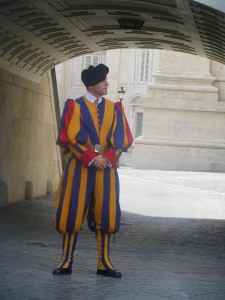 mean…surrounded by the people you love most in the world, on an amazing adventure – one perfect day to hold close in the years to come.  Yes, I sound sappy, but that's just how it was.  After lunch?  We were on our way to the Vatican City to see St. Peter's Square and St. Peter's Basilica.
Once we arrived at the Vatican, we saw the pre-vacation research pay off.  There were members of our tour group wearing shorts and sleeveless shirts/tank tops that would not be allowed inside St. Peter's Basilica.  Some had extra clothes with them and a couple benefitted from scarves (loaned by others in the group) they could use to cover up.  Some people in our group, though, did not get to see St. Peter's Basilica at all and waited outside in the hot courtyard while the rest of us went in.
We saw a few members of the Swiss Guard stationed in their colorful uniforms near the Vatican walls.  What a good looking bunch (who will smile and nod their heads at you if you wave at them, btw)!  These lucky chosen few must meet very specific criteria in order to serve as the elite guards of Vatican City.  Stephano explained that the Swiss Guards must be Catholic single males between 19 and 30 years old, meet certain height requirements, and must have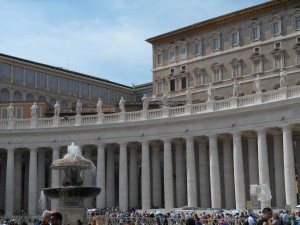 completed their education before applying for the job.
The line to enter St. Peter's Basilica was quite long, but we didn't mind.  The square held so much – from the saints' statues along the rooftops to the tiles underfoot – there was so much to take in!  Stephano kept us informed as we made our way towards the entrance and once inside we were immediately struck by the abundance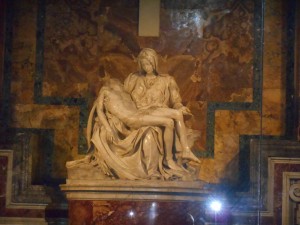 of beauty and artistry.  St. Peter's tomb is said to be below the ornate altar, there are tombs of many popes, artwork, sculptures – overwhelming!  To the right of the entrance, behind glass was Michelangelo's Pieta which is glorious, just breathtaking.  As we made our way around – we were struck by the incredible wonder of it all, but also, oddly enough, by something really funny!  In St. Peter's Basilica, you'll find employees we referred to as the professional "Shushers".  Yes!  These folks went around saying "Shhhhh!!!" to tourists (and their wayward children) who had the audacity to make NOISE inside this sacred Vatican building.
There was too much to see for the relatively short period of time we were allowed.  We all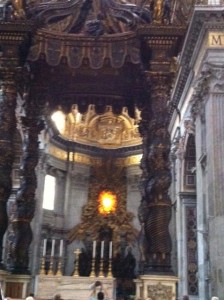 split up to see what we could – it allowed us to spend time viewing what was most important to each of us.  I was raised Catholic, Raymond Methodist – our children a combination of the two.  When I came across an area, partitioned off, that was reserved for people looking for a quiet place to pray (no photos allowed), I went in.  Yes, I was curious (and cannot stress enough the beauty of that sanctuary), but I had the opportunity to kneel for a few minutes and pray with other visitors from all over the world – lapsed Catholic I may be, but the beauty and peace of that moment will remain with me for the rest of my life.
Back into the main area of the Basilica, I found Megan taking pictures as fast as she could!  Irreverently (because of all the Shush-ing going on) I posed outside an unoccupied confessional with a finger to my lips – Shhhhhhh!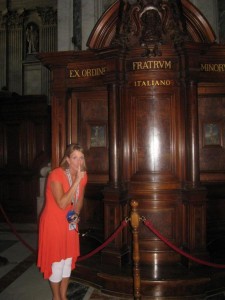 Time was up and we headed back outside to meet the rest of our group.  We'd be making our way back to the train station.  Our one day in Rome was coming to an end.  Earlier in this post you can tell that we started the day as tourists – yes, much research and care went into our preparation for this single day in Rome, but becoming part of Roman customs and traditions was not really on the agenda.  We were prepared to use public transportation and soak up all the sites and famous attractions.  In then end, though, a strange and wonderful change took place.  We, each of us, became, well, part of Rome.  Embracing new experiences and events in a way we had not anticipated.  Remember the ancient drinking fountains coming out of the walls Stephano had pointed out earlier in the day?  Well, by the end of our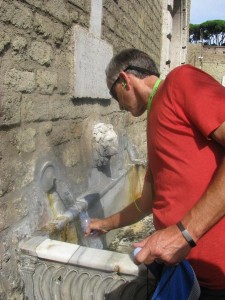 tour, we were hot, thirsty, and out of water.  Suddenly, those handy fountains didn't look so foreign after all.  I guess it's true what they say….When in Rome….
Back at the train station where the whole fantastic day began – true to their promise, the Can't be Missed Tour folks sent a sweet American girl (studying in Rome) to accompany us on the train ride back to Civitavecchia.  So tired on the train – the day finally catching up with me – and so crowded we all had to split up to find a seat.  I sat on my own, away from everyone else, next to a very kind woman who spoke not a word of English but worried about my finding the right stop anyway.  Across the aisle were some young men who tried to shock me with their use of American obscenities…too funny since I could certainly have taught them a thing or two!  We arrived back at Civitavecchia and exited the train to walk back to the port.  What a day it had been!  I recommend Rome, Can't be Missed Tours, and every single site we visited!  If the trip had ended there, I'd have been more than satisfied, but we weren't finished yet.  Our final stop would take us to Sorrento and Pompeii.  Please come back to find out about the rest of our adventures.
Links to all the other parts: