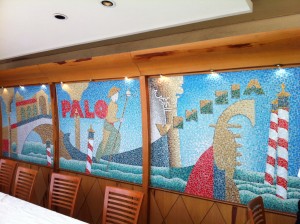 Welcome to Part 6 of our Disney Magic in the Mediterranean trip report.  Links to the other pages of this trip report can be found at the very end of this post.
So, when we last parted, our group had just returned to the Magic after our first day in Italy (Tuesday, August 13th).  We had an unbelievably amazing time in Pisa and Florence, but the day was not over yet!  For that evening, we had dinner reservations at Palo.
If you've not cruised with Disney before, Palo is an adults-only Italian restaurant that offers quiet dining, exceptional service, and beautiful views from the top of the ship.  There is currently a $25 per person up-charge for this dining experience – we've always felt the price was reasonable.  Raymond and I had been to Palo several times before (sans offspring) – but part of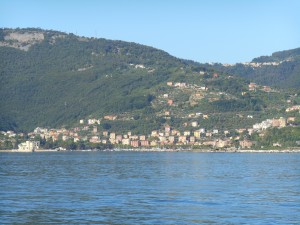 the reason we waited until late in the summer to sail was so Joseph would be 18 and could finally enjoy Palo with us.  Megan could have eaten with us in Palo on our Alaskan cruise in 2011, but we decided it wouldn't be fair to only take one child, so Raymond and I managed to tough it out on our own.  Twice.
When we arrived back on the ship, our original plan was to get ready for dinner (Palo has a dress code, so we wore cocktail/semi-formal attire) and see the early show before our 8 o'clock reservation.  We were too late returning to catch the show – "Walt Disney The Dream Goes On".  This was a little disappointing because we love the Disney shows and try not to miss a single one – however, it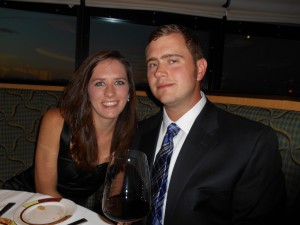 was worth missing it – we would not have sacrificed a single second of our time in Pisa and Florence for anything!
All gussied up, our little group of six made our way to Deck 10 and into Palo.  We were greeted by our server, Sylvester (from India).  Sly escorted us to our table by the window and brought the sommelier over to help us select our wine.  Raymond and I have grown accustomed to the really great service in Palo, but on that night, once Sly realized that Megan, Grant, Joseph and Jason were visiting Palo for the first time – he pulled out all the stops!  In addition, I've got to add that the sunset that night as we sailed off the Italian Coast was stunning.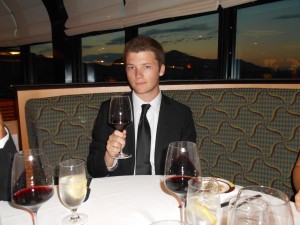 Plates quickly began arriving – appetizers we ordered and also surprises Sylvester brought for us to try.  Having eaten hours and hours earlier (and only pizza and gelato, you may recall) – we tried not to fall upon the feast like a pack of ravenous dogs!  The calamari was the best I'd ever had.
The time came to order our entrées.  I know Joseph ordered two (one of which was the rack of lamb)!  There was a huge variety of orders around the table.  When it came to my turn, I wasn't starving anymore, so I had Sly surprise me and he selected the Osso Bucco which is very tasty, but comes in a really generous portion.  So large, in fact, that Sylvester thought I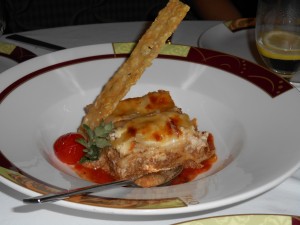 didn't like it because it looked like I'd hardly touched it when I was finished.  No one at the table ordered the special of the day which was lasagna – so of course, a couple of orders of lasagna appeared magically in the center of the table so we wouldn't miss out on it.  We ate.  And ate.  Very little conversation took place – mostly just small exclamations of delight were all that could be heard around the table.
At this point, we were feeling pretty sated – but Palo's famous chocolate soufflé was calling to us!  It is prepared to order, so we knew there would be about a 20 minute wait.  We ordered coffees and, of course, Sly brought big bowls of ice cream which he set down in the middle of the table – just to tide us over.  I was shocked at how fast that ice cream disappeared!  The soufflés are served very warm, straight from the oven, with a pitcher of vanilla sauce on the side.  The sauce is poured into the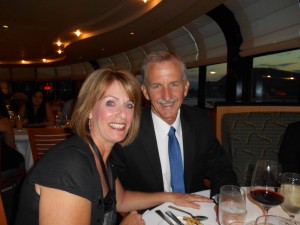 dessert's center as soon as it's placed in front of you.  It's super-rich, gooey chocolaty heaven!
We walked in at 8:00 pm and waddled out exactly THREE hours later.  We told Sylvester that we'd be back on Friday for brunch and if it could be arranged, would love to have him again as our server.  Oh, so full and exhausted, we made our way to our cabins.  Tomorrow we would arrive in Civitavecchia and spend the day in Rome.  There was nothing – not one thing about our trip so far that could possibly have been any better.
A bit about the shows on Disney Cruise Line.  The Disney stage shows are absolutely excellent,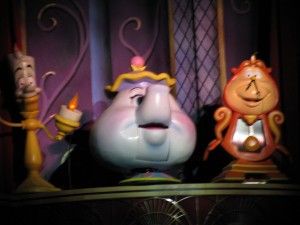 Broadway-quality entertainment – perfect for all ages.  The theater itself is wonderful and refreshments are available (even adult beverages) at the theater's entrance.  There were five different Disney shows on our cruise and two shows by other entertainers.  We had main seating for dinner, so I'll post our assigned restaurant on the rotational dining schedule in parentheses before the name of each evening's show.  Here's the recap:
8/10 (Animator's Palate) All Aboard!  Let the Magic Begin! – We've seen this on all the Disney cruises we've taken.  It's a great way to get excited about all the magic and excitement Disney has in store for you on your high seas adventure.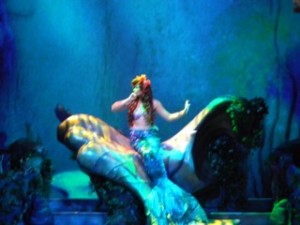 8/11 (Anamator's Palate) Twice Charmed – An Original Twist on the Cinderella Story – This is a cute story and as the title implies, it's based on a favorite tale, but with a twist.  Songs, costumes, effects are all top shelf!
8/12 (Parrot Cay) Junk (Comedy and Percussion / Not Disney) – For non-Disney entertainment, these guys were great – hilarious, clever, and highly entertaining.  A little bit Blue Man Group-ish and a whole lot of FUN!
8/13 (Lumiere's) Walt Disney The Dream Goes On – I'm sorry we missed this one since we've never seen it before.  I know absolutely nothing about it.
8/14 (Animator's Palate) Villains Tonight! – This was the first time for us to see Villains and I've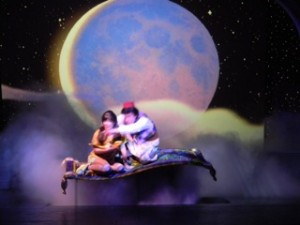 got to say it shot straight up the list to my most favorite Disney Cruise Line show EVER!  Disney does a great job of adding jokes to their shows specifically for adults – not inappropriate humor in any way, just clever references, puns, and bits only the more mature members of the audience will "get".  Villains seemed to do a better job with this than other shows.  Plus – I'm a big fan of the villains in general and am very happy they get their own big stage production.
8/15 (Parrot Cay) Scott Pepper (Magic and Illusion / Not Disney) – I'm sorry, guys.  This show started out alright, but it was 8:30 pm after an entire day in Rome (next post on the trip report!) and I'd had some wine with dinner.  I'd love to give you details about Mr. Pepper's magic show, but I fell sound asleep.
8/16 (Lumiere's) Disney Dreams – This is a show we've seen on every Disney cruise and we never get tired of it.  Honestly, it's spectacular.  ALL our favorite Disney characters make an appearance in this show – they sing, they dance, the special effects are spectacular – what's not to love?
Up Next – the port of Civitavecchia and an unbelievable day in Rome!   
Here are the links to the other parts of our Magic in the Mediterranean trip report: