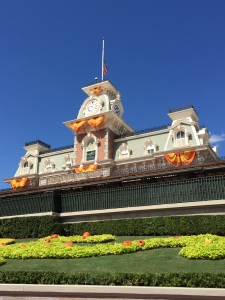 It was the best of times – two adults, seven days, the World was our oyster.  We'd planned some special events for this trip to celebrate our 25th Wedding Anniversary and we enjoyed each and every one of them, though admittedly some more than others.
We purchased Memory Maker (see first review here) to make sure we ended up with some non-selfies to commemorate the occasion (full 2nd Memory Maker review to follow) and booked dining reservations at some places we had not tried before.  After all was said and done, I'd summarize our adventures into three categories:  The VERY Best, the Just Okay, and the Could Have Been Better.  These were our experiences only – your own may be completely different and isn't that so much a part of what we love about Walt Disney World?  Something for everyone!  Note:  Over the next couple of weeks, I will write detailed reviews of each experience.
The VERY Best:
Citricos (Grand Floridian Resort and Spa), the California Grill (The Contemporary Resort) and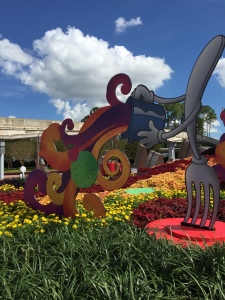 Sanaa (Animal Kingdom's Kidani Village) – We enjoyed our meals at these three restaurants and thought the food, service and atmosphere were all perfect.
Epcot's International Food & Wine Festival – The food/beverage booths were wonderful and the entire experience was a lot of fun.  We might not have gotten to each item on our wish list, but every morsel we tried was delectable!  We will be doing this again!
Bay Lake Tower – Our studio on the 3rd floor was exactly right for us.  It was roomy with an excellent view of Bay Lake.  Sunrise was incredible!  At first, I was a little disappointed at not being higher up, but once I realized that the Electrical Water Pageant would be happily making  along Bay Lake's shore each night where I could see (and hear) it well, I was more than happy with our location.  The distance between Bay Lake Tower's front door and the bag check area in Magic Kingdom is exactly a half a mile.  Loved the walk!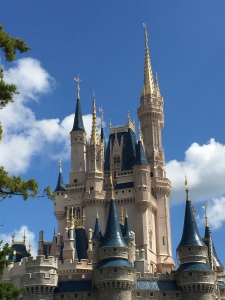 Senses Spa Massage for Two (Grand Floridian) – Worth every penny.  The spa is gorgeous and we felt very special and pampered.  The massage was incredibly relaxing and we could not have asked for a more luxurious setting.
The Weather – We had one rainy afternoon and a bit of rain the next morning.  Compared to the Florida weather in the weeks leading up to our visit, this was as perfect as we could have wished for.  Having never been to Florida in October, I was captivated by the sky – breathtaking sunrises and sunsets with the most amazingly perfect blue skies and fluffy white clouds during the day.  The warm days and cool-ish evenings were wonderful.
Getting SOAKED on Splash Mountain, Drying off on the PeopleMover – What can I say?  We were in the very first log of the day on Splash – got over-the-head-in-our-faces sopping wet and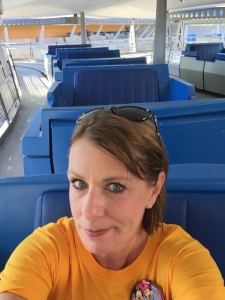 then had the PeopleMover nearly to ourselves to cruise around and air dry.  Can you think of a more fun way to start the day?
The Just Okay
Be Our Guest – Yes, it's beautiful inside!  It's also very pricey and the food, while okay, was the poorest aspect of dining there.  We ate there for both lunch and dinner and, for the money, we could have eaten much better meals.  The West Wing (dinner) was unbelievably dark….like pitch black.  We couldn't believe the servers weren't running into each other, guests, tables, etc.  At lunch, the food was not as good as at dinner, but the seating location was better (we got to sit where we wanted).  Again, a full review will follow, but if you're going just to see the inside, try to get a lunch reservation and order whatever is the least expensive menu option.  NOTE:  The Cast Members we encountered here were outstanding.
The Italian Food & Wine Pairing – This was in Via Napoli in Epcot's Italy Pavilion and the seating took place in a large, open, extremely noisy space.  We had wonderful tablemates and would have loved talking to them more, but we couldn't hear each other AT ALL!  The fare was just okay.  Having never been to an event of this type before, I'm not sure what I was expecting, but I did think it would be more enjoyable.  The French Regional Lunch we tried at Monsieur Paul (France Pavilion) was much better.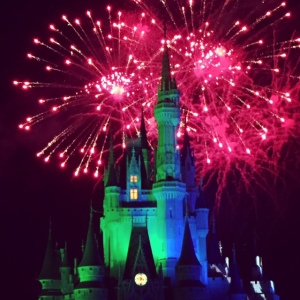 Mickey's Not So Scary Halloween Party – All I could think about was how much more I would have loved it if our children (even though they're grown) had been with us.  We liked dressing up and enjoyed the short waits for the attractions.  The fireworks and parade were very well done, but not being big on sweets, we didn't pick up a single treat.  I do know that attending on the 6th night of our stay meant we were pretty wiped out to begin with.  Maybe we'd have liked it more if we'd been more perky.  I'd try the party again, but with more than just the two of us.
Could Have Been Better
My Disney Experience / Disney's Computer System – Still very glitchy.  My app actually showed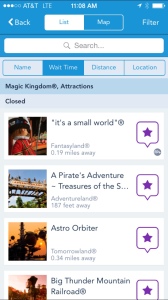 "closed" for every single Magic Kingdom attraction for much of a day – many rides were down at one time  (Pirates, PhilharMagic, Small World, Pooh), but certainly not all of them.  On that same day, we were told before leaving Bay Lake Tower that Walt Disney World's entire computer system was having issues.  I don't know if that was related to why so many attractions were closed, but the wait times at the remaining attractions were pushed way up as a result.  We left Magic Kingdom, hopped on the Monorail and did some Resortloop shopping – hoping things would clear up while we were gone.  Sadly, we saw and heard a lot of unhappiness in Magic Kingdom that day.  Similar to what happened in May, Raymond's Magic Band didn't work at park entrances for the first three parks we visited, but at least the problem was resolved after that.  The funniest glitch was that I didn't have charging privileges on my Magic Band after we checked in even though I was the one who gave the credit card to link at check-in.  Considering how convenient I find that touch-to-pay feature, I probably shouldn't have had that issue fixed!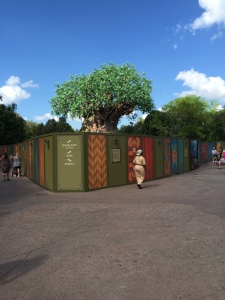 Animal Kingdom – I'm not criticizing, honestly, and I totally understand that short-term sacrifice will lead to long-term gains (and more FUN!).  It was heartbreaking, though, to see the amount of construction equipment, construction walls, abbreviated attractions, etc. in our beloved Animal Kingdom.  We spent Saturday (10/11/14) afternoon there and had planned to return on a weekday for a longer visit, but after seeing how much the construction detracted from the overall experience, we didn't go back.  I did get to ride my favorite attractions and see the two new baby gorillas which was great.
Epcot's New Lumberjack Show (Canada Pavilion) – I've got nothing nice to say – so I'm not saying anything at all.
Have you ever visited Walt Disney World in October?  What were your favorite and least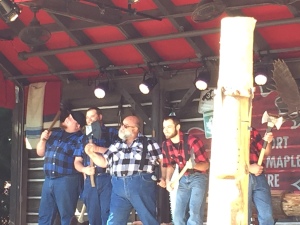 favorite experiences?  What should we try next time?