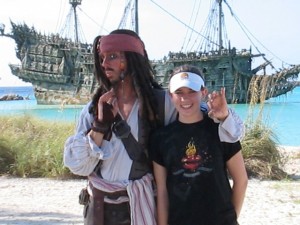 Avast me hearties!  We be settin' sail on a mighty adventure.  Hop-to ye scallywags, hoist the mizzenmast and swab the deck – It be International Talk Like a Pirate Day!  Park yer dungbie and grab some grog, landlubber.  Arright, Matey, let's parley!
Happy International Talk Like a Pirate Day!  In honor of this most auspicious occasion….
Here are Five Disney Pirates I'd Love to Meet (and why):
1. Captain Hector Barbossa – Oh, sure, Jack Sparrow is quick-witted and charming, but if I actually got to choose a pirate to meet from the Pirates of the Caribbean franchise, it would be Barbossa, without a doubt.  He's edgy, learned, appreciates the finer things in life and has a certain mystery about him that makes me want to spend some time in his company and find out what makes him tick.  What was his childhood like?  What made him into a seemingly greedy and ruthless salty dog?  For real, I'd take meeting Geoffrey Rush over Johnny Depp any day.
2 and 3. Captain Hook (both of them!)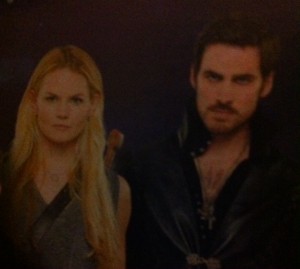 Peter Pan's Nemesis, James Hook (voiced by Hans Conried) – Even though he's a cartoon, I love him!  Childish, spoiled, paranoid, and manipulative – what's not to love about that?  He's got a great sense of style and some pretty impressive facial hair.
Killian Jones (played by

Colin O'Donoghue)

 – Once Upon a Time's dark, yet vulnerable hottie.  Easy on the eyes with a lovely accent, this Hook has been making viewers swoon since he appeared for the first time in Season Two.  Now that we know his past, he's all the more lovable and I'm sure you're with me in hoping that he and Emma will work out their differences – or at least give into their mutual attraction.  Finally.
4. Blackbeard from 1968's Blackbeard's Ghost – Played by Peter Ustinov, Blackbeard is cursed upon his death to wander in limbo.  The only way for him to move on is to perform a good deed.  If you haven't seen this film, you probably won't understand how Blackbeard made the list, but hey, my list.  It's Peter Ustinov.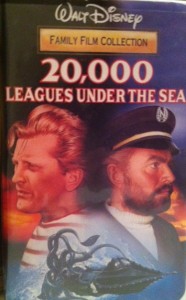 5. Captain Nemo from 20,000 Leagues Under the Sea (James Mason)- I know he seems ruthless, but I'd love to tour the Nautilus and see all of Nemo's inventions.  Plus, he had such flair and a really fine beard.  When he wasn't being diabolical, I bet he was a heck of a great host.  Esmeralda, his pet sea lion, would be pretty awesome to meet as well!  Remember the ride at Walt Disney World?  I rode it just one time in 1990.  Good times.
Who would you have on your list of favorite Disney pirates?