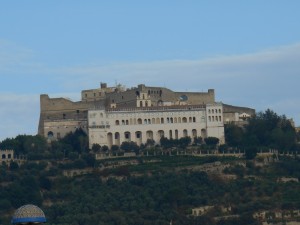 Links to the other parts of this trip report are at the very bottom of this post.
On Thursday, August 15th, we awoke in Naples.  I'll be honest – I, for one, was getting pretty tired!  This would be our last port before a day at sea and the return to Barcelona.  Again, I'd scheduled a day-long tour with Can't be Missed Tours.  The price was right and the itinerary sounded perfect – we'd travel to Sorrento after making a brief stop at a scenic overlook above Positano, then spend the afternoon touring Pompeii.  After the resounding success of the previous day's tour of Rome with the same tour company, we were raring to go and have another action-packed, fun-filled day under the summer sun in Italy!
Everything started off great – same as previous days, up early and hitting the breakfast buffet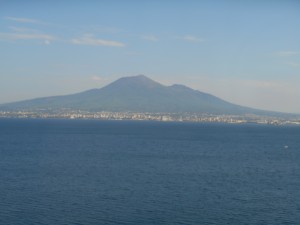 before waiting to leave the ship.  The port of Naples was not a tender port and we were able to leave the ship without waiting in the theater with a bunch of other families – we walked right off from the main lobby and we were almost the first to leave.  We easily found the port station in front of which we were to meet our tour guide.  Slowly, the crowd grew and included many of the same people we'd toured Rome with the day before.  No tour guides.  I saw another building and walked down to the people waiting there to see if maybe our tour guide was waiting for us there.  Sure enough, a small, older man and a taller man (in very snappy attire!) were waiting – silly, I know, but they looked sketchy to me.  They were holding a sloppy, hand-lettered sign that simply said "CBM".  I immediately decided they were impostors and walked back to the rest of our waiting group members.
Shortly, the two "impostors" walked over and began asking if any of the group were waiting for C.B.M. – they never said, "Can't be Missed Tours" – I was still skeptical until they began calling out the last names of the families booked on their tour.  We were among those called and so were the families we'd met the day before.  We ended up with the older man – who had the unlikely name of Guido (literally "guide" in Italian).  So, Guido herded us into a large van/small bus-like vehicle, introduced us to our young driver and we were off.  I'm pretty sure if we hadn't had Stephano as our guide in Rome, we would have been perfectly (or at least a little) happy with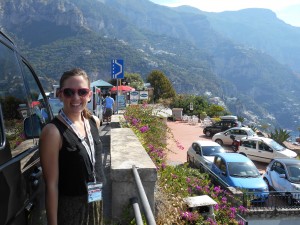 Guido.  Compared to Stephano, though, Guido was a disappointment.  Where Stephano shared interesting stories and fun facts while asking the group questions regularly to keep everyone engaged, Guido lectured.  Guido was not as easy to understand as Stephano – his English was much more heavily accented and, as the day wore on, his lectures took on a rather hilarious quality.
We were in bumper-to-bumper traffic headed high above the coast for our first two stops – and we were pretty exhausted – we all found it really hard to stay awake!  Since Guido was hard to understand, it was easy to tune him out.  Our first stop was unexpected – we stopped at an inlaid wood factory and Guido put on the hard sell.  It was interesting for about two minutes and then we were ready to get onto the good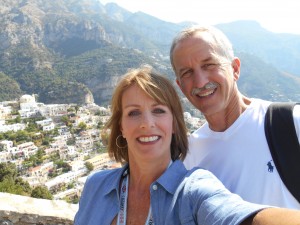 stuff.  Sadly, Guido had other plans.  After the explanation by the factory owner of how inlaid wood products are made, we were shuffled into the showroom where we stayed for what seemed like forever!  A couple of people bought some really small, inexpensive items – I'm convinced they did this in an attempt to end the hostage situation and it did seem to work.  Back on the bus again, we headed for an overlook above Positano.
Here's the thing – we're a family that likes to DO things rather than just LOOK at things and this tour was starting off a big boring disappointment.  More traffic and we finally arrived at the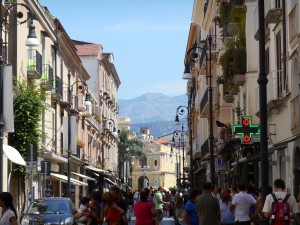 overlook, which, oddly enough, still included a big sales push by Guido – this time for lemonade or lemon ice or something from a small food-truck along side the roadway by the overlook.  Seriously, he tried so hard to get people to buy a beverage – the more he tried, the more determined I was NOT to buy anything (I'm a little stubborn that way).  We looked over, we took pictures, we waited….and waited…..it was pretty hot out there in the sun….with nothing to DO!  Finally!  Back on the bus.  Once more, Guido lectured on our way to Sorrento and as we drew closer to town, he began again with the hard sell – this time for a particular restaurant and the fixed price lunch there.  I'm pretty sure literally everyone from our group ate there except the six of us – I needed a Guido-free opportunity to explore and our time in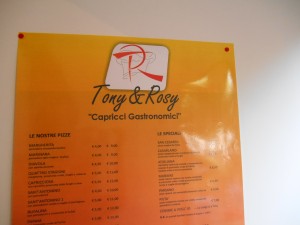 Sorrento seemed too precious to waste on a big sit-down meal.  I convinced Raymond, Megan, Grant, Joseph and Jason that I could find us something good and quick to eat, leaving us more time to see the gorgeous city of Sorrento.  Guido gave us a time to meet back at the bus and we practically ran for freedom.
Downtown Sorrento was easy to find and was one of the most beautiful places I'd ever seen!  It was hard not to be distracted by the variety of shops and boutiques as I scanned for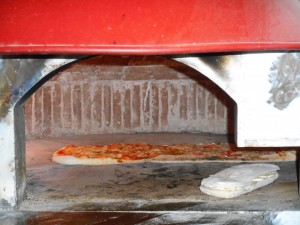 something akin to fast food.  Set back from the main street in a small alleyway, I spotted the perfect place!  Tony and Rosy's Pizza.  Stepping inside, we found the tiny, strictly to-go eatery deserted – except for Tony and Rosy and another cook.  The pizza oven was the centerpiece of the room and we were made to feel very welcome.  No one spoke any English, but they were thrilled to have attracted tourists!  We found the prices to be amazingly reasonable and ordered a gigantic 12-slice rectangular pizza, half buffalo (tomato and cheese), and half pepperoni or Margherita or some such (I loved the buffalo so much!).  We picked out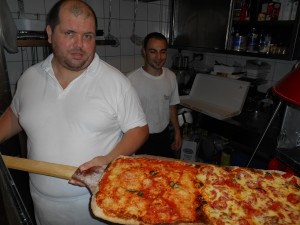 bottled beverages and took a bunch of pictures while Tony prepared our pizza and put it in the oven.  He presented us with a souvenir bottle opener to take with us and off we went to find a place to sit and eat.
In the middle of town, next to a horse-drawn carriage stand, we found some empty park benches perfect for enjoying our lunch while people-watching.  We polished off our pizza in record time and were off to see what Sorrento had to offer by way of shopping.  What a variety of establishments!  Clothing, shoes, kitschy souvenirs, inlaid wood furniture (of course), and gelato!  Using our lessons from Paola in Florence about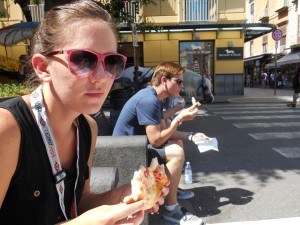 good, site-made gelato, we found a shop that passed muster and ordered cones for dessert.  I remember mine was pistachio and it was delicious.  We went into a wine/cooking store and purchased not only wine, but olive oil, limoncello, and a souvenir wine opener as well.  On the way back to the bus, I stopped to buy a kitchen towel I'd seen along the way that featured Sorrento and lemons.  Okay – GREAT time in Sorrento and now on to Pompeii – we were even early for the bus.
Here's where we began to notice Guido's strange way of speaking – we had less opportunity to tune him out when he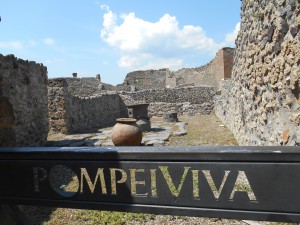 moved back to the middle of the bus for the ride to Pompeii (probably he noticed us falling asleep earlier).  Guido began to prepare us for the sights of Pompeii and with ever-increasing frequency to use the words "special" (which came out spatial – "spay-shul") and "proper" (with those rolling Italian R's).  As the afternoon wore on, we would hear those two words so many times, we began to predict when he would next use special and proper to describe things from homes, to streets, to gardens – pretty much everything became a "special proper" something.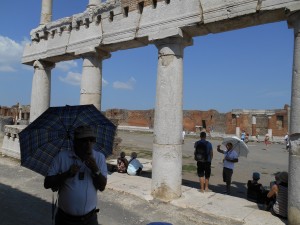 Pompeii is huge!  Armed (or should I say "eared") with our "personal whispers" as Guido called them – we once again were given listening devices so as not to miss a single thing about the glories and wonders of all that is special and proper in Pompeii.  The tour started off well.  Guido was easy to follow (under a plaid umbrella to provide him shade for lecturing) and there was, indeed, so much to see!  We toured streets, homes, stores, and incredibly well-preserved baths.  We also saw storage areas where hundreds of excavated artifacts and even human remains were visible.  We noticed that the tour became slower and slower in the afternoon heat, finally stopping altogether.  Here's where being used to summertime in Louisiana really paid off.  We were pretty comfortable, warm, but not HOT and the humidity (for us) was completely tolerable.
We wandered off, exploring as much as we dared – within earshot so we wouldn't accidentally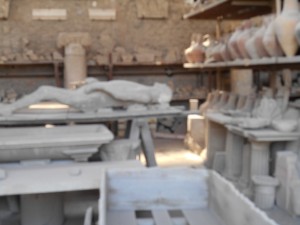 get left behind.  When Guido announced it was time to return to the bus, we knew we had seen very little of Pompeii – and absolutely none of the really interesting (risqué) parts.  Later, a look at the map and we could tell it was actually a very tiny percent of Pompeii that had been visited on the tour.  We ended up resenting the time wasted at the inlaid wood factory and the Positano overlook – if this tour would have gone straight to Pompeii first thing in the morning before visiting Sorrento, we would have enjoyed it much more.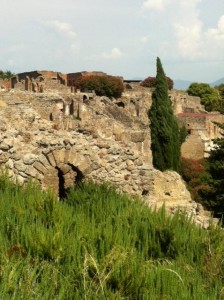 The bus dropped us back at the port terminal where we had time to purchase some souvenirs in the Vespa store.  Back on the ship, exhaustion set in.  All in all, even though we'd wished the day had gone a bit differently, we still got to do and see so much – it was hard to feel disappointed.  And while I may have physically been in the theater for the "Magic and Illusion of Scott Pepper" (that evening's show) I fell sound asleep!  When we were in Pompeii – I looked down at one point and noticed I was bleeding into my shoes from the ravages of jet-lag-induced swollen feet (sores from my shoes had formed on my Achilles tendons).  It didn't really bother me – I was having a great time, but I was absolutely beat and all of us were ready for the at-sea day we would have on Friday.  Rest and relaxation were not on the agenda, but much less walking would be involved.  Exhaustion aside, cruising on the Mediterranean was turning out to be everything we'd hoped for and much, much more.
Links to all the other parts of the trip report: