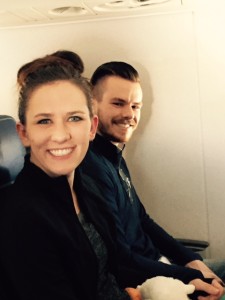 As promised when I posted this overview of our family's experience on Disney Cruise Line's inaugural sailing through the fjords of Norway, today's post begins at the beginning – to cover the trip in greater detail.  The cruise sailed from Copenhagen, Denmark, where we arrived the day before as early in the morning as we could manage, in order to maximize our time to explore this beautiful city which happens to have fascinating Disney connections!
We took a few hops to get to Denmark – Jackson, Mississippi to Houston to Toronto to Copenhagen.  We left Jackson at around 9:00 am Thursday and arrived in Copenhagen at around 10:30 am the next day.  We knew we'd arrive jetlagged, but vowed to try to minimize it as much as possible by drinking lots of water, getting plenty of rest, and moving around frequently.  Personally, I was exhausted before our plane even took off, so I wore a maxi dress over (to hide) a pair of compression/sports-recovery tights to improve circulation in my legs and, once we changed planes in Toronto, I slept nearly the entire 8 hours to Copenhagen.  My ankles were swollen when we landed, but not nearly as bad as the last time we flew to Europe and I was feeling great and actually well-rested as our single day in Copenhagen began.
We were greeted promptly in baggage claim by a smartly dressed Disney Cast Member who sized us up and asked if we were the Green Family – saying our first names carefully and welcoming us to Denmark.  Our luggage showed up immediately to be piled onto carts by two very kind young men and, in short order, we were all whisked off to our virtually empty, but extremely deluxe motor coach.  This wasn't unusual – everyone we dealt with in every place we visited was extraordinarily professional and pleasant.  All spoke perfect, nearly accent-free English.  Oh, and the busses were really clean and new – some with actual tables surrounded by seats.  All with drop-down tray tables – which came in very handy!
The weather was good.  A bit chilly and breezy, but no rain.  After a fairly short ride, we arrived at the Tivoli Hotel, booked through Disney Cruise Line (as were the transfers to and from the airport), and found that one of our rooms was ready.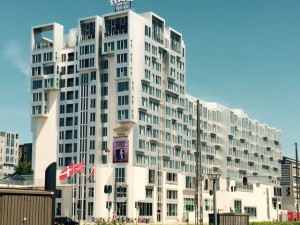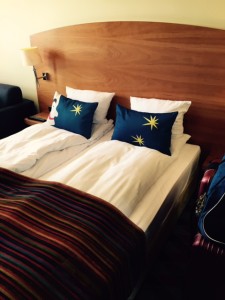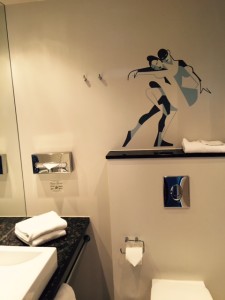 We took our luggage up to the sixth floor, changed clothes, cleaned up a bit, checked our street map and were ready to explore and, importantly, find a spot for lunch.  We didn't order Danish currency (Krone) prior to arrival, having read that it would be more economical to use our debit card at one of the plentiful ATMs to get necessary cash.  Easy and convenient – an ATM was very close to the hotel.  Everything we wanted to see was within walking distance of the Tivoli Hotel…if you're ever going to Copenhagen, we recommend it!  Even the view from our room, which we had no time to really enjoy, was very nice.
We'd decided, based on our excellent experience in Barcelona (prior to sailing on the Magic in the Mediterranean in 2013) that we'd book a Segway tour if Copenhagen had a company that offered one.  Sure enough, through a quick internet search months ago, we found and booked a 4:00 pm, two-hour tour with Segway Tours Copenhagen.  For $69 per person, this was an excellent value.  We generally do not enjoy seeing new places from behind the window of a car or bus – we want to feel like we're part of the action while learning as much as possible.  The other thing we thought would be a "must-do" in Copenhagen was visiting Tivoli Gardens, so we pre-purchased all-inclusive tickets that bundled park entry, all-ride access, aquarium entry, and a meal for about $75 per person.
Somehow, having a solid plan – have lunch, locate the Hard Rock Café (we always try to find one and buy pins wherever we go), take the Segway tour, then hit Tivoli Gardens for the evening – helps keep you going when you've been traveling for 24 hours.  We'd packed lots of layers for the chilly weather and, ATM cash in hand and properly bundled up, we found an outdoor café that advertised burgers as the specialty.
Probably, we should have ordered those burgers, but once I mentioned trying the smorrebrod (traditional Danish open-faced sandwich) to experience the flavors of Copenhagen more fully, everyone else followed suit.  I've been kicking myself for forgetting to take pictures of our lunch ever since.  On our plates we were served several separate food combinations and plain bread on which to build our smorrebrod.  On the left side of the plate was a folded slice of beef and some pickled vegetables in sauce.  In the middle of the plate was a large piece of salmon with sauce.  On the right side of the plate was a small ceramic bowl of pâté, which appeared completely unappetizing, but tasted great.  On the upper left side of the plate was a piece of cheese.  I know there's a very particular order in which all the items on the plate should have been consumed, but we did the best we could, with the pickiest among us avoiding the flavors they just couldn't manage.  By the look of our plates "after", you can see that hunger won out over any new-food apprehension we might have been feeling.  Some delicious beer completed our meal.
Fortified, we were off to find the Hard Rock Café.  Along the way we noticed a 7-Eleven and a Burger King – two chains that would prove to be extremely popular in both Copenhagen and most of the ports we visited in Norway.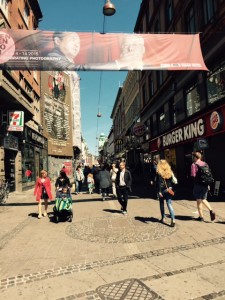 We noticed a small grocery story called Irma near the café so we decided, with time to spare, that we'd get the Hard Rock pins and pick up some bottled water and wine (for the cruise) at Irma, run all that back to the hotel and then find our Segway tour location.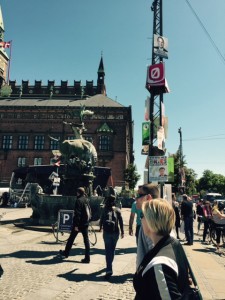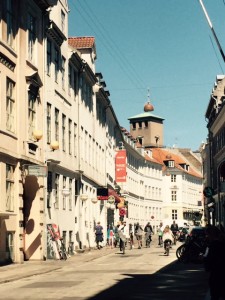 So far, the day was going perfectly!  Copenhagen was easy to navigate on foot, we'd gotten oriented, the weather was fine, our bellies were full and we'd procured beverages for the cruise.  Up next?  Our Segway Tour of Copenhagen.