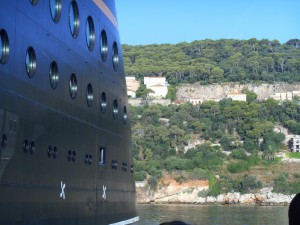 Note: This is part 4 of a trip report on our Mediterranean cruise aboard the Disney Magic in August, 2013.  Links to all other parts of the trip report can be found at the bottom of this page.
On Monday, August 12, we woke up in France!  We were up and ready to go early.  Waiting for the all-clear to leave the ship, we wanted to catch a tender to shore at the first available opportunity.  Fortified with a hearty breakfast from the Topsiders' buffet, we walked off the ship and into the beautiful port of Villefranche – a perfect example of small-town living – on the French Riviera!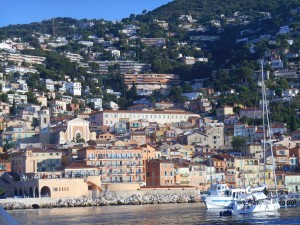 Having studied the French language, country, and culture for 7 years growing up – I'd developed a lot of pre-conceived notions about what to expect.  One day was all we would get and we planned to make the most of it.  Let me just say – this was one of the most fantastic days of any vacation EVER.  The town, the sights, the people, the food – everything was all I'd hoped for and more.
The plan was to walk from the port to the bus station in the heart of Villefranche.  Excursions offered by the Disney Cruise Line included visiting Monaco, Monte Carlo, Cannes, Nice, Eze and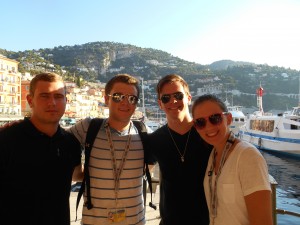 much more.  Rick Steves had gotten to me again, though – I wanted us to visit the town of Eze – but I didn't want to do it on a tour bus with a large tour group!  There are actually two towns named Eze.  We wanted to see Eze-le-Village, as opposed to Eze-Bord-de-Mer (by the sea) and, from what Rick had so say – this sounded like the perfect adventure for all of us.  Something about a medieval village perched high above the sea in the Maritime Alps seemed like something amazing, historic, and, well, French.  Plus, it would only take a few hours – getting us back to Villefranche in time for lunch and more exploring. – I had a plan for that, too, but first things first.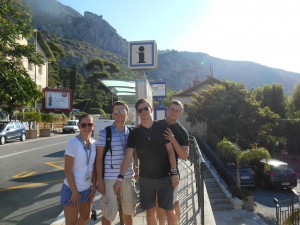 The weather was once again perfect.  Not too hot, clear and sunny.  We paused once off the ship to take a few pictures before getting in line for a tender to shore.  The Cote d'Azur scenery was breathtaking!  The trip to shore was brief and pleasant.  Once in Villefranche, everything was exactly as Rick Steves had described it – steep uphill walk into town, bus station easy to find.  The town was picturesque and quaint and, lucky for me, the bus station had an attendant who, once I asked politely in French for assistance finding the correct bus to Eze, was more than happy to help – in perfect English!  We would take bus #100 to a stop called "Eze Gare" at a train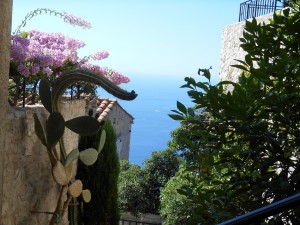 station along the coast and there change to bus #83 for the trip up to Eze.  When bus #100 arrived, the nice bus-station man even told the bus driver to make sure we got off at the right stop.  So far, so good.  We reached our transfer stop without problem, but, as it turned out, we had just missed the Eze-bound bus and would have to wait for its return.  It was QUITE a wait.  Like 45 minutes.  We were just beginning to think bus #83 was a myth when it finally pulled up.  Then began the upward trip – and I do mean UP!  At times the road was very steep and narrow with sharp hair-pin turns that hid what was ahead.  To distract myself, I watched the landscape, the beautiful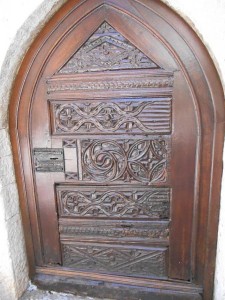 hillside homes with their incredible gardens – it seemed like everything in France was blooming!  At times I could see the Mediterranean – an incredible view!  Finally, the bus arrived at the base of our destination.
Eze-le-Village may be many centuries old, but today it has been taken over completely by tourism in the form of artistic, trendy shops and restaurants.  Every detail – doors, lanterns, signs, plants, and walkways – was absolutely magnificent.  For the price of bus fare (a couple of euros per person each way), we spent an enjoyable morning exploring Eze-le-Village and soaking up the sights and sounds of a different side of the French Riviera – in a fairly un-crowded, relaxed atmosphere.  Best part – we did it all on our own!
We climbed all the way through Eze's narrow, curving alleyways at a leisurely pace.  Stepped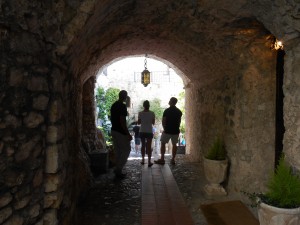 into a few of the shops – Megan and I loved the clothing, jewelry, and perfume!  Since we had arrived early in the day, the village was remarkably empty!  We felt like we were at the very top of the world – pictures just don't explain how gorgeous everything was – especially the view from the top.  Once we had seen enough sights to satisfy everyone in the group, we made our way back down to the bus stop.  Luckily, our wait for the bus this time was a short one – we were glad we'd arrived early as the crowds of tourists were increasing rapidly!
Back on the bus – we felt like we were seeing France – the real France.  As far as we could tell, all of the other people on the bus were French – we were the only American tourists, at least.  Sure,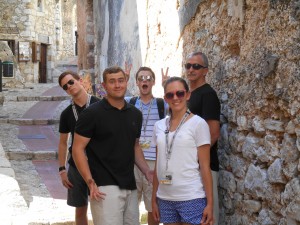 we could have gone with a big tour group to see the casinos and race tracks in Monte Carlo, the palace and riches of Monaco, or the shopping and glamor of Cannes – but we were totally satisfied with our adventure and, unknown to us, as we rode through the pretty little towns on our way back to Villefranche – the best part of our day was yet to come!
I my mind, I'd imagined little towns in France filled with lots of French people on bikes and scooters – or walking and shopping – and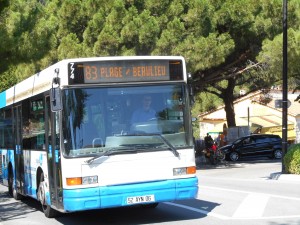 carrying baguettes (Like in Beauty and the Beast – "Marie!  The baguettes!").  I'd been taught that buying fresh food and baked goods daily was the norm and people could often be seen carrying their purchases – especially those long, seemingly indestructible loaves of French bread.  I was just delighted to find that real-life France – on a summer Monday, in a small town – was just exactly as I'd pictured it.  Once I'd pointed out the baguettes, everyone was spotting them – tucked under arms, in bicycle baskets, sticking out of bags, everywhere.
It was time to share the plans I had for lunch and sightseeing with the rest of the group.  I'd read (remember – two years of research went into this trip) that there was another, smaller port in Villefranche called Port de la Darse that we could reach easily by foot.  This port would have some choices for lunch in a quiet, much less crowded area – not frequented by tourists.  The day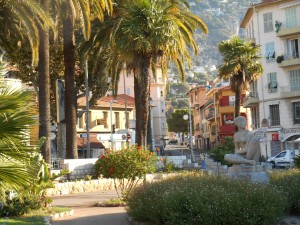 had been wonderful so far and everyone quickly agreed to give Port de la Darse a try.  We had no trouble finding it – on the other side of the walled Citadel from the main port.  We passed up two restaurants – one closed, one counter-service-looking with limited seating before we came upon a gem of a place called Le Cockpit – right beside the water.  Covered outdoor seating allowed for perfect people watching, I asked in French for a table for six and the proprietor sat us in a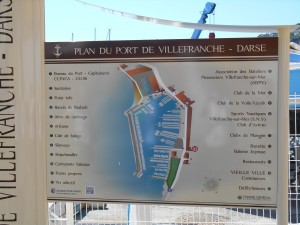 prime location – next to a table of salty old French sailors enjoying a leisurely meal.  We were delighted when the owner's college-age daughter was out waitress – her English, learned in Canada, was perfect.
We all ordered the fish of the day which came with fries and salad served family style.  We enjoyed some great white wine and soaked up the incredible atmosphere – so relaxing!  Our server was pretty disappointed that we didn't have time to stay for after-lunch drinks and dessert, but we wanted to take some time walking back to explore more of
Villefranche.  On our way out, I complimented the owner on the food and service and he was very curious to know how we came to be at his restaurant.  He was surprised we found him since the area is known to few tourists.  I told him that the very reason we were there was to get away from other tourists to experience France as it really is – to make the most of the one and only day we would have…that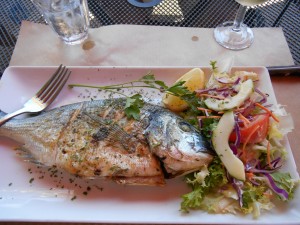 he and his establishment had been perfect!
We walked back to the main port along the Mediterranean – following the curved wall of the Citadel at the water's edge.  Once back amid the bustle of all the shops, restaurants, and open-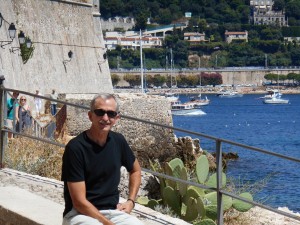 air markets, we took the time to buy a couple of small souvenirs and pick up some wine before catching a tender to the Magic in late afternoon.  Joseph was cracking us up with his "surly French bus driver" impersonations and all of us were thrilled with how well the day turned out – unexpectedly surprised by how much we enjoyed finding Le Cockpit!  Everything exceeded our expectations and of course, we left wanting more.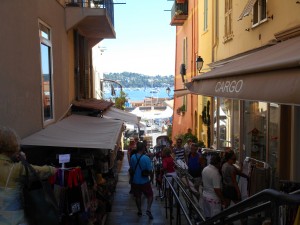 We ended up back aboard the Magic with plenty of time to get ready for dinner and host happy hour in our cabin – featuring French wine and an "All Hands on Deck" cheese platter from room service.  Our dinner that night was in Parrot Cay (now Carioca's) and the show that night featured "Junk" – a comedy and percussion group that was clever and hilarious – very entertaining!  After the show, Raymond and I headed for our cabin for a last glass of wine and a piece of chocolate on our balcony.  What a day!  So far, everything was going extremely well – all my plans working out perfectly.  It was hard to get my mind around how great the trip had been so far while there was still so much ahead.  Tomorrow, we would arrive in Italy!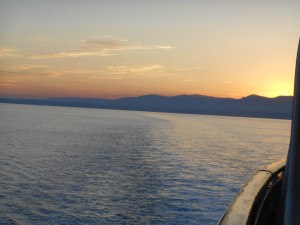 To read more about this trip, please follow these links: