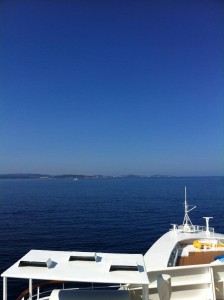 This is part 9 of a series.  Links to the rest of the trip report may be found at the very bottom of this post.
The last day of our cruise (Friday, August 16th) was a very special day…Megan's 23rd birthday!  It was particularly great that this was an at-sea day – we could take it easy and help Megan celebrate; quite a change from the previous four super-busy days.  We had the opportunity to sleep in a little later before getting ready for our Palo Brunch.
I'd brought along a Disney princess birthday banner to decorate with and a sparkly tiara for Megan to wear on her special day.  Raymond and I had also stopped by one of the gift shops and picked up a Belle scepter and some pins for our princess.  The gift shop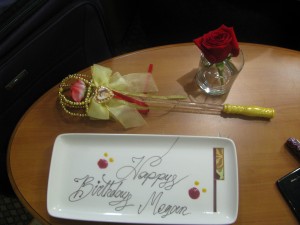 Cast Member put everything in a nice gift bag for us, which we dropped off at Palo mid-morning (so our server could bring it to our table later as a surprise).   At 11:00, we all met for brunch.  I carefully put Megan's tiara on her head and wished her a happy birthday – her reaction was everything I'd hoped for.  She did not take off her tiara all day!
Once again, Sylvester was our server (as requested) and, in honor of her birthday, Sly helped Megan select a bottle of sparkling wine to celebrate – Megan decided on the Banfi Rosa Regale – a sparkling rose with hints of strawberry and raspberry – which was so delicious, we had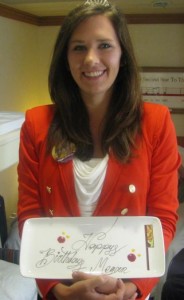 to find it again once we got home!  Sylvester also presented Megan with a plate containing a birthday message written in chocolate!  Brunch at Palo is nothing like dinner.  There are several buffet stations and also a full menu of made-to-order dishes.  The atmosphere is lighter and the diners seem much more focused on the food (and the experience of tasting and enjoying many different things) at brunch than at dinner.  And oh, what food!  Caviar, seafood, salads, cold vegetables, breads, cheeses, Danish, sweet rolls, and all manner of desserts make up the buffet.  The menu offers delicious flatbreads (a Palo specialty) and several entrees, many featuring eggs/breakfast-like items.  As we ate, the ship was passing between Sardinia and Corsica, which made for stunning views from Palo's plentiful windows.  This time, our meal did not, thankfully, last three hours.  We were finished a little before one and Raymond and I went our way and Megan, Grant, Joseph, and Jason went theirs.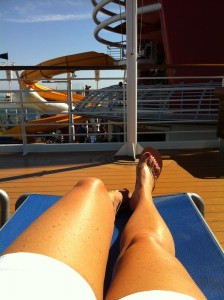 Knowing the Magic was about to go into dry dock for some major changes, Raymond and I had wanted to take a tour to see the ship one last time in her original form.  Checking our Navigator for the day, we found a tour was scheduled at 4:15 – we could tell the original Magic good-bye and take some pictures to remember her by.
Between brunch and the ship tour, we spent a leisurely afternoon, sadly beginning to pack our suitcases.  We would find out later that the birthday girl and her entourage made the most of their time with shopping, character meetings, and enjoying the special attention that accompanies onboard celebrations.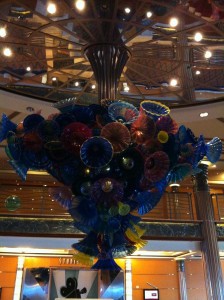 At the appointed time, we met for our Art of the Theme Show Tour with a very small group – one group member left our guide scrambling for a minute to find a Spanish-speaking Cast Member to go along with us and translate.  Mission accomplished and we were off.  We knew some of the facts and figures about the magic simply from having sailed on her before, but the guide was interesting and told us quite a few new things about the history of the Magic and her sister ship, the Wonder.
The highlight of the tour for me was seeing the seam where the Magic, constructed in two halves, had finally been assembled into one vessel.  I had no idea that, in order for the Magic and Wonder to be twins, the Wonder has a tattoo of sorts – a pretend seam painted on her in the exact same place as on the Magic.  The Wonder had not been made in two separate pieces and was missing that small detail.  This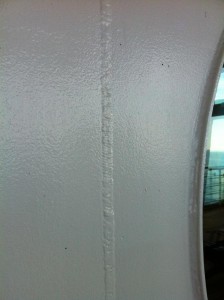 one small thing, that honestly NO one would notice or care about, is a perfect example of what makes Disney Cruise Line the absolute best cruise experience for guests of all ages.
Dinner that evening was pretty sad.  We were in Lumiere's – parting company with our servers and trying not to think about the long plane trip ahead of us.  That night's show was Disney Dreams – one of our favorites!  Due to the time of our flight (very early), we would not be leaving our luggage outside our rooms, but would carry it off with us in the morning to save time in the port terminal.  This made our last evening a lot less frantic without the usual mad packing to get our luggage out in the hall while keeping everything we would need to get ready the next morning.  While Raymond and I were drifting off to sleep, Megan, Grant, Joseph and Jason were squeezing every last drop of fun out of our trip that they possibly could by attending the "Til We Meet Again"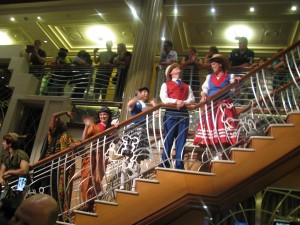 farewell party in the Lobby Atrium and having a wonderful time!
I'll do one final post in this report to sum it all up, consolidate links, and give some tips you may find helpful.  If you have any questions, please ask away!
Links to all the other parts of the trip report: