Social Media Buddies, you cracked me up!  Some of you were polite about our Christmas week at Walt Disney World plans and some of you were brutally honest (my kind of folks!) and wanted to know if we were CRAZY!  Yes, a little crazy perhaps, but Christmastime at Disney World is magical.  And crowded.  Boy, was it crowded.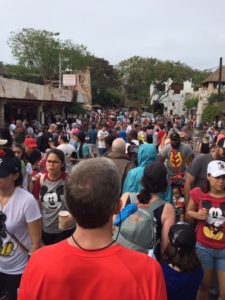 Disney World Last Week – Trip Recap
As with any visit to our favorite vacation spot, this one was packed with tons of Disney magic, lots of fun, and some extra-special Cast Members.  There were a few disappointments, some self-inflicted, but overall we had a great time.  Here's the lowdown on the best and worst of the trip…
Best Moments-
Having a Tiny Christmas Tree – If Raymond and Joseph thought I was out of my mind for packing a tree, lights, garland, and ornaments (including Disney characters, thanks to my friend, Debbie), they were kind enough not to say so.  Having that little tree in our room made me indescribably happy.  I turned on the lights every evening and it added just the right Christmas touch.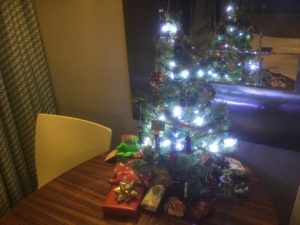 Christmas Morning in Magic Kingdom – The weather was perfect, the Cast Members were incredible, and as the sun came up, we were so happy to be there.  We rode Peter Pan, Little Mermaid, and Big Thunder before breakfast at Be Our Guest.  After that, we used our three FastPasses and were gone by early afternoon to enjoy the rest of the day away from the crowds.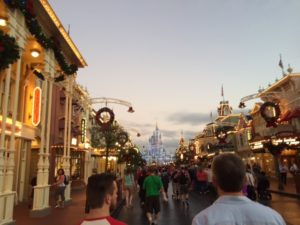 Hugs from Cast Members – I made a point of thanking the various Cast Members we encountered on Christmas Eve and Christmas Day for being there to make our holiday celebration possible. Some were clearly surprised and just said an enthusiastic "Thank you!". Others took time to ask where we were from and before long, we were hugging!  This, more than anything else, put the Christmas magic into this vacation for me.
Voices of Liberty – They're spectacular any time of the year, but this was the first time we'd heard them sing Christmas and Hanukkah songs.  We were so glad we'd made the time to enjoy this must-do in World Showcase's American Adventure.
Touring The Decorations – Some folks might refer to this as the Monorail Loop Pub Crawl, but in December it's called the Tour of Christmas!  The trees are gorgeous and the smell of gingerbread is in the air.  Everything sparkles. Bonus: during mid-to-late afternoon, the lounges are practically empty.
Notes of Welcome – We were greeted by special cards in Kona Café, California Grill, and Tiffins (where we also received some peppermint bark candy).  This was unexpected, unnecessary, and made us feel incredibly special.  Nice touch, Disney!!!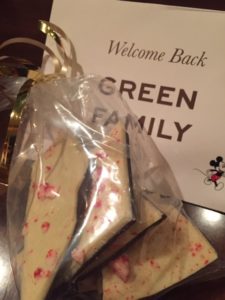 Meeting Peas and Carrots – If you don't know Carmen and Brian and their fun and informative vlog, you've been missing out! They were exactly as charming and fun at they appear on YouTube and I was thrilled to make their acquaintance when we happened to be in Epcot at the same time.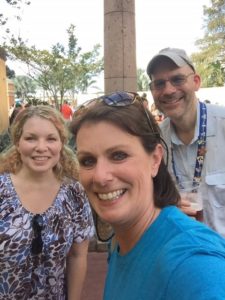 Best Food –
Kona Café – Always a solid choice! We love the atmosphere at the Polynesian and while Kona may be easier to get into than 'Ohana, the food is no less delicious! We enjoyed dinner on arrival day and breakfast later in the week after sleeping in – what a luxury!
California Grill – The view from our table-by-the-widow was perfect. Our server was awesome and the ever-changing menu a delight!  Thanks to my sister, Sandy and brother-in-law, Joe, we had a Disney gift card we used for an extra special Christmas dinner. From start to finish, complete with three courses, delicious wine and after dinner drinks with dessert, our experience at California Grill was perfect.
Tiffins – Remember last time we went and how much we loved having Kile as our server?  Miraculously, we asked for him again and he was there!  This place is outstanding for Animal Kingdom fans like us and Kile knows everything from the artwork to history and food particulars. Again, we had a magical, memorable dinner and will definitely return as soon as we can.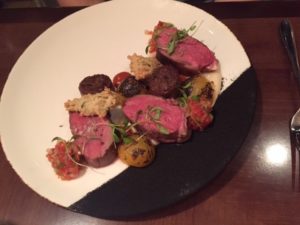 Jiko – What can I say? We've never been disappointed. Plus Animal Kingdom Lodge is gorgeous any time of the year and especially at Christmas.
Morimoto Asia – Raymond and I couldn't wait to take Joseph here since the experience is right up his alley.  Addicted to Food Network, lifelong fan of Epcot's Japan pavilion and adventurous diner, this restaurant was made for our only son.  Went exactly as we'd hoped it would and we all enjoyed our lunch tremendously.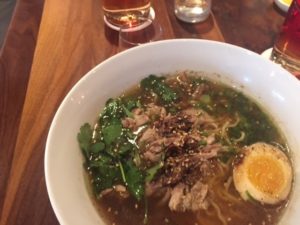 Best New Experiences –
Candlelight Processional (dinner package) – We chose breakfast at Trattoria al Forno which was wonderful in spite of the restaurant staff being incredibly short-handed. The atmosphere is cool and the food quite tasty. At about 6:15 that evening, we got in line for the show and found seats in the center about half-way back. Cal Ripken, Jr. offered a fine narration and the singers and musicians were fantastic.  Would we do it again? You betcha!
Express Transfer – While this special, optional service is currently in the testing phase, for park-hoppers like us, it was worth every penny of the $24 per person up charge for the week we were there!  One we added this feature to our Magic Bands, we were set! Slip out one park, board the bus and slip right into the next park…all behind the scenes!  Saved so much time and walking!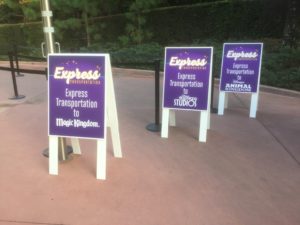 Wilderness Explorers – Sure it's for kids, but I talked Joseph into doing this Animal Kingdom activity with me and we really enjoyed the adventure!  (Full review with lots of details coming soon.)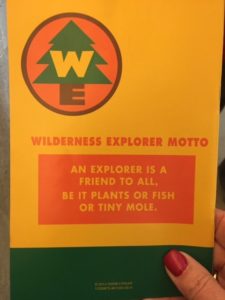 Jock Lindsey's Outdoor Seating – I'd never even noticed it before, but Raymond had and suggested we try it out.  There's lots of space which includes tables and chairs on a boat named "Reggie".  Of course that's where we wanted to sit. And what a treat it was! Awesome server and great beer selection.
AMC Dine-In Theater (for Rogue One) – There's nothing like this movie-and-a-meal experience available anywhere near where we live.  This was such a fun way to combine lunch and a show at Disney Springs.  We loved Rogue One and thought everything from the characters to the scenery, costumes, effects, and storyline were a perfect fit (and tribute) to the original movies.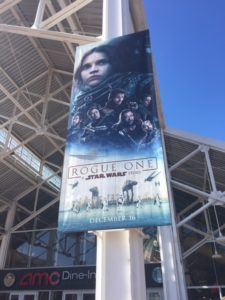 Disappointments/Regrets
Citricos – This was not what we were expecting after our last visit.  The service was not nearly as good as on our last visit even though there were plenty of empty tables around us.  The real problem was that something bad must have happened in the kitchen and the unmistakable taste of soap was in my and Joseph's entrees.  No, we didn't send them back, but we should have.  We should have at least complained.  My only excuse for not doing either of those is that we weren't very hungry and were particularly exhausted that day.  I just wanted to get out of there.
Wild Africa Trek – This one's on me.  I should have done more research.  I'll do a whole review on our experience, but overall I was disappointed in what we got for the splurge.  It was certainly not all bad, just not what I'd hoped for.  One of our guides was really snarky and that's probably my number one complaint.  We felt the tour was geared mostly towards children and better for families with little ones.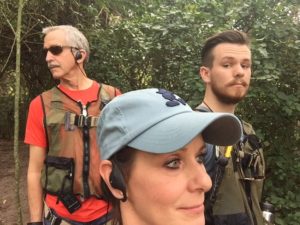 Jingle Bell Jingle BAM Dessert Party – The idea of this is nice, but I wish I hadn't spent the extra money.  The food and beverage offerings, meeting with Santa Goofy, and viewing area for the show were not worth what we paid.  We did appreciate the nice seating area that kept us out of the cold weather that night and the complimentary hand warmers were a nice touch.  We've always wondered and now we know – dessert parties are not for us.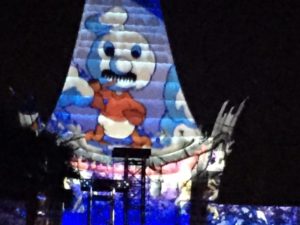 AbracadaBar – We finally made it here on our way to dinner at Flying Fish.  I'm glad there's a lounge option other than the Belle Vue at the Boardwalk now, but this spot is no Trader Sam's or Jock Lindsey's.  It's a great place to hang out pre-dinner, but I wouldn't go out of my way to visit again.
While visiting Walt Disney World for Christmas is not for the faint of heart, there's plenty of extra Disney magic to be found!  With a little extra planning and patience, a wonderful time awaits!
If you'd be interested in full reviews or additional details about anything mentioned here today, please let me know. Have you spent Christmas at Disney World?  What was your experience like?