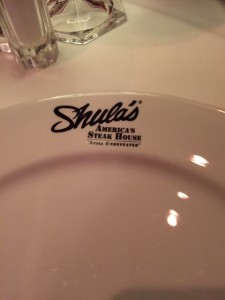 So many restaurants, so little time!  At Walt Disney World, steak-lovers have no shortage of options.  Three popular choices include Le Cellier (Epcot, World Showcase Canada Pavilion), Yachtsman's Steakhouse (Yacht Club Resort),  and Shula's Steakhouse (Dolphin Resort).  We'd tried two of the three and on our most recent trip to the World made dining at Shula's for the first time a top priority.  And we were so happy we did!
Disney Dining – Shula's Steakhouse
If you're not a football fan, brace yourself for the décor when you walk through the door (you'll get used to it once you taste the first bite of food).  If you ARE a football fan, you are going to love Shula's theme.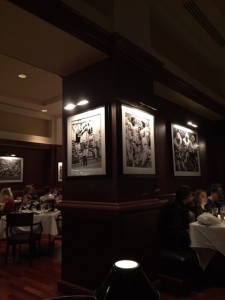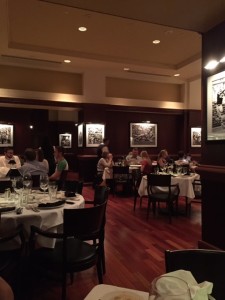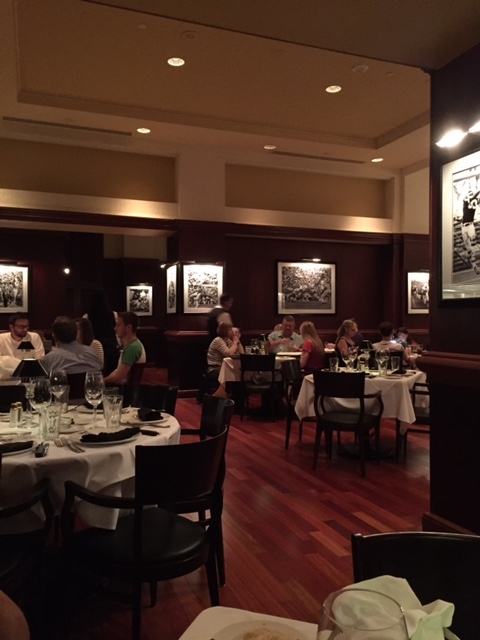 The original Shula's Steakhouse opened in 1989 (Miami Lakes, Florida) and, according to our hostess, the first menus were printed on footballs.  This explained why she escorted us to our table carrying a football (one of the menu-bearing ones) – which she left on our table for us to examine at our leisure.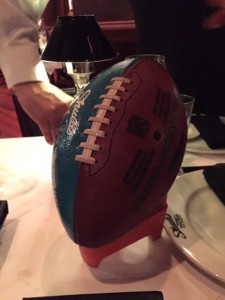 The wait-staff (dressed formally in black and white) is very serious about making dining in Shula's an excellent, worth-the-splurge experience.  They are professional yet friendly and informative – a team working together to achieve the goal (see what I did there?) of scoring a return visit from first-time guests.  In our case, it was a big victory.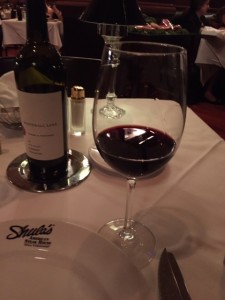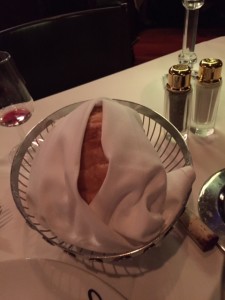 We started with an appetizer to share – the BBQ Shrimp – recommended by our server, Kyle.  The unique sauce and preparation made this dish a big hit with us.  Sweet, tangy, smoky and with a lovely crunch of bacon!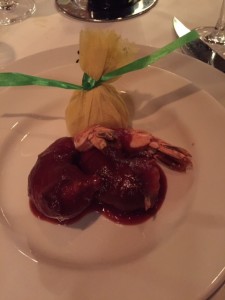 We also shared a salad – the Chopped tomato and mozzarella, which was also delicious, but in hindsight, we should not have ordered because we could not finish the most important course of the evening.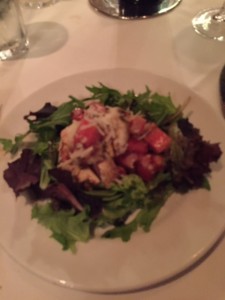 It really is all about the steak.  Raymond and I each ordered a filet.  According to Shula's website, the "Shula Cut" is key to how these (insert adjective of your choice here.  Ours include amazing, incredible, indescribably delicious, ridiculously tender, and unbelievably tasty) steaks achieve their well-earned reputation.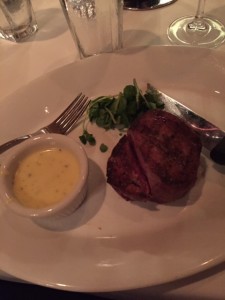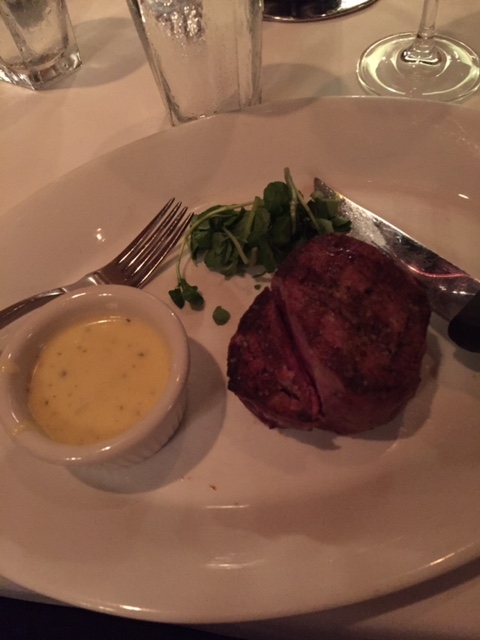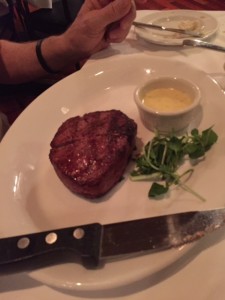 Seriously – if you love steak, you will be ecstatic.  Kyle stepped in with another recommendation on a side dish – the corn.  Corn?  Seriously?  OMG!!!  This was not like any corn we'd had before.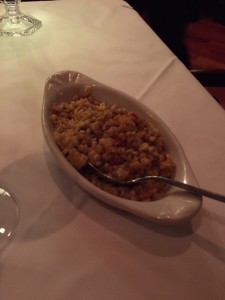 Like Kyle, we highly recommend the corn!  We also ordered a side of sautéed spinach.  (If you're old enough to be a Quick Draw McGraw fan like me, we were like Snuffles the dog with our dinner!)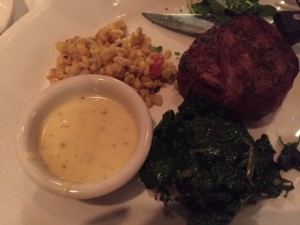 Without a doubt, we loved our experience at Shula's and wouldn't change a single thing – except maybe skipping the salad so we could have finished our steaks and eaten more corn!  We skipped dessert and made our way back to our room at the Polynesian with joyful taste buds and full bellies.  Shula's is now, without a doubt, our favorite steakhouse on Disney property.  Note:  Shula's is not on the Disney Dining Plan, but does accept Tables In Wonderland.
Have you been to Shula's?  What did you order?  Did your experience match ours?