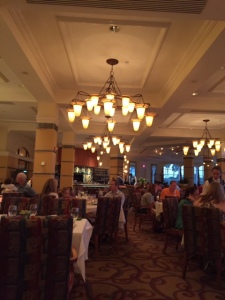 "Citricos in the Grand Floridian Resort and Spa is a hidden gem among Walt Disney World's table service dining options.  The combination of excellent service, relaxing atmosphere, and delectable dishes makes Citricos an excellent choice for a romantic dinner." – Me, once again channeling my inner restaurant critic.
Last week Raymond and I ate at Citricos for the very first time.  All through our meal and after, we kept asking ourselves WHY!!?!?  Why did we wait so long to eat there?  It was a fantastic experience – one we cannot wait for the opportunity to repeat.
From the moment we walked through the door, we were made to feel like the most special guests in the restaurant.  Escorted to our centrally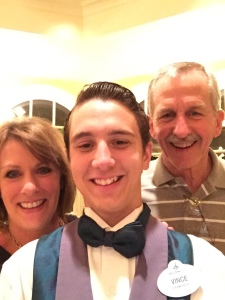 located table by Vince (who looked very young yet had oodles of charm to spare) and introduced to our server, Michael, who helpfully explained the menu to us and pointed out a few of the restaurant's specialties; our evening began.
Raymond chose a bottle of wine for us to enjoy while Michael brought us some fabulous bread with butter.  The butter is unsalted, but sprinkled with sea salt and citrus zest before serving.  I may have eaten a little more bread and butter than was wise, but it was just irresistible.  Perusing the menu, we were pleasantly surprised by the selection – a huge number of items to choose from, sure to please every type of appetite.  Even the children's menu is amazing.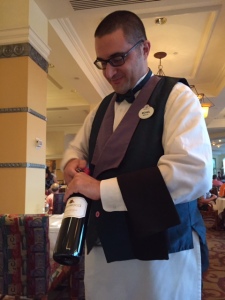 For starters we chose the Cheese Course Trio which is "Wijngaard Chèvre Affiné from Holland, Taleggio D.O.P from Italy, and Cashel from Ireland served with seasonal accompaniments" and completely perfect in every way.  It reminded me of the cheese appetizer we had at the Boardwalk's Flying Fish (and we loved that as well).  Michael paced our courses just right.
The entrée was so hard to select!  Raymond and I both decided on the Pan Seared Icelandic Cod served with "Roasted Yukon Gold Potatoes, Nueske's Applewood-smoked Bacon, New Smyrna Clams, P.E.I. Mussels, Carrots, Fennel, and Creamed Fish Fumet".  For all that fancy talk, we got some mighty tasty eats!!!  I'm not a huge fan of fennel and was pleased to note that I couldn't even tell it was in there.  The dish's flavors blended together perfectly.
Between the bread and butter, the cheeses, and the huge main course, we didn't have room for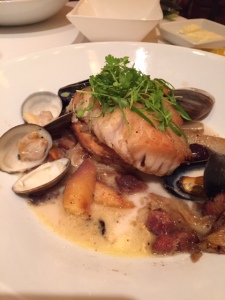 dessert.  We took our time finishing our wine and enjoying the restaurant's ambiance and each other's company.  When we were finished, we leisurely made our way to the monorail and rode back to the Contemporary and our home away from home at Bay Lake Tower.  Except for eating a bit too much, we couldn't think of a single thing we would have changed about the evening.
Check out Citricos' full menu here and do not pass up the opportunity to try Citricos for yourself next time you're looking for an awesome Disney dining experience.
Have you eaten at Citricos?  What was your experience like?