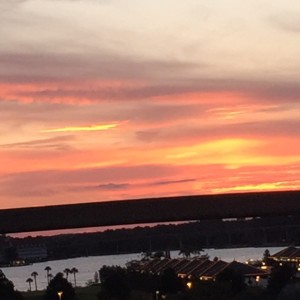 With so many gorgeous and captivating Disney details everywhere at Disney World, it's often hard to notice the spectacular beginnings and endings to the day provided naturally by the Sunshine State.  Early mornings are often missed getting ready to hit the parks for rope-drop and early evenings are completely ignored in favor of delicious meals in a favorite restaurant.  Once I notice what I was missing, I started making it a point to pause and appreciate those breathtaking moments I'd been ignoring.
Some amazing sights are afforded by Dawn & Dusk at Walt Disney World – here are five of my favorites:
Sunrise over Bay Lake:  Peaceful, misty, and absolutely gorgeous, watching the sun rise on Bay Lake is one of my favorite activities when I'm lucky enough to get a lake view room in Bay Lake Tower.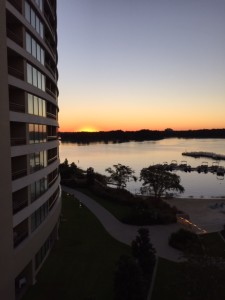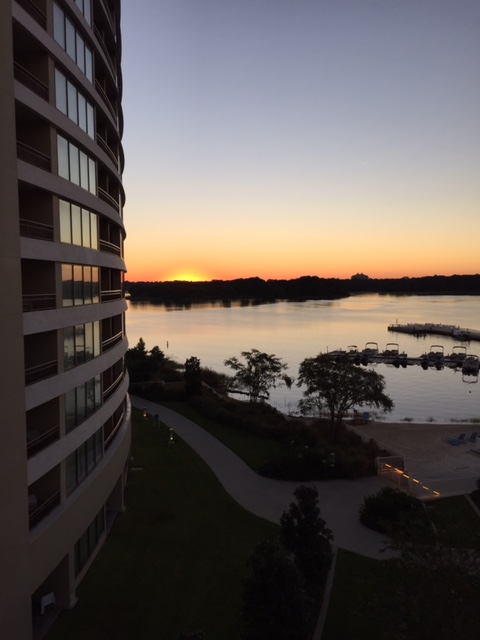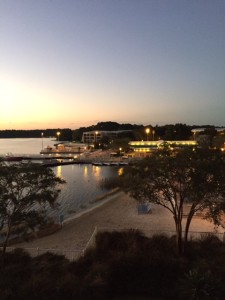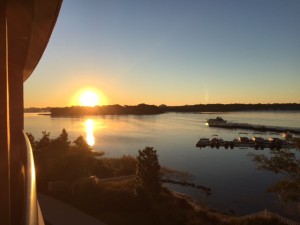 At first, the scene looks as still as a post card picture, but shore birds are waking for the day and boats are soon moving across the water.  I just soak it all in while sipping a cup of coffee – it's the kind of quiet time every great vacation should include.
Sunset over the Seven Seas Lagoon:  A window seat in the California Grill is a great vantage point for some gorgeous sunset viewing.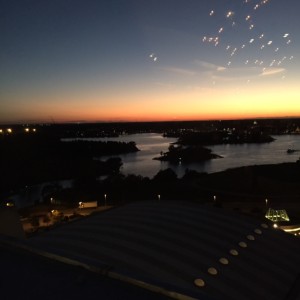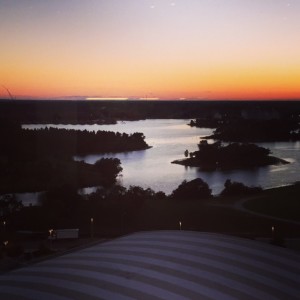 But the walkway between the Contemporary Resort and Bay Lake Tower works just as well (first pictures on this page were shot there).  Absolutely worth taking the time to enjoy!
Sunrise on the road to (or from) the Magic Kingdom:  You might not have to enter a runDisney race to catch the particular beauty, but that's how I saw some pretty awesome sights.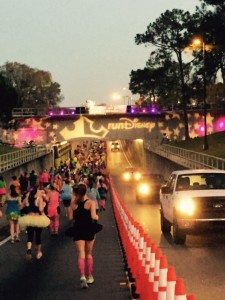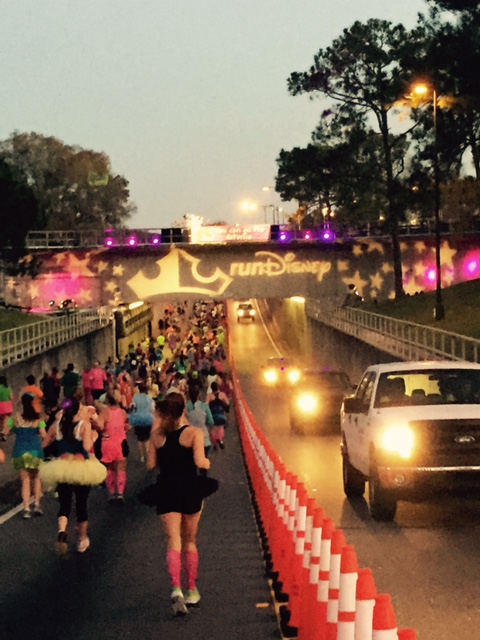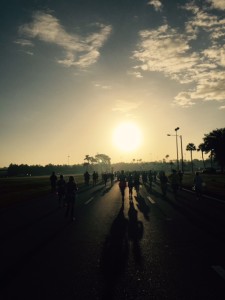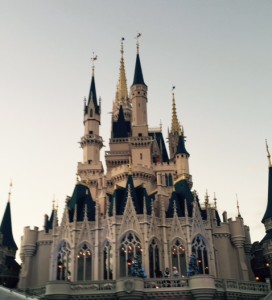 During the Princess Half Marathon, I was a tiny bit too late to see the sun rise on Cinderella Castle, but if you're planning on attending the next 24-Hour event, be sure not to miss that!  I bet it's incredible.
Sunrise over the World Showcase Lagoon:  Again, I was in Epcot before the sun came up for a runDisney event, but I had to stop and take a picture when I saw how still and beautiful everything looked in the early morning light.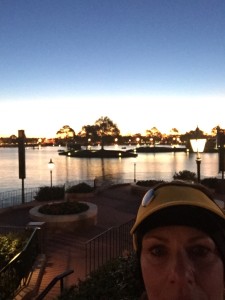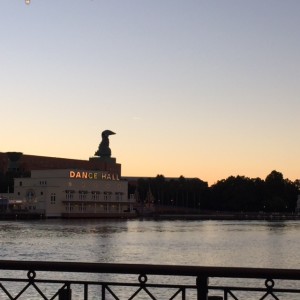 The sunrise is also very beautiful in the Boardwalk, Beach Club, Yacht Club area – and except for my fellow runners, very few people were out and about to enjoy the view.
Sunset at Animal Kingdom Lodge.  I'm sorry I don't have more pictures to share.  To me, there's something very special about this resort any time of the day, but as the sun is slowly sinking, the buildings glow and it's easy to feel as if you've been transported to Africa.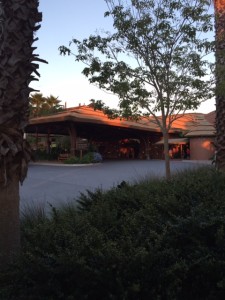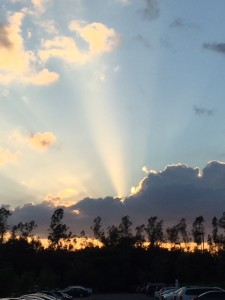 Book a dinner reservation at one of the Lodge's fantastic restaurants and plan to catch the sunset!
Your turn!  What are your favorite places to catch the views of dawn or dusk at Disney World?