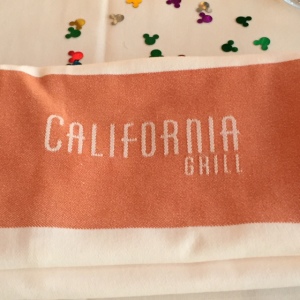 Raymond and I toyed with several options for our "official" 25th Anniversary Dinner.  Nothing was off the table (see what I did there?) including Victoria and Albert's.  Not gonna lie, I was tempted.  But then I thought about how much we love the Contemporary and what a big role that resort has played in our Disney past and how many years ahead we'll enjoy it as DVC members at Bay Lake Tower.  I think we were both a bit surprised when I passed on V&A's in favor of the California Grill.
It had probably been ten years since we'd enjoyed the California Grill and we were excited to see the updated version.  You check in on the resort's second floor and are escorted up to the restaurant.  I don't mind this process – it adds to the "specialness" of the occasion.  We were pretty excited to be riding in the elevator with a couple celebrating their 40th anniversary.  We could easily picture ourselves in another 15 years.  They were very sweet and obviously still very much in love.  They told us they'd be back next year to celebrate in the same way.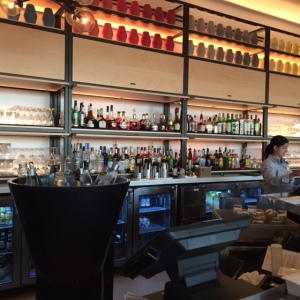 Once we checked in, we were given the flashing buzzer thing and told it would be just a few moments and we were free to sit at the bar if we liked.  The bar looked great – very welcoming with an open design that showcased the impressive selection of libations.  Just as we touched the backs of our barstools preparing to sit down, our flasher/buzzer went off.  On to the table!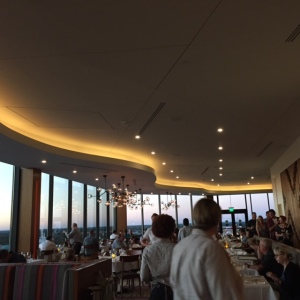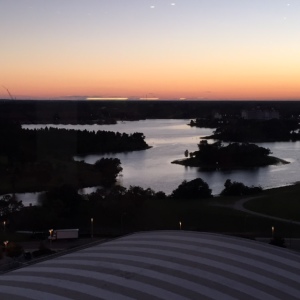 Here's where I got distracted.  The table for two by the window with a breathtaking view of the setting sun was perfect.  As were the magical touches we noticed throughout the evening – meant to make our anniversary dinner all the more special.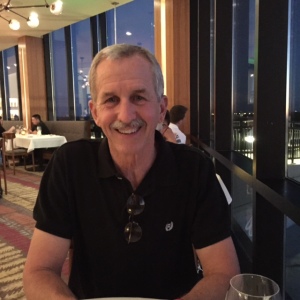 Because I was distracted, I failed to make a note of our server's name. I also forgot to snap a quick picture of our appetizer – I'd say I was sorry, but it's hard to regret shutting out all distractions for a little while to enjoy Raymond's company, soak up the atmosphere, and savor the incredible sushi we ordered as our first course.  The Mickey-shaped confetti sprinkled on our table was very festive!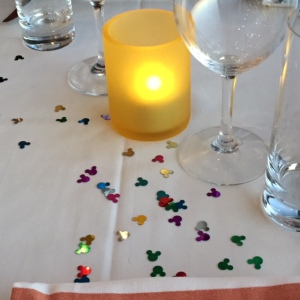 We'd ordered a bottle of wine, sampled the assorted breads served before the sushi arrived. ate ever grain of rice in our sushi (Spicy Kazan Roll: Crab, Shrimp, Scallops, Tuna, Fireball Sauce) and were ready for our entrees! Raymond ordered the "Spanish Seafood Pilaf – Cold Water Lobster Tail, Clams, Gulf Shrimp, Chorizo Picante, Saffron Rice" and I opted for the "Seared Rare Ahi Tuna with Lo Mein Noodles, Baby Shiitakes, Crispy Broccolini, Cilantro Soy Broth."  See full menu here.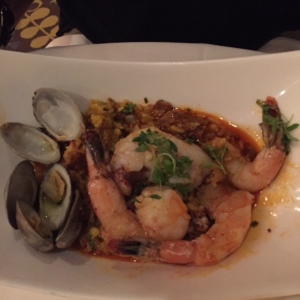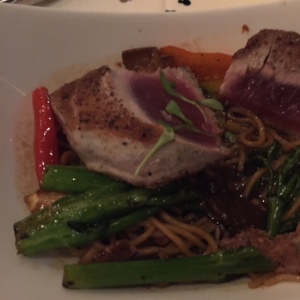 After our plates arrived, we were very quiet for quite a while.  I couldn't finish my tuna, but it was exactly what I'd hoped it would be – maybe even a little bit better.  Raymond felt the same way about his choice.  We were happy!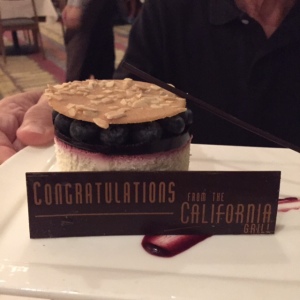 Selecting a dessert was hard!  Raymond always gravitates towards anything cheesecake and that evening was no different.  He ended up choosing the "Blueberry-Lemon Cheesecake (No Sugar Added) Local Florida Blueberries, Huckleberry Sauce, Almond Tuile, Lemon Whipped Cream"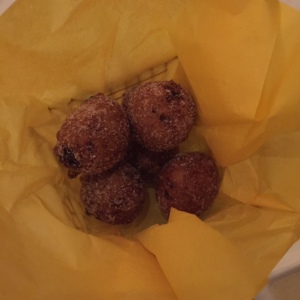 Most of the time when I say I want dessert, I end up not ordering anything but coffee then I'm happy with a bite or two of Raymond's cheesecake.  That night though, I saw something on the menu that really piqued my interest. "Warm Homemade Fritters – Banana-stuffed, Cinnamon-dusted Fritters complemented with a Trio of Dipping Sauces"  Can I just say that this is my most favorite restaurant dessert ever ordered – in the history of my life?!?  The fritters were like dense, cake-doughnut holes with the slightest hint of banana-bread-ish-ness, rolled in cinnamon-sugar.  They were served in a paper cone and were, indeed, warm as promised.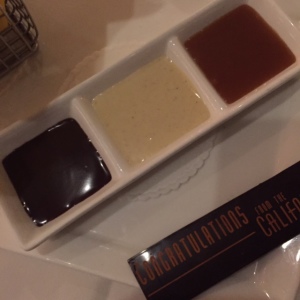 The dipping sauces, our server explained, were chocolate, peanut butter, and caramel.  I could shower you now with descriptive words in a lame attempt to convey the utter perfection of those fritters dipped in their accompanying sauces, but no matter how hard I tried, I wouldn't be able to adequately share with you the perfection of that dessert.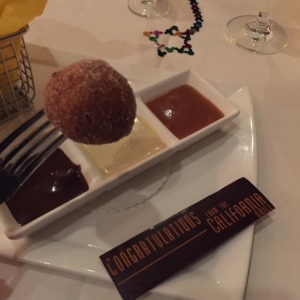 Holy Moly.  Every single bite was amazingly delectable – Made even more special by the complimentary glasses of champagne that were served with our desserts in honor of the occasion.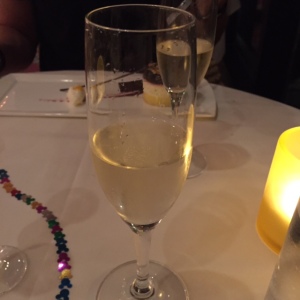 We. Were. Stuffed.  Coffee was in order to enable us to actually get up and move away from the table.  This is when I was even more happy we'd decided on the California Grill – we had only a short stroll across the walkway between the Contemporary and Bay Lake Tower to get back to our cozy little studio and sleep off our incredibly delicious and very special 25th anniversary dinner.
Have you been to the California Grill lately?  How did you enjoy your experience?