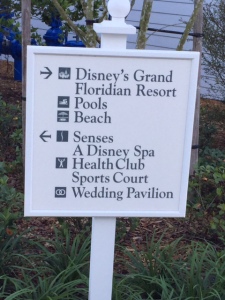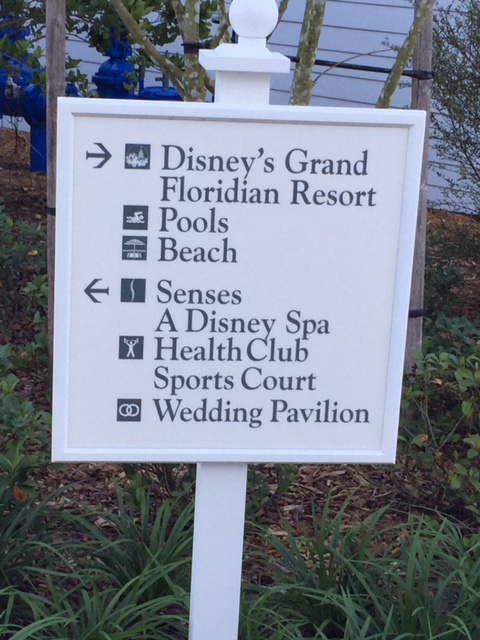 We didn't know what we'd been missing!  Raymond and I, in our bid to make the most of our 25th wedding anniversary celebration trip to Walt Disney World, decided to splurge on a few extras.  When you're only covering travel expenses for two, it seems easier to justify dropping a few more dollars here and there.  One of the special treats we decided on was a massage for two at the Senses Spa at Disney's Grand Floridian.  Expensive?  Yes, for us $275 for a 50 minute spa treatment caused a moment's pause while we considered what else we could buy with that money!  Then we thought of all the reasons it was a perfect use for our hard-earned cash – and we were right!  It was worth every penny.
They don't call it the Grand Floridian Resort and Spa for nothing.  There is an actual spa and it is fabulous!  Now that I've personally experienced it, here are my Top 5 Reasons to visit the Senses Spa (or pamper yourself at Walt Disney World in some special way):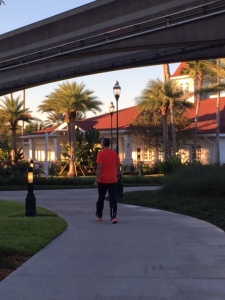 1. Great for Any Time!  Want to kick off your vacation with some relaxation outside the busy parks?  What about mid-trip when you're feeling tired from all that walking?  Or maybe, wouldn't it be great to get a relaxing spa treatment right before you have to go back to the real world?  Anytime's a great time for a little pampering!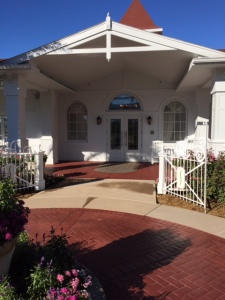 2. The Robe and Slippers!  And the spiced iced tea, and the aroma therapy, and all the extra little touches.  The spa is one awesome facility. Everything is designed to promote feelings of relaxation.  Because we were getting massages, we were supplied with super fluffy robes and comfortable slippers (in our actual shoe sizes!).  Those robes were really something!  So cozy.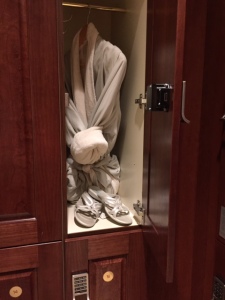 3. The Welcome!  I couldn't help but notice how warm and welcoming the Cast Members were!  You're offered a glass of tea upon arrival and then shown around the spa. The locker rooms are roomy and have everything you need to clean up and get ready for whatever else your day may hold.  There's shampoo, conditioner, body wash, hair gel, hair spray, and even deodorant if you need it!  If I'd known how well-supplied I'd be there, I would have packed a change of clothes and some makeup to save me a trip back to our resort.  The lockers have electronic locks that are easy to use so you can store all your personal items worry-free.  Everything is luxurious and intended to make you feel like the most special guest there – worked for me!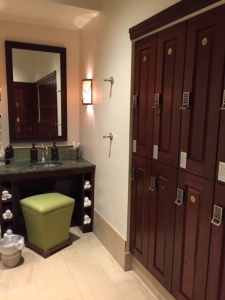 4. Screaming Children!  They do seem to be almost everywhere at Walt Disney World…but they are NOT in the Senses Spa!  It's blissfully peaceful and the tranquility is further enhanced by the use of aroma therapy and soft music.  The fragrance used during our massage was frankincense which I found to be pleasant and soothing.  The complete and total escape from the rest of the World is what I loved most about my visit to Senses.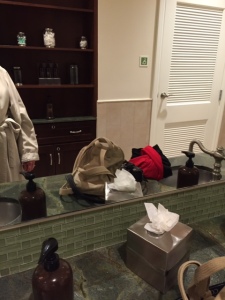 5. You Deserve It!  We were spending an entire week at Walt Disney World alone for the first time in 25 years.  We were footloose and fancy free.  We could have spent the money on tours, or fine dining.  Instead we spent that money and time on a unforgettalbe experience.  We didn't have to think, move, listen, plan, or hurry.  For 50 minutes, we were quiet and relaxed while two very kind and knowledgable Cast Members worked to free us from stress and muscle tension.  We loved it so much, we're going back again in February!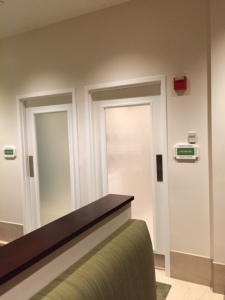 When our time at Senses was over, we were hungry!  After catching a delicious breakfast at the Grand Floridian's Gasparilla Island Grill, we hopped on the monorail for a quick stop back at Bay Lake Tower to change clothes.  Then were ready to head over to Epcot for our French Regional Lunch.  A visit to the Senses Spa was the perfect way to begin the last day of a wonderful vacation.
Here's a complete list of all the treatments offered at the Senses Spa.  Would you spend the money on a splurge like that?  If not, what would you do instead?