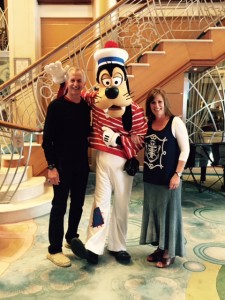 The first full day of our cruise would be spent at sea – between Copenhagen, Denmark and our first port in Norway (Stavanger).  This might sound a bit disappointing since logically, after sailing away, you'd think we'd be ready to see and explore more exciting locations.  This day at sea could not have been more welcome – or FUN!
Disney's Magic in Norway – At Sea Day
When the day began, we only had two solid plans on our family agenda:  Private Mixology with some friends from the cruise's Facebook group and Formal Night.  On days like this, it goes without saying that Raymond and I, early risers, will do our best not to disturb Megan and Joseph on our way out the door.  Up until our Mixology session, we were all free to do whatever we liked.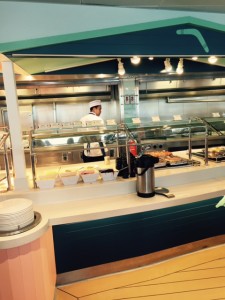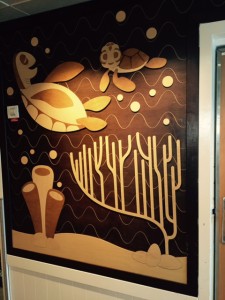 Raymond and I chose to hit the buffet in Cabana's for breakfast and see who we could find out and about before attending the reception for Gold and Platinum Castaway Club Members.  We happened to run into Captain America!  Let me just say that he's exactly as he appears in the movies!  He was very hero-esque and incredibly tall.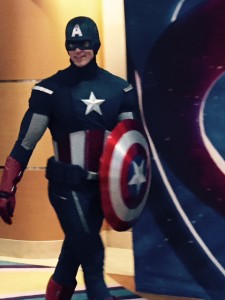 This would be our first cruise as Gold level members and we had no idea what to expect at the reception.  We were very glad we checked it out!
If I heard correctly, there were over 600 Gold and Platinum Castaway Club members on this particular cruise.  This would explain why the reception was being held in both Fathoms and O'Gill's at the same time.  We arrived promptly at 10:30 and were greeted with a cocktail and invited to take a seat.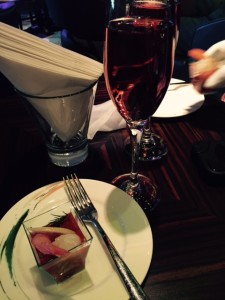 We found a table for two to the right of the stage and a cast member offered us a shrimp cocktail…yes, please!  The guests in O'Gill's that could not see the stage would watch the presentation via television.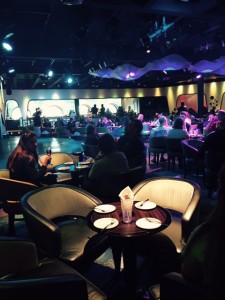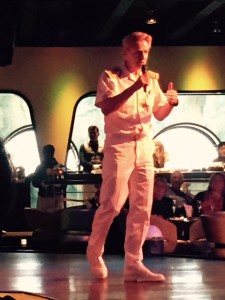 Commodore Tom Forberg and (I am embarrassed to say I cannot remember his name) the Chief Operating Officer of Disney Cruise Line were the featured presenters at this gathering and they were GREAT!  This presentation made us huge fans of the Commodore and we were so glad we attended the reception!  Special events like these are part of the reason so many people keep sailing with Disney Cruise Line over and over again.  Captain Mickey was even available post-reception for a photo.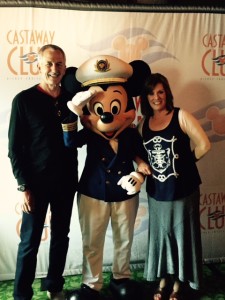 There's a small gift shop in this section of the ship that always has unique, destination-specific items – different than what can be found in the main shops.  We ducked in and found a cap for Joseph and ear-warmers for Megan that were both made in Norway.  (You'll see Megan and Joseph wearing these in many of our photos.)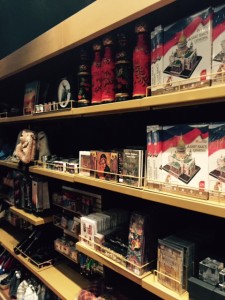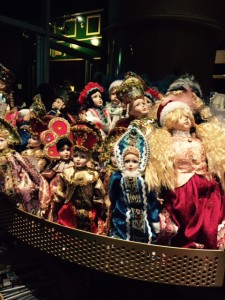 Remembering the very strict warning we gave Megan and Joseph about NOT attending the Mixology lesson on an empty stomach, we decided on Lumiere's for lunch.  We weren't particularly hungry, but we knew there would be fantastic light options on the menu.  I was hoping to find my favorite appetizer of all Disney Cruise Line offerings – the Chilled Mango Soup.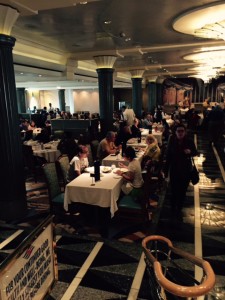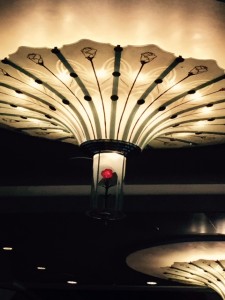 We rarely get to enjoy a quiet, relatively kid-free meal in Lumiere's, so it's become a habit to try to enjoy lunch there if we can.  The service is always excellent, as is the food!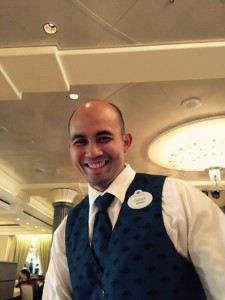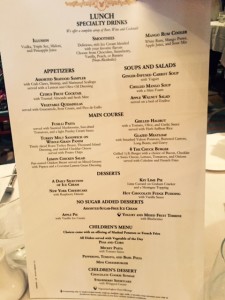 YES – the soup was on the menu!  Raymond ordered a salad and the halibut main course, I ordered the Chilled Mango Soup and a Lemon Chicken Salad that sounded light and refreshing.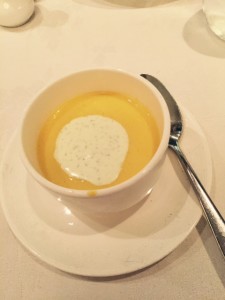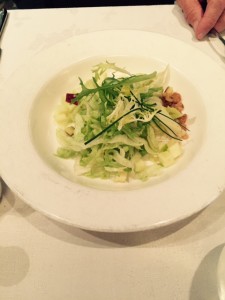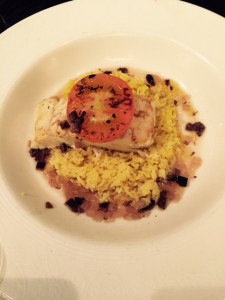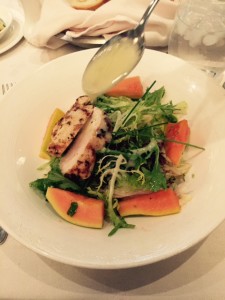 We took our time and enjoyed the beautiful atmosphere.  Soon it would be time to meet in Keys.  As it turned out, we ran into Megan and Joseph while we were walking around after lunch, so we headed to Keys together where we would learn all about the art of mixing cocktails.  Megan mentioned that she'd found out that the Marvel characters were on board and she was determined to get pictures with them – checking her Navigator app, she was busy making plans.  We told her that'd we'd seen the Cap and he did not disappoint.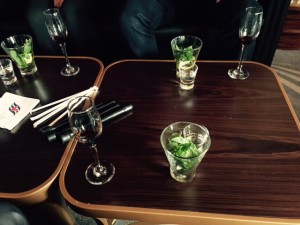 Linda Walker, a very kind Facebook group member from Great Britain, was nice enough to organize and book the private group session and greeted each group with a gift (a book on cocktails) as we entered Keys.  I'd been particularly excited to meet Linda at the initial Facebook group gathering the day before since she's a very loyal listener to The Disney Exchange Podcast – I knew her from social media but hadn't met her face-to-face until this cruise.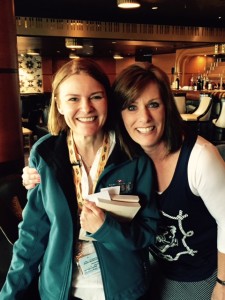 We found a table by the window and prepared to learn all about cocktails.  Admittedly, we generally drink beer or wine, so we didn't know much about mixology, but were eager to learn.  Our instructor, Fletcher, was engaging, knowledgeable, and very entertaining!  Just a weird happenstance – we discovered that none of us (in our family) like Mojitos…not even a little bit.  But, we did enjoy the rest of the cocktails we blended and sampled.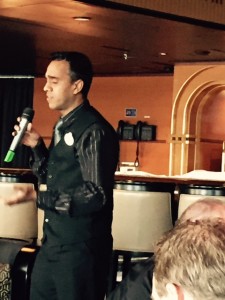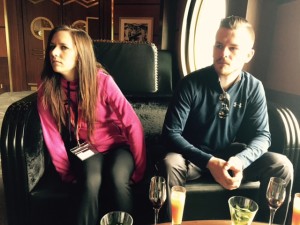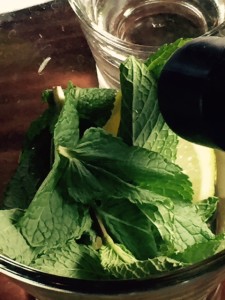 Once the class was over, Megan, Joseph and I stayed to visit more with Linda.  Raymond said he was going to the cabin, but he was actually going to play a joke on Megan!  I'll tell you about it in a minute.
Realizing how late it was getting and that we'd all have to get ready for formal night, we reluctantly headed to our stateroom.  We had time to relax and watch some Mickey Mouse cartoons on TV for a few minutes before we put on our formalwear and headed to the Captain's Reception.  Dinner would be in Carioca's – my least favorite choice for Formal Night, but the menu would make up for that.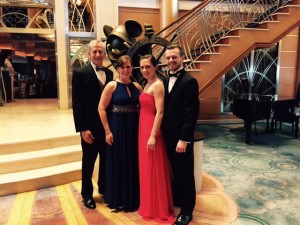 You'll see in the pictures that many guests did not dress up – we know that's going to be the case, but we still go all out.  (If you're curious why we always dress up for formal night, I explain in this post.)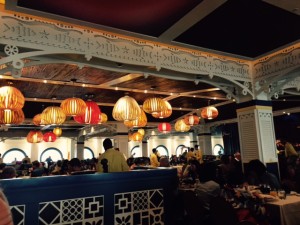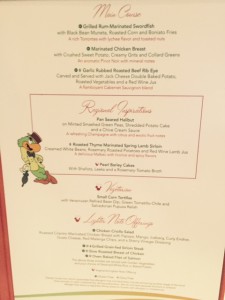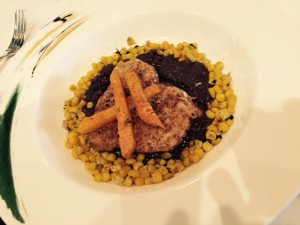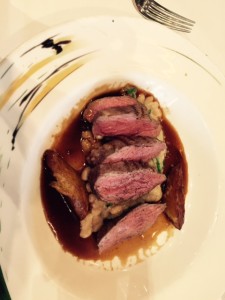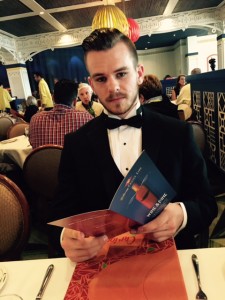 Dinner was delicious, but the dinner conversation was hilarious.  With impeccable timing, Raymond asks Megan when she was planning to squeeze in a Marvel character meet-and-greet.  She excitedly shares her plans and mentions which characters will be appearing at different times…that's when Raymond mentions what he did earlier that afternoon after the Mixology session was over…and shows Megan the pictures he has on his phone.  Oh, the look on Megan's face was priceless!!!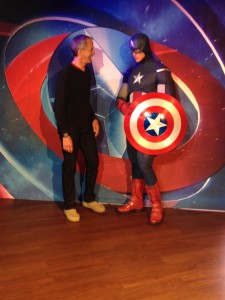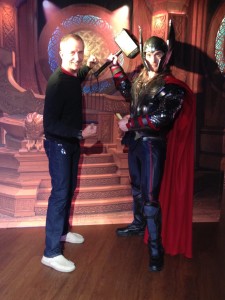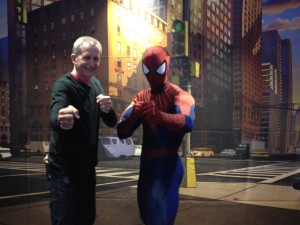 After dinner, we were off to the theater for Twice Charmed.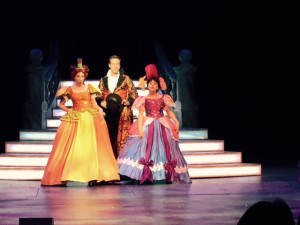 We'd seen this show before, but it's entertaining and lots of fun.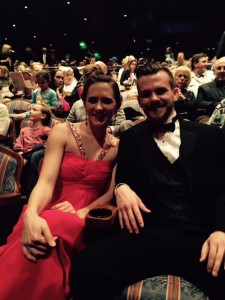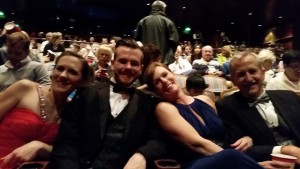 Knowing we had a big day the next day, starting early in the morning, we didn't stay up too late.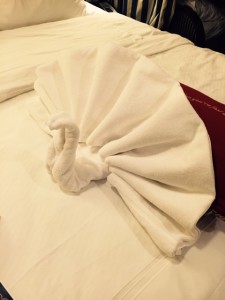 Tomorrow we'd have our first BIG adventure in Stavanger, Norway and we could not WAIT!
Thanks for follow along…Lisa
Links to other posts from this trip: