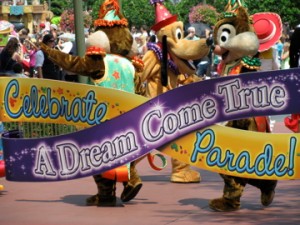 Magical Memory Monday!  Just last year, we had a fantastic Disney vacation (aren't they all?) that included an unexpected, wonderful surprise!  VIP seating for the afternoon parade at Magic Kingdom.  Can you believe it?  Pixie Dust at its best and here's how it happened:
May 2012.  The Fam and I were headed to Disney World and thought it would be great if Megan and Joseph each brought along a friend.  Joseph's best friend, Jason, had been on many vacations with us before and was the easy choice for Joseph as a travel buddy.  Megan brought her friend Ashley along.  Ashley was in dire need of a vacay having just graduated from nursing school.  The six of us had a perfect set up in a two bedroom suite at Bay Lake Tower, so off we went.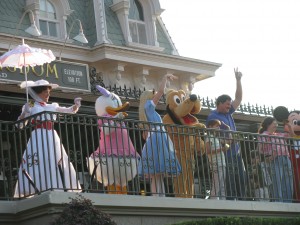 On our Magic Kingdom day, we arrived for the opening celebration with a carefully constructed morning touring plan and a free afternoon to do as we pleased.  I was trying out a new strategy I had read about online – once into the park, immediately take the train to Frontier Land, beating all the guests on foot and putting yourself at an advantage for getting on those two very best Frontier Land rides: Splash Mountain and Big Thunder Mountain Railroad.  Oh, there were doubters among us.  My plan deviated from tradition and, when we reached the steps to the train, they were closed off – I stood firm (this did prove to be an excellent strategy). Shortly we found ourselves on the train platform with very few other riders, waiting to board.
I have this habit of always looking at Cast Members' name badges.  I find it interesting to note where everyone is from – listed right below their name is their home town.  On this particular day, when I glanced at the name badge on the Cast Member nearest to me on the train platform, I thought it said the name of his hometown was the (small) city where I work.  Surely I was mistaken, certainly my eyes were playing tricks on me and the state was probably IA instead of LA – I waited for him to turn back to me.  YES!  This gentleman was from home!!!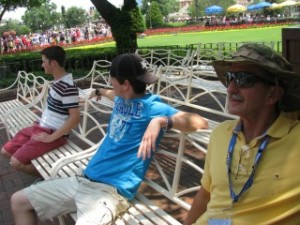 I was so excited to tell him we were basically from his "neighborhood" and he seemed genuinely happy to meet us and discuss things from home for a minute while we boarded the train.  As we got ready to steam off towards Frontier Land, he asked our names and if we would be in the park all day and when we said YES – he told us the Cast Members at VIP parade seating would be waiting for us so we could enjoy a very special parade viewing experience.
Let me tell you – of all the magical things that have happened to me over the years at Disney World,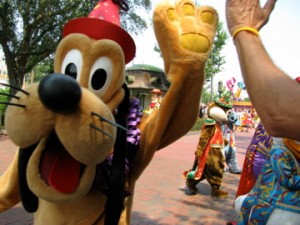 this ranks among the very best.  About 30 minutes before the parade was scheduled to begin, we found the VIP seating – in a shady spot on ornate white iron benches along the bridge that passes between the hub at the top of Main Street and Liberty Square.  Before the parade began, we had time to sit and relax…some of us even enjoyed a snack.  The Cast Members making their pre-parade route inspections carried misting fans and smiled as they sprayed us on their way by.  This was an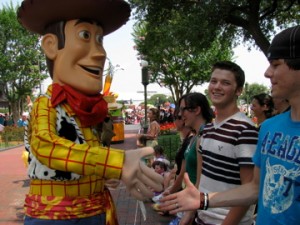 unbelievable, unobstructed parade view – with tons of VIP character interaction.  Because the bridge is closed to everyone not IN the parade, we were front and center to all the action. 
 I've always loved the Magic Kingdom parade, but on this day it was especially (indescribably) fun and we did feel like very special VIPs every minute.