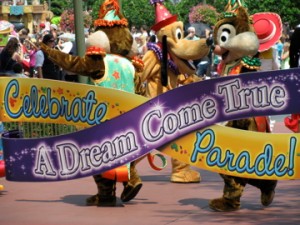 2014 is bringing about lots of changes at Disney World.  One of these changes is to the afternoon parade at the Magic Kingdom – it's out with the old and in with the new!  I, for one, am totally stoked about this.  I liked the old parade well enough – Celebrate a Dream Come True (final performance was January 4th) – we managed to catch it several times during its almost-5-year run.  Once, in 2012 we were even pixie dusted into VIP seating.  Okay – I probably could have lived without the parade's theme song which, like the tune in It's a Small World,  wormed its way into my brain for the rest of the day (or longer), but I love a good parade nonetheless and Magic Kingdom's has never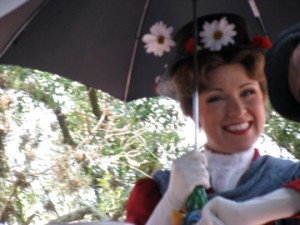 disappointed.  It's a great way to see many different characters – some you don't usually get to meet & greet – at one time.
Now it's time to make way for the Festival of Fantasy Parade which will debut this spring.  This means, unfortunately, no afternoon parade for guests to enjoy between now and then, but the Move It! Shake It! Celebrate It! street party will still go on (3 times a day right now) as will the Main Street Electrical Parade in the evenings.  The most exciting part is that the theme of the new parade is so appropriate –  It will incorporate the characters and stories from the new Fantasyland and include completely new floats and costumes.  Rolling to both a new theme song (oh, thank goodness) and well-known songs from our favorite Disney movies, the Festival of Fantasy Parade is sure to be a spectacular addition to the 2014 excitement at Disney World.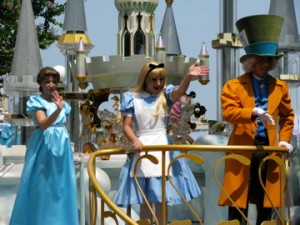 TIP:  If you happen to watch the parade in the vicinity of a newly minted little princess who has visited the Bibbidi Bobbidi Boutique.  You'll see the parade characters, princes, and other princesses acknowledge the "royalty" in the audience in many special ways – bowing, winking, waving, blowing kisses – just another way Disney makes memories for guests that last a lifetime.