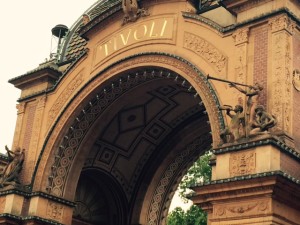 I'd be completely remiss if I didn't tell you  how we spent the one pre-cruise evening we had in Copenhagen (after our Segway tour).  We spent several wonderful hours in Tivoli Gardens, but I'll apologize right now for the lack of great pictures.  By the time we made it to the Gardens, we were indescribably tired, but very committed to experiencing this amazing, truly magical place to the fullest extent possible (under the circumstances).
Tivoli Gardens is famous for many reasons.  This popular Danish amusement park and beautiful gardens first opened in 1843 (2nd oldest in the world).  In the very heart of Copenhagen, Tivoli Gardens is a compact, excitement-filled novelty!  Restaurants, rides, entertainment (Elton John will be playing there this week!), attractions – even boasting its own aquarium – it's no surprise to guests that this place was an inspiration to Walt Disney for Disneyland.  Both park's are based on the premise that they'll never be complete – always changing, yet maintaining the heart of the original design.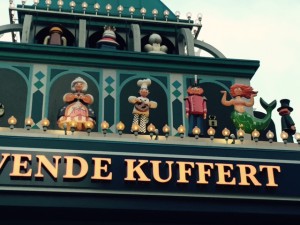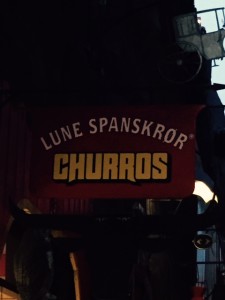 So much about Tivoli Gardens was unique, but many things were oddly familiar!
Our all-inclusive tickets (pre-purchased months earlier online) were a bargain at around 80 dollars US.  We'd get park admission, aquarium admission, all-ride access (rides are usually purchased a la carte), free ride photo of our choice, and a meal (limitations apply).  We arrived early evening and decided to get the lay of the land and knock off a few rides before getting something to eat and reassessing our ability to power on.  We received paper wrist bands for ride access and small, tear-apart paper tickets for our meal and photo.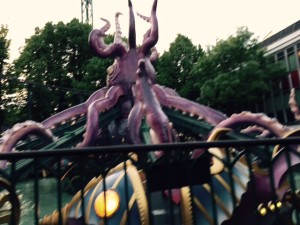 The rides varied wildly in age and thrill-level.  Some were quite old and others really new (and cutting edge) – all were outdoors and many resembled carnival rides.  Here's where an open mind helped – the rides that looked tame were actually loads of fun!  The rides that looked super scary were actually thrilling yet smooth.  ALL were great fun!
"The Roller Coaster" built in 1914 and one of Tivoli Gardens most popular rides was incredibly fun.  "The Star Flyer" took all my bravery – it was basically two-seater baby swings hurling around and around on a single middle post – WAY up in the air!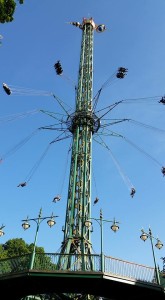 Lots more fun (and less sickening) than anticipated.  Also a testament to Denmark's lack of crime – any and all possessions (empty pockets were mandatory) had to be left on the ground in unlocked "lockers" to be retrieved once the ride was over.  Our favorite ride by far was "The Demon" – imagine Rock'n' Roller Coaster, but four seats across, outdoors and much, much smoother.  We were in awe!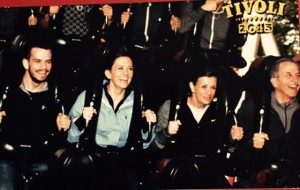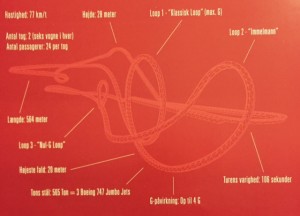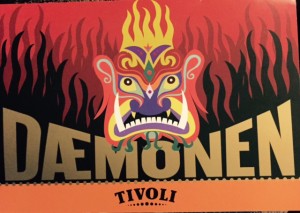 Realizing how hungry we were, we decided on the Biergarten for supper.  It was the only option (as far as we could tell) for a meal that wasn't a sandwich.  We'd each be getting a half a roast chicken, fries, pickles, and a beer.  Sounds great, right?  We presented our meal tickets at the counter and, after what we thought was a pretty substantial wait, our buzzer/flasher thing indicated that our food was ready.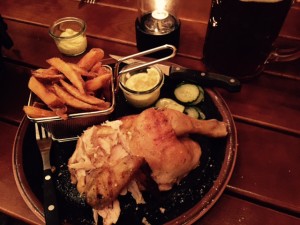 Whoa!  We did not go away hungry!  The chicken was of a generous size, the beer even more so, and the fries were without a doubt the best I've ever eaten.  I was alone in my love for the pickles, but thought they were fantastic!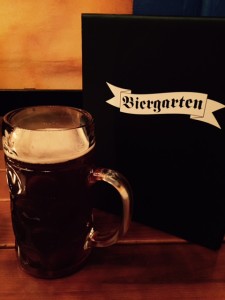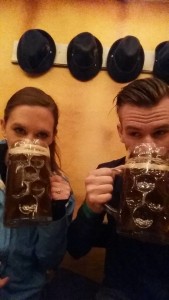 Fortified, we headed back into the park for a few more attractions and a tour of the aquarium.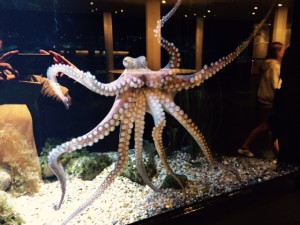 While not large, the displays were well-done and full of interesting fish.  For the final event of the evening, Megan and Joseph rode "Aquila" which was a spinner ride experienced mostly upside down.  (I have short videos of a couple of the rides and the octopus from the aquarium that I'll post over on our Facebook page.)  On the way out, Megan and Joseph stopped for ice cream and we slowly made our way back to the Tivoli Hotel.  At 10:30 pm, the sun was setting on our incredible day in Copenhagen – and our vacation had jut begun!
Up next, embarkation day, the sail away party, meeting new friends, and our first day at sea on the way to the first port of call in Norway – Stavanger.
If you have any questions or want to know more about anything in particular, please let me know.  As always, thanks for reading.