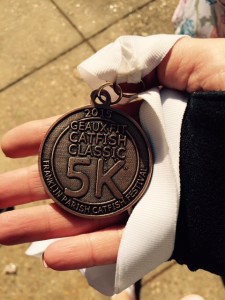 I had an awesome weekend.  Being a Disney fan, a runDisney fan, and a Disney food fan – it was a winning lineup for Easter!  Friday, my office was closed, so I got to spend the day working on some projects for this very blog and for The Disney Exchange Podcast (for which I'm a host).  I also worked on designing some new door magnets for our upcoming Disney cruise, which I'll share with you in another post soon.  Oh, and I also managed to squeeze in some shoe shopping…I love shoe shopping!
On Saturday, I participated in the GeauxFit Catfish Classic 5K.  This race takes place in Franklin Parish, Louisiana and is an enjoyable 20-ish mile drive from home to the heart of downtown Winnsboro for the race.  This time was extra special though.  I got to meet fellow blogger, Disney fan, and running fanatic, Karen Seal from Just Me and My Running Shoes.com.  I love Karen's blog and I was so excited to meet her in person!!!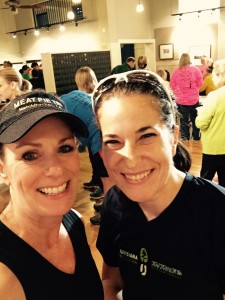 She is every bit as friendly and sweet as she seems on her site and we had a good post-race visit.  You know how it is when you find another Disney fan – we had lots to talk about!  We even made plans to meet up again in the future (hopefully) at the 2016 Glass Slipper Challenge.
5K race behind me, I could turn my attention to some other important items on my to-do list.  As some of you know, our Megan is planning a wedding.  The honeymoon will be at Walt Disney World (1-bedroom villa at Disney's Grand Floridian DVC villas), but the wedding and reception will be closer to home.  Megan wants to tie in a bit of Disney magic to the event and I'm very happy to help her do that!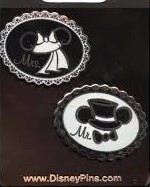 To start, Raymond and I brought back these Disney Mr. and Mrs. pins from our February trip for the happy couple.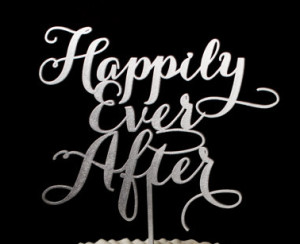 Then Megan selected this particularly adorable wedding cake topper from Better off Wed on Etsy to add to the theme.  She's also decided her "something blue" will be in the form of a pair of spectacular shoes (a nod to Cinderella).  I'd LOVE to show you, but Megan says I have to wait until after the Wedding.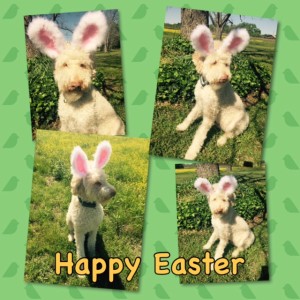 Finally, we celebrated Easter Sunday with family, friends, and food – icluding those Maui Scalloped Potatoes formerly served at 'Ohana.  If you ever had them, you'll remember how delicious they were.  I've made them at home a couple of times before and they make me so rediculously happy – served along side an herb-crusted pork tenderloin and roasted carrots, our Easter dinner was perfect, if I do say so myself.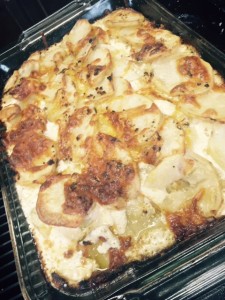 How was your weekend?  Did you add a little touch of Disney along the way?