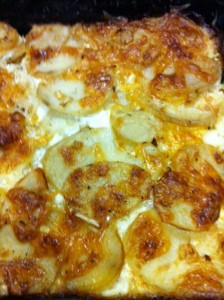 Gone, but not forgotten…Once upon a time, in addition to the delicious Brazilian Barbeque-style fare you can enjoy at 'Ohana (Walt Disney World's Polynesian), there were these potatoes.  Oh, man – you want to talk about tasty!  These potatoes were, y'know, unbelievable.  I looked forward to those babies every time we went to Walt Disney World.  When 'Ohana dropped them from the menu, my heart broke.  Oh, I'll still eat at 'Ohana – the food, the atmosphere, the service are all fantastic, but the loss of those potatoes still hurts every time.
If you've been reading along here at Living a Disney Life, you may recall the top-10-list of Disney New Year's Resolutions I put together back in January.  #8 on the list was to try three specific Disney recipes at home.  The first of the three was Maui Scalloped Potatoes – recipe courtesy of allears.net. The perfect mix of cheddar and onion made these creamy potatoes a perfect match with the parade of skewered meats served at 'Ohana – the centerpiece of the dining experience.
These are no average scalloped potatoes.  These are spectacular!  And very easy to make.  Yes, there's cheese and heavy cream – let's not play the "I'll doctor this recipe up and make it low fat and healthier" – sometimes, a splurge is in order.  I followed the recipe exactly (except I doubled it) and, in the absence of an enormous open fire pit on which to prepare giant skewers of assorted meats, I opted to serve the potatoes with some baked tilapia and sautéed green beans.  Perfection.
Recipe Maui Scalloped Potatoes 'Ohana Polynesian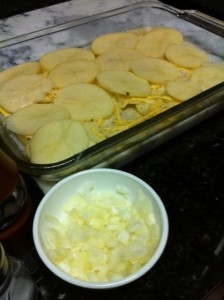 Ingredients
1 pound Russet potatoes (washed and sliced)
1   cup heavy cream
1/4   cup cheddar cheese
2   tbsp parmesan cheese
1/4 cup thinly sliced sweet onions
1   tsp kosher salt
1/4   tsp black pepper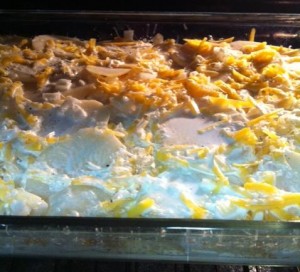 Combine all ingredients in a greased baking pan. Bake for 1 hour at 350 degrees.   Let stand five minutes before serving.
Doubled, this recipe worked perfectly in a 9″ X 13″ baking dish.  The potatoes are a guaranteed crowd pleaser – really, what's not to love!
Do you remember these 'Ohana potatoes?  What former menu items from your favorite Walt Disney World restaurants do you wish you could enjoy again?