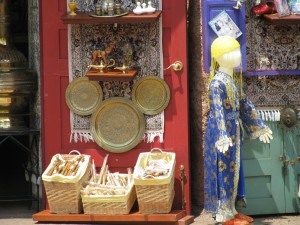 About 10 years ago, while planning for an upcoming Disney World vacation, I found and purchased, Hidden Mickeys a Field Guide to Walt Disney World's Best Kept Secrets by Steven M. Barrett.  If you aren't sure what Hidden Mickeys are, Mr. Barrett defines them as "a partial or complete image of Mickey Mouse that has been hidden by Disney Imagineers and artists…."
I thought the book would be a lot of fun to take along with us to Disney World where there are literally hundreds of Hiddey Mickeys to be found.  I explained to The Fam about Hidden Mickeys while we were driving to and waiting at the airport for our flight to Orlando.  Then I managed to locate and point out a couple of Hidden Mickeys right after we arrived at Disney World.  Joseph had always been a champion at finding things (money on the ground, Easter eggs, bugs, lizards, etc.), so he was quick to join the fun and soon everyone was caught up in the excitement of hunting the elusive Mickeys.  This was and still is a GREAT way to kill time while waiting in line for attractions!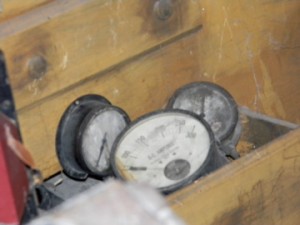 Turns out, once you start looking for and discovering real, "official" Hidden Mickeys, it's hard to turn off your Hidden Mickey "eyes".  Ever since that first trip when we learned about those cleverly incorporated Mickeys and discovered our love for finding them, we all see Hidden Mickeys in our everyday lives.  It's a very fun way to keep the Disney magic alive between vacations.
Soap bubbles in the sink forming a familiar image?  "Hidden Mickey!"  That shout-out, heard from time to time at our house, always answered with, "where? lemme see!" is a great reminder to me that not only have I done my job prepping the next generation of Disney fans, but also that our vacations to The Happiest Place on Earth make magical memories that last long after we've come home.
Yesterday when I was leaving for work, I passed a catch-all container in the garage and guess what I saw?  YUP!  You betcha!