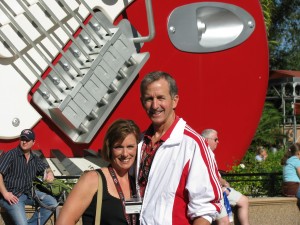 I Recently polled The Fam and asked them about their favorite ride at Disney World.
Raymond didn't actually have to respond to the poll.  You can't be married to the same person for 24 years and not know their favorite Disney World ride – Rock'n' Roller Coaster starring Aerosmith has been Raymond's favorite ride since he first rode it in 2004 (the ride originally opened in 1999).
I did ask him what specifically about the ride made it his favorite…is it the introduction?  The dark?  The speed?  The loops?  The music?
Raymond's answer?  "Yes."  (Know what?  You just can't get him to quit rambling on about stuff!)
What's not to love about this ride?  If you are a thrill ride junky – this is as thrilling, as extreme a ride, as you will find at Disney World.  Here are the deets (Spoiler Alert):
Rock'n' Roller Coaster is located in Disney's Hollywood Studios at the end of Sunset Blvd.  Since it is right next to Tower of Terror, best to hit them both first thing in the morning and/OR score some fast passes for at least one of these if you love them.  Just FYI:  Toy Story Midway Mania (which I'll talk about in detail at another time) is located very far away from these two rides (Pixar Place) and is also a headline attraction.  To tour successfully at the Studios, have a good plan for how you will accomplish all three with a minimum of wait time.  Use fast passes and early arrival (extra magic hour if available) to your best advantage.
Now back to R'n'R…
Pre-Ride:  Enter the recording studio for G-Force Records where Aerosmith is busily working when their manager informs them they're going to be late for their own concert.  Luckily you score back-stage passes and a ride to the concert in a super-stretch limo – head out into the alley to wait for your ride and get ready to blast off onto the LA freeways.
Brace yourself – this is no ordinary limo!  This ride hurls you from 0-60 miles-per-hour in 2.8 seconds!  Then you're flying through banks, turns, dips, and corkscrews (yes, upside down!) before reaching your final destination.
Look for:  The limo's licence plates!  There are five different limos, each sporting it's own vanity plate.  (1QKLIMO for example) – while you're looking at the plates, see if you can spot any Hidden Mickeys!  There are MANY both in the queue and on/around the ride.  For the most part, each limo plays different Aerosmith songs.  Listen carefully if you hear "Love in an Elevator" – the words are a bit different, recorded just for this ride!
You must be 48″ tall to ride.  There are health warnings for this ride and if you're prone to motion sickness or have claustrophobia, I'd sit this one out.  Due to the nature of the ride, the harnesses that hold you in the limo are big and restrictive.  If you're brave enough and get a kick out of a major adrenaline rush, you'll love it just as much as Raymond does.
What's your favorite ride at Disney World?