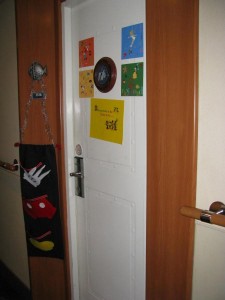 If you are preparing to set sail on your first Disney Cruise, there are two things you need to know about:  Door Décor and Fish Extenders.  Once you know about them, your participation is purely optional, but they're both a great way to add a little extra fun to your Disney Cruise experience.
Today I'll cover Door Décor – come back tomorrow for the rest!
Door Décor – I highly recommend this.  Super easy and extremely beneficial!  All you really need to do is bring along a couple of Disney magnets to slap on your stateroom door.  G'head, ask….what?  WHY!?!
Two reasons, #1:  Yeah, think about it, all those doors look just alike…hundreds of them!  Customizing your stateroom entrance for the duration of your stay makes it ever so much easier for kiddos and adults alike to stop in the right place along that looooooong corridor (no need to try so hard to memorize that cabin number!).
Reason #2:  This is a fun and creative way to show your love for Disney with a minimum investment.  I make my decorations at home by buying some Disney scrapbooking supplies – some things I arrange on colored paper before I put some magnets on the back (buy a self-sticking roll of magnetic "tape" and cut it as you need it).  Some things are great just as they are, just slap a piece of magnet on the back and VOILA!  Custom Disney Door Décor.  Be as simple or as fancy as you like, but really, you're going to feel sad (guilty even) when you see all those cool doors a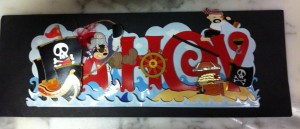 nd yours is blank.  Note:  magnets are the only way to go as Disney Cruise Line will not allow you to use tape on the doors.
On our last Disney cruise, I made a new decoration for each cruise port and changed them out as we sailed along.  I'm an amature when it comes to door decorating – some people have the most amazing, personalized, laminated, professionally crafted stuff on those doors!  Don't be intimidated!!!  Do as much or as little as you care to do – just do it.  Because I said so.  And also because when your kids are running down the corridor and always know which door is yours, you'll thank me.
Link to Fish Extender Information