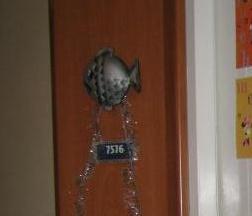 Fish Extenders!  Ever heard of 'em?  No?  Well, if you're cruising on Disney, you're bound to see them.  Next to the outside of every stateroom door is a metal fish.  The fish's main/original purpose in life is that it serves as a place where Disney Castmembers can leave mail for you – excursion information, spa treatment reminders, invitations to kids/teen club events, etc.  What turns this unassuming, ordinary looking, mail gathering fish into something MORE is the addition of a hanging pocketed receptacle called a Fish Extender (aka FE)!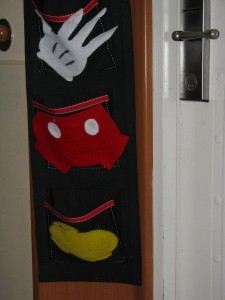 In order to even want or NEED a fish extender, you first must join a fish extender GROUP.  See…the fish extender is like a Christmas stocking.  Its sole purpose in life is to gather little surprises from other members of your FE group while YOU are distributing little gifts to them as well.  Think Secret Santa on the high seas!  (Which is, I believe, how this whole thing actually started.)  Where, pray tell, does one join a FE group?  There's one teeny tiny extra step you must take to join.  First you have to find and join an online forum where other members of your cruise are meeting up…there are benefits to doing this other than finding a FE group, but I'll save that for another day.  Anyway back to the forum-finding part:  I have only ever participated in FE groups I joined on the DISboards.com Cruise Meets pages*.  (Disboards.com, Cruise Line Forum, Disney Cruise Meets.  Don't Worry:  You need not ever share publically any personal information to join or post on these forums.
So, go to the Disney Cruise Meets page, find your cruise and start reading posts from your fellow cruisers.  If a FE group is being put together, you'll see it there.  Don't wait too long to decide.  Usually, the ability to join expires two-to-three weeks prior to sailing to give all the participants time to assemble and pack their FE gifts.
You'll need a Fish Extender.  I made mine a long time ago and, while humble, it served its purpose well on more than one occasion.  My sewing skills tend to lean toward a combination of hand stitching and hot glue.  But that was before the days of Etsy and Pinterest.  Now you can find FE's to purchase or get ideas for making your own.  I hear they even sell them on ebay.
About the gifts – small, portable, and inexpensive are the main criteria.  We've given bubbles, glow-sticks, candy, Disney party favors, puzzles, Disney magnets (suitable for use as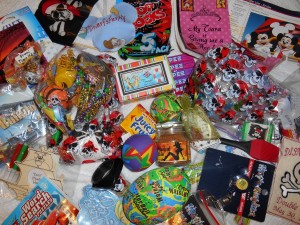 stateroom Door Décor!), pirate-themed items, etc.  We've received some awesome stuff:  Disney Pez dispensers/candy, Disney washcloths, pool toys, small items representative of the other participants' home towns, buttons, pins, and more!  You do not have to give a gift everyday and you don't have to even give more than one gift – especially if dealing with a large FE group with many staterooms.  Just make sure you at least bring something for everyone participating in each cabin – you'll know how many adults and children are involved in each cabin (by cabin #) as the FE group is formed.
Then once you sail away from port – let the fun begin!  Kids enjoy not only finding FE gifts waiting for them, they also have a great time "sneaking" around delivering surprises to everyone else.
*If you know of any other places to find and join FE groups, I'd love to hear about them!  If you have any ideas for or have received any great FE gifts, please tell me about it.