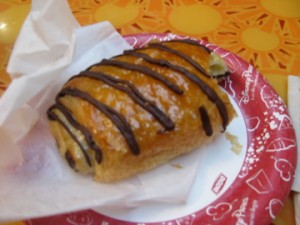 Today's post – short, sweet, and to the point!  If you are going to Epcot, go to Sunshine Seasons (restaurant in The Land pavilion) and get a chocolate croissant.  There.  That's it.  GO!  If you keep reading, you'll just get the boring details on why I'm telling you this. 
One of the (many) odd things about me is that I don't really have a sweet tooth…it's more of a potato, rice or pasta tooth.  If I'm having a food craving, it's rarely for something sweet.  If I'm eating in Epcot, it's almost always in the World Showcase.  So how did I end up eating a chocolate croissant at Sunshine Seasons in the first place?  It's all the fault of the internet and all the Disney blogs and Disney travel sites that talk about good eats at Disney World.  Those rave reviews fuel my curiosity.  Don't tell me something is to-die-for-delicious if it's really not.  I will come back and fuss at you – it's not nice to make me spend money on sweets I'm not even craving if they're not worth the price and the extra calories. 
So, I'd read about the croissant.  Raymond and I managed to ditch the kids encouraged the young people in our group to venture out on their own for a bit while we were at Epcot.  This left us a big open window to do whatever we wanted! – only at that moment in time we were starving and all we wanted to do was eat.  It was a weird time of the day – too late for breakfast, too early for lunch.  A snack was just the thing we needed.  Since we had just exited Soarin', we were already in The Land when I remembered some website singing the praises of the chocolate croissant at Sunshine Seasons.  Why not just see what all the hullabaloo was about, hmmmm?
Off we went to the self-service bakery selection section and picked out our snack.  I was skeptical.  Too often when I want some baked good to actually taste as good as it looks, it lets me down.  I end up being disappointed by an attractive bit of dry, tasteless, stale garbage.  Whoa!  Hold on!  In the picture, you will notice there's a bite missing from the croissant – I wasn't going to take its picture if it didn't taste absolutely delicious, but it DID!  It was great!  Fresh and buttery, not too sweet, flaky without being dry – genuine chocolaty goodness!  People, we had a winner!!! 
So, go getcha one next time you're there.  If you don't like it, come right back here and fuss at me about it…but I'll bet you love it as much as I did.
What's your favorite snack at Disney World?