"Tutto Gusto Wine Bar in Epcot's Italy Pavilion is a wonderful treasure, a charming, cozy and relaxing nook tucked away from Walt Disney World's hustle and bustle.  I recommend it as a great place for adults to enjoy a snack or light meal and an excellent glass of wine." – Me, channeling my inner restaurant critic.
I am mostly German with some British and Native American tossed in the mix.  I can trace my ancestry back to 17th century Germany on my mother's side and on my dad's side, we are direct descendants of Daniel Boone.  There is not, anywhere I can find (no matter how hard I search), even the tiniest drop of Italian blood in my veins.  In my heart, though, I'm Italian.  The language, the food, the wines, the Italian flare for style – all appeal to me in an indescribable way.  I'm certain this is why eating in Epcot's Italy always gets my vote.  I love the Cast Members and I've never EVER had a bad meal.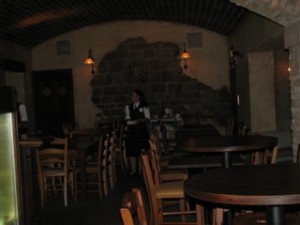 You may recall from a previous post (about a certain chocolate croissant) that Raymond and I had a couple of hours alone in Epcot last time we visited Disney World.  One of the things I wanted to try, as it was brand new at the time, was Tutto Gusto.  We had ADRs for later that evening at Le Cellier, so a light lunch was in order and Tutto Gusto's small-plates menu, which I had checked out online, would be perfect.  Raymond loves Italian food (and wine) every bit as much as I do, so he was on board with the plan.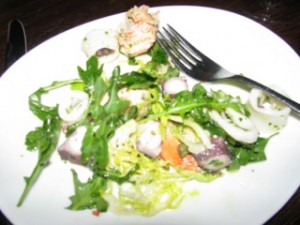 We were pleasantly surprised to find Tutto Gusto nearly empty when we arrived (it had just opened for business earlier in the month, so perhaps it was still unknown to most guests).  We immediately loved the cozy feel of the restaurant – a quiet, relaxing escape from the rest of Epcot.  The restaurant seats fewer than 100 people – when we sat down, there were maybe a dozen patrons, including us.  The server was excellent – attentive without being overbearing.  We ordered glasses of red wine (can't tell you what it was, but we liked it) – after letting our server pick for us based on our description of what we like in a wine.  We then took our time perusing the menu for a few minutes before ordering.
Raymond ordered a (small, single) Panini that came with an equally small side salad – not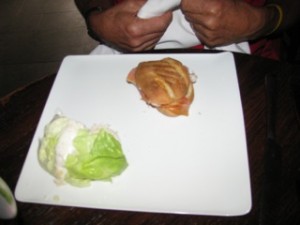 surprising if you know what a fan he is of these Italian toasted sandwiches – I have a Panini maker at home and know how to use it!  I opted for the Insalata Di Mare Trapanese (Shrimp, squid, octopus, lemon, extra virgin olive oil).  Both of us were happy with our choices and felt our meals were light enough to be topped off with dessert!  Mocha Tiramisu all around.
Final words about our lunch – YES, I was influenced by all I had read online about Tutto Gusto and HAD to try it – What that curiosity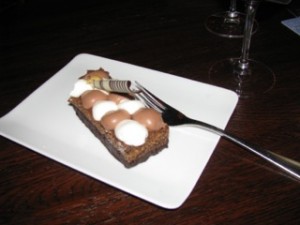 yielded:   We had a lovely, quiet (romantic even) Italian getaway right in the middle of Epcot's World Showcase.