This was me (I'm the short one):
I know!  I know what you're thinking…Yikes.  Hey!  It was the 80's, what can I say.  Anyway, five months after this picture was taken, the love of my life took me on my very first trip to Disney World.  Whoa!  I had no idea what I'd been missing!  Thus, my marriage and my passion for all things Disney began at about the same time.
Flash forward 25+ years.  We've raised a couple of Disney kids in a Disney home with all the Disney bells and whistles (including a Disney Dog named Henry Jones, Jr.).  More than a dozen trips to Disney World, five Disney cruises, a little purchase into the Disney Vacation Club and where did that get us?  Here.  Alone.  In our empty Disney nest.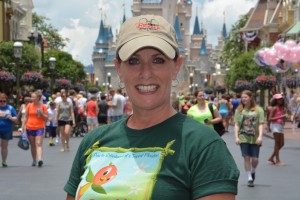 So now what?  I've still got the Disney obsession and now I've got a lot of time on my hands.  Hmmm…what to do….12-step program?  Nah, I don't need a cure – I need a Disney hobby!  So, another Disney blog is born.
Thanks for stopping by to kick the tires and maybe take it for a spin – I hope you find something to enjoy here with me as I'm Living a Disney Life.
Meet Contributing Writer Nick from Disney Musings:
"I'm Nick, a lifelong Disney fan who finally made it to Walt Disney World in my early 20's, when my like of Disney became full blown love.  I started blogging a few years ago and can be found at Disney Musings, where I'm joined by my wife and friends sharing our Disney love on a wide range of topics."
Disclosure:  Living a Disney Life is not affiliated with the Walt Disney Company in any way, is UN-officially Disney and the material, pictures, thoughts, opinions, and adventures are my own unless otherwise noted.