There's been much too much love shared among Disney fans on social media, in blog posts, and on podcasts  for Tomorrowland's PeopleMover attraction.  Way too much effusive praise.  I feel the need to warn you away.  Don't listen to the hype, I say!  Why?  Well, if you've never ridden the PeopleMover, now's not the time to try it.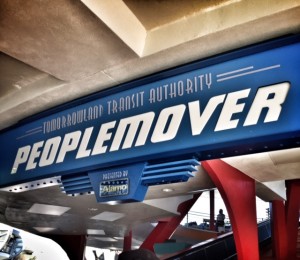 In Magic Kingdom? Avoid the PeopleMover!
Let me give you the five best reasons to mark this attraction off your to-do list…
 You're afraid of heights.  You're pretty high up on this ride – at times, on the very edge of the track even.  It's straight down if something goes wrong.  Better not chance it.
You like clean air.  You'd think that a birds-eye view of Magic Kingdom would be refreshing, right?  Nope!  The exhaust fumes from the Tomorrowland Speedway are toxic!  You'll have a difficult time breathing, trust me.
You're a thrill ride junkie!  No thrills here.  PeopleMover is a total snooze-fest.  A boring, narrated, slow-moving tour of Tomorrowland's sights and attractions.  You want thrills in this section of the park?  You'll want Space Mountain or Stitch's Great Escape, for sure.
You (or any member of your party) are afraid of the dark.  Your ride vehicle will enter tunnels of complete and total darkness.  Like can't-see-your-hand-in-front-of-your-face pitch blackness.  And not in a thrilling way.  It's boring and uneventful…unless it's your biggest fear, then it will be horrible.
You want to be cool.  This ride is for dorks and geeks.  Cool kids do not ride the PeopleMover.  It's the last place you'd ever want to be caught if you want people to think you're worldly and hip.
So, if you've been here before you know that I'm always completely honest, right?  I give you my opinions in a straight forward, no-nonsense way and I can't lie to you now.  I love the PeopleMover!  It's the only must-do Tomorrowland attraction for me on every visit.  I've taught my entire family to appreciate and adore this wonderful ride as much as I do, but too many people have started to notice its awesomeness!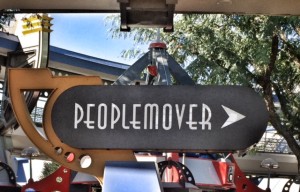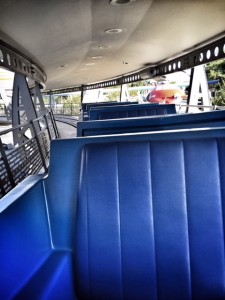 It's getting too popular.  Where we used to walk on no matter the season or time of year, we've recently started to have to wait in line.  Sometimes for as long as 20 minutes!  I don't like this development and want you to pass up PeopleMover so those of us who love it the most can have it to ourselves.  Am I asking too much?  I don't think so.  Re-read the list of reasons to avoid the PeopleMover, take them to heart, and keep on walking, okay?  Please?
Holler if you love PeopleMover!!!!