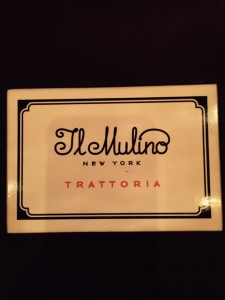 "Lively ambiance, attentive service, delicious Italian fare – Il Mulino in Walt Disney World's Swan resort is a treat to delight both the appetite and the spirit."…Me, once more channeling my inner food critic.
August, 2014:  We were 180 days from our February trip to Walt Disney World and  I wanted ADR's (Advance Dining Reservations) at some places we'd never been before.  I'd been thinking about one particular restaurant for a long time.  Raymond and I both love Italian food and I'd heard great things about Il Mulino at the Swan – what better time to eat pasta than the night before running the Princess Half Marathon?  Checked the available times and YES!  Scored a 6:00-ish dining time.  Early? Sure – but I was going to be getting up mighty early every morning of this trip to participate in my first three runDisney events.  I wanted a place to relax and enjoy a leisurely dinner before turning in for the evening.
February 21st, 2015:  I'd run the Enchanted 10K that morning and spent the afternoon at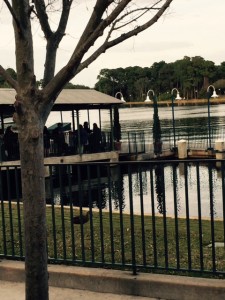 Disney's Hollywood Studios – a combination guaranteed to work up a heck of an appetite!  We caught a boat from the Studios to the Swan and walked into Il Mulino right on time.  Immediately we noticed that Il Mulino was a hopping place!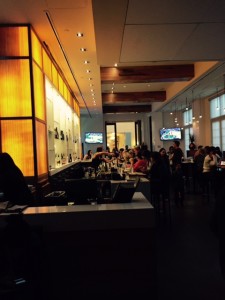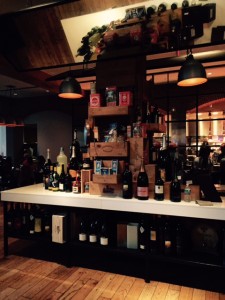 An energetic, happy crowd filled the dining room and our table for two was right in the middle of the action next to a glass wall that separates diners from the kitchen.  We had a great vantage point for watching the dining room, the entrance, and the goings-on in the busy kitchen all at the same time!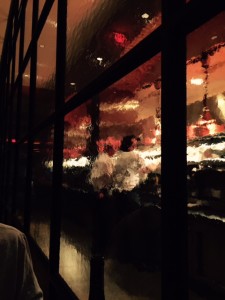 We didn't mind the noise in this particular location, but I'd suggest asking for a table in another section of the restaurant if you're in the mood for some quiet conversation.
Rather than a single server, we had a serving team.  Personable and professional, each person that we interacted with throughout the evening demonstrated an obvious pride in both the restaurant and the level of service provided.  The team of Tony (from Italy) and Svet (from Bulgaria) worked together flawlessly to make sure we had an outstanding experience.  Once seated, it wasn't long before we received some bread and also a complimentary appetizer!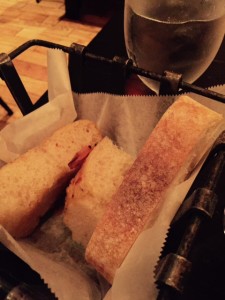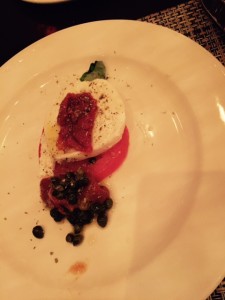 The delicious starter was courtesy of the chef who wanted us to enjoy our meal in spite of the kitchen running a little slower than usual.  Honestly, the place was great and there was such a terrific atmosphere, we probably wouldn't have noticed the slow kitchen at all, but we did enjoy the Caprese salad very much.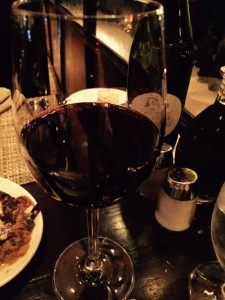 Tony was happy to help us with our wine selection – suggesting a bottle from the extensive wine list that was both delicious and in our price range.  We took our time reading over the menu before deciding on our entrees.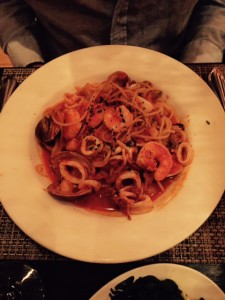 Raymond ordered the Spaghetti al Frutti di Mare (Baby shrimp, scallops, clams, mussels, and calamari in a spicy red or garlic white wine sauce) and I opted for the Linguini alle Vongole (Linguini with red or white clam sauce) – both of us chose the red sauces for our pasta.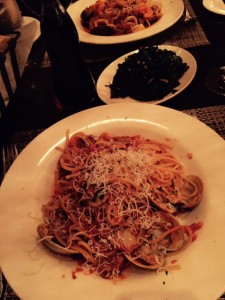 We were extremely happy with our choices!!!  We also ordered a plate of spinach in garlic and olive oil (pictures do not do it justice – it was delicious!)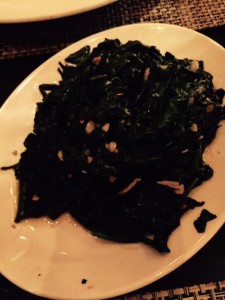 You'd think we'd have been stuffed after all of that, but we had to try the gelato.  We love gelato!  It was the perfect dessert after such a fantastic meal.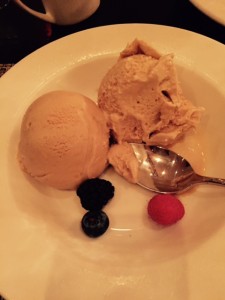 Great food, great service, wonderful wine AND Il Mulino has…..a bucket of limoncello.  Yes, you heard me – a metal pail of lemony goodness which is ladled into a little glass that appears right in front of every adult guest when their meal is finished.  And this little, but certainly not insignificant detail was not immortalized for you by my camera.  I'll blame the wine.  I can't believe I failed us this way – no picture of our limoncello…which didn't last long anyway.  I did get a picture of the bucket though!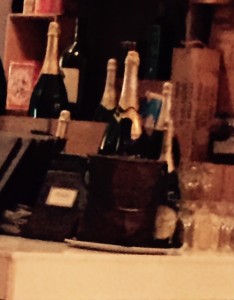 Carbs consumed in sufficient quantity to see me through the next morning's 13.1 mile run, we bid goodnight to Il Mulino and the Swan.  We'll be back, though, this dining experience shot Il Mulino straight to the top of the must-do list for our next Walt Disney World vacation.
(Note:  The Swan is located on Disney property, but is a Westin resort, not operated by Disney.)
Have you visited Il Mulino?  What was your dining experience like?