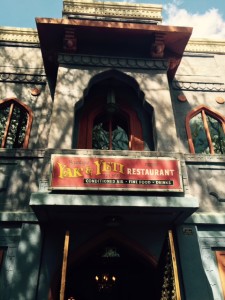 Disclaimer:  I'm the least picky eater I know.  I like nearly all foods.  I shy away from fried foods as they tend not to agree with me (although I think they taste great), I'm not eating tuna-noodle-casserole or black licorice – not really a problem since I can't think of a single person I know who would happen to accidentally serve those to me should I be a guest in their home.  I suppose, actually, under those circumstances, I'd give the consumption of my personal culinary kryptonite my best try so as not to be considered rude.  My mom taught me better than  that.  And back to the point of this post.
Disney Dining – Try This Not That
Let's assume for the purposes of today's sharing-of-Disney-advice that we're all adults.  I'm talking to you as a grownup, not to those of you trying to please little ones with park food, okay?
What are your best suggestions for an eat-this-not-that Disney food or restaurant?  Would you choose Kona Café over 'Ohana?  Sanaa over Jiko or Yak-n-Yeti?  School Bread over a Croissant Doughnut?  Tell me!  I'm 92 days away from needing to know!