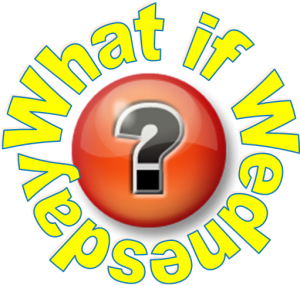 Fellow Disney Fans!  It's time once again for What-If Wednesday!  The game show where we use our imaginations to answer Disney-specific "What-if" questions.  Contestants from Twitter and Facebook go head to head and compete to come up with the winning answer.  Get ready to let your imagination run wild!  And as Drew Carey would say, this is "the show where everything's made up and the points don't matter."
Ever since I wrote this post about tips for coping with Walt Disney World construction walls, I can't stop thinking about them.  The walls, I mean.  We are in a time of great transformation at Disney World, with much more to come.  We'll be living with those walls for the foreseeable future.  I decided that, while Disney does try to make the walls attractive and appropriately designed for the theme of the park, they could (and should!) do even more.  They have awesome technology and the finest in Imagineering genius at their fingertips – let's plus those walls and take them to the highest level!
This edition's question:  WHAT IF WDW Construction Walls Were Interactive?  What would they do?
My own answer (which doesn't count):  The walls would contain alcoves where children could stand to have their height "read".  A printout would be produced that lists every attraction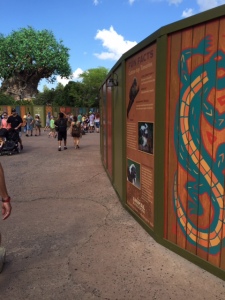 within the park the child can experience based on their height.  This would possibly spare families from the disappointment of seeing the ride up close before realizing the little ones are NOT "this tall to ride".
Let's see what the rest of you had to say!  There was a huge turnout for this round – Thank you for playing and welcome to all the newcomers!
On Twitter (follow these folks, friends!):
Magical Day (@MagicalDay44) wants "Slot machines and video poker" – Knowing that this would never EVER happen in a million years, I did take the time to imagine how many people would be parked at the wall for hours on end!  As a source of revenue for the Disney Company, this idea cannot be beat!
Tim Brooks (@DadForDisney) suggested "Disney Jukeboxes" which ended up being a very popular theme.  I like the idea of happy tunes emanating from the walls – especially if guests get to select the tunes themselves.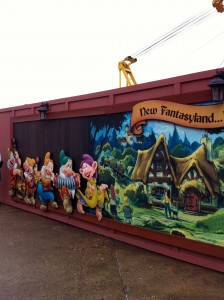 Brandon G. Smith (@brandongradelle) dreamed up "Video and audio of what's coming behind the walls.  Like a preview feat.  Conception art & Imagineer commentary"  This is brilliant!  It's so hard to see the walls and have no idea about what's going on behind them.  I'd love to hear project Imagineers describe their concepts while seeing the artwork of the finished project. 
Dean (@CT_Mickey_Man) weighed in with "Portal character meet and greets" and was also part of the "Virtual slot machines" movement.  I was completely intrigued by the character idea and asked for more details.  Dean's answer was "Something akin to SOTMK (Sorcerers of the Magic Kingdom) but quick hit greetings. Think inside stateroom portals but the characters stay a bit longer."  Here's what Dean is referencing and it's an awesome idea for using excellent technology that already exists.  Finally, Dean would also like the experience to include character sing-alongs where the characters are land-appropriate and the Fab 5 can be anywhere.  Dean hopes some of these might be the next step for the currently popular painted scrims. 
Nick from Disney Musings (@disney_musings) wants the walls to "play Disney movie trailers".  I love this idea for both its simplicity and entertainment value.  With so many Disney movies from just about every Disney-owned franchise and more coming up, this idea is a no-brainer!
Sean, aka "Hey Howdy Hey" (@1MinDisneyDream) suggested the construction walls actually "yell at people for walking too slow" – think about how hilarious this would be!  I'd hang around just to see what those slow-walkers' reactions would be!  Oh, yeah, they'd have it coming!!!
Everyday Magic Blog (@everydaymagic28) thinks the walls should "have trivia games related to Disney history or the movies".  Similar to the ideas for walls that play music or show movie trailers, but even more interactive, this concept reminds me of those restaurants that have TV screens around the seating area that show trivia questions.  If you're waiting for something, this would be a fun and educational way to pass the time!
Rob Myrick (@singleriderline) was thinking along the same lines as Brandon.  Rob wants his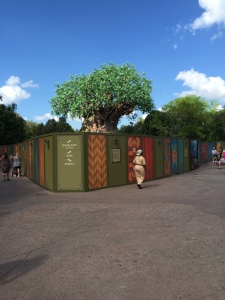 curiosity satisfied by walls that "Show time-lapse video from beginning to artist-rendered completion."  I agree!  Those walls would be a lot more bearable if we could see what they're hiding!
On Facebook
Andrew C. (one of my most favorite Disney fans) suggested the walls "Sing classic Disney music" – which is a popular idea and it's easy to see why!  Currently, the walls may be decorated, but there's no sound or movement.  Simply offering guests the opportunity to hear some classic Disney favorites as they walk near the wall would be a huge improvement!  Andrew further added that at night, projected images would enhance the walls' entertainment potential as well.  I concur!
Bj N. offered up some information I'd never heard before!  "They had an interactive wall when they were putting in Monsters Inc in Disneyland. You would walk up stick your head in a hole and talk to Ros" – That is exactly the kind of thing I was thinking about when I posed this episode's "What If" question.  See?  It CAN be done.  Now we just need some of that action at Walt Disney World!
Annnnnnnnd the winner of this round is Dean! (@CT_Mickey_Man) who is one of the hosts of the Walt Disney World Northeast Podcast.  Many of the show's episodes feature a segment called "Paulie's Corner" which is very similar to this game.  Dean's skills at coming up with excellent ideas on short noticed have been finely honed on his show.  So, while Dean had a definite advantage, I love the idea of applying the technology from Disney Cruise Line's virtual portholes to the park's construction walls.  Congratulations, Dean!
Follow me on Twitter so you won't miss out on the next opportunity to play What If Wednesday!