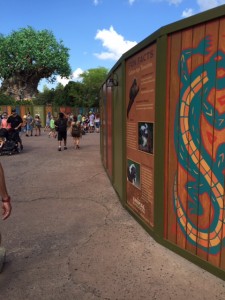 If you're planning a trip to Walt Disney World in the near future and you've been reading blogs, Disney fan sites, or message boards, you'll have noticed something you may have found alarming – there are construction walls everywhere!  And cranes.  And closures.
It's true.  I wish I could tell you the place looks picture perfect and is as bright, beautiful, and photogenic as seen on TV, but I'd be lying.  The Magic Kingdom's hub is undergoing a major expansion which involves the use of construction walls seemingly everywhere.  Same goes for Animal Kingdom – major changes in progress.  Downtown Disney's transformation into Disney Springs will be wonderful – when it's finished…right now? Not so much.  As welcome and exciting as these changes are, they also result in vast seas of construction walls.  Things are going to really get shaken up at Disney's Hollywood Studios when the addition of Star Wars Land gets underway.  If rumors are to be believed, Echo Lake, Dino Gertie, and Min and Bill's Dockside Diner are all doomed.  Cue the walls!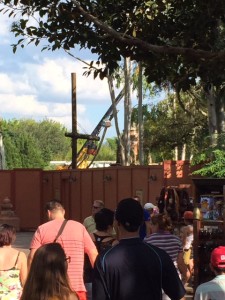 Should this worry you?  Should you quickly cancel your plans and wait it out?  My advice would be absolutely not!  If you plan to vacation at Walt Disney World anytime during the next two to three years (or longer), you may not be seeing the parks at their picture-perfect best, but you'll be visiting during an important time of major transformation!  And, there will still be an enormous number of attractions, shows, shops, restaurants, and resorts for you to enjoy.  You will also find plenty of places, construction-wall-free, to capture great vacation photographs.
In case you insist on being worried and you find you'll be at Disney World in the near future, I've compiled a list of tips to help you cope with the current state of upheaval.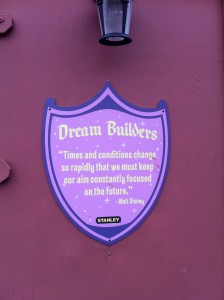 1. Be Prepared!  What's that saying, "forewarned is forearmed"?  That's the purpose of this post!  If you know you'll find things a bit unsettled, it'll make it easier to accept.  Resign yourself to the fact that things don't look like they do in the Disney vacation planning DVD or the commercials or travel shows you may have seen on TV.  It's okay – looks aren't everything.  It's what's on the inside that counts, right?  Rest assured – the heart of Disney is still beating strong!
2. Focus on What you CAN see and do!  I know I'm making it sound like the situation is dire, but I want you to have realistic expectations.  You'll still find plenty of places virtually construction and closure-free!  For example:  Except for the attraction-formerly-known-as-Maelstrom in the Norway pavilion, Epcot's World Showcase is not currently undergoing any major construction and is still one of the most gorgeous places at Walt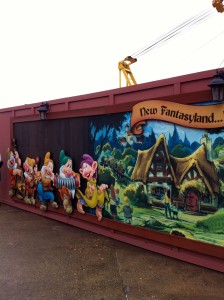 Disney World.
3. Embrace the Walls!  If any company can make construction walls look interesting, it's Disney.  Signs, sayings, pictures – cute, clever, and funny surprises can be found along the length of those barriers.  Consider turning the walls into one more Disney "thing" to be explored.
4. Get Creative With Your Camera!  Don't fret over Cinderella Castle if there's a construction crane in use that will appear in every picture.  This should not ruin your vacation!  There are plenty of other, albeit less famous, beautiful buildings and even other castles you can photograph to your heart's content.  The Tree of Life in Animal Kingdom may be surrounded by walls, but you can still capture some very memorable and scenic park shots.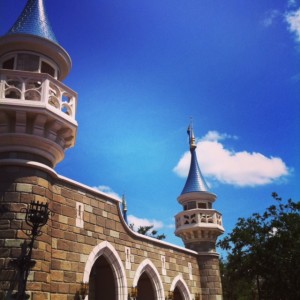 5. Secure Those Bragging Rights!  You will be able to say – I visited way back when.  I secured my bragging rights during the Fantasyland expansion  when Seven Dwarfs Mine Train was under construction – I remember what the park was like before, during, and now after the awesome addition to Magic Kingdom was made!  In 2014, I visited Animal Kingdom amid the vast expanse of construction walls – it's okay!  I was THERE when they were adding the elements for the upcoming nighttime attractions and Pandora addition – and I'll be excited to visit again both during the construction and when the transformation is complete!
Will you be at Walt Disney World soon?  What do you think about the changes?