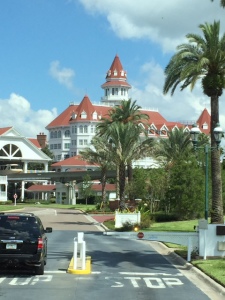 The last stop on our tour of the Resort Loop table-service restaurants is the Grand Floridian.  I've saved the best for last!  The restaurant choices are outstanding, the menus are fantastic and the setting is absolutely gorgeous – There's no place at Walt Disney World quite like the Grand Floridian.
Grand Floridian Table Service
1900 Park Fare (Buffet, 1 TS credit) – This character meal is unlike any other.  At dinnertime, guests enjoy the above average buffet offerings while meeting Cinderella and her Prince along with Lady Tremaine and her lovely daughters.  For older children and adults, the Tremaines provide (to us) the very best and funniest character interactions to be found anywhere.  The full review from our most recent visit is here.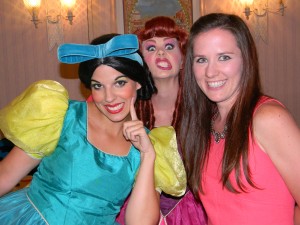 Grand Floridian Café (1 TS credit) – I'm not going to lie – I've never eaten here, but I do have a breakfast reservation booked to give it a try in my immediate future.  From what I understand, this restaurant is a hidden gem.  Among fans, a certain item on the lunch menu is a standout – The Grand Cafe Sandwich "Open-faced hot Ham, Smoked Turkey Breast, Bacon, and Tomato with a rich Boursin Cheese Sauce and Fried Onion Straws".  What doesn't sound delicious about that?
Narcoossee's (2 TS credits) – It's been almost 26 years since I've eaten at this great place.  Our long absence has not been because we had a bad meal, but rather we've passed on return visits in favor of trying new places.  We remember it well – the food and service were great!  It's time for a re-visit and, like the Grand Floridian Cafe, I have an ADR for Narcoossee's coming right up.  I'll post a full review shortly – in the mean time, Nick's review is here and certainly makes me want to try both the calamari and the scallops!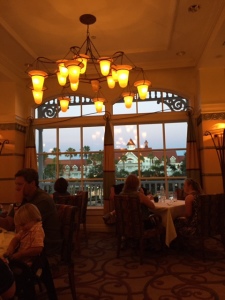 Citricos (2 TS credits) – For us, Citricos is what Disney signature dining is all about.  Expect outstanding service in a bright, welcoming atmosphere with a broad, creative menu selection that is sure to offer something for everyone.  Raymond and I enjoyed our last dinner here tremendously.  You can read that review here.  There were some children in the dining room, but this place is best suited for a date-night or adults-only evening out.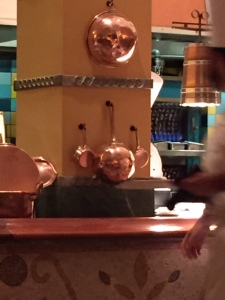 Victoria and Albert's (Platinum Dining Plan Only) This is, without a doubt, the nicest, most deluxe and expensive place EVER – I had the chance to eat here last year in October and didn't take it.  *Sigh* Maybe someday.  I do know this – I've never heard anyone complain about a meal at Victoria and Albert's.  The experience is costly, but worth the time, money, and effort of bringing along some fancy duds to enjoy.  If you've dined at Victoria and Albert's, I'd LOVE to hear about it!
Is the Grand Floridian one of your favorite places to eat?  Which restaurant do you like best?