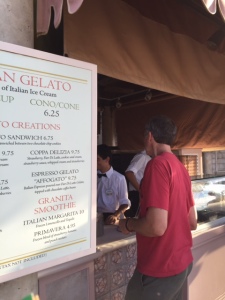 As I've mentioned many times before, I'm kind of ambivalent about desserts.  I don't crave sweets like most people do and while I will enjoy an occasional cookie, slice of pie, or ice cream cone, those are not items I'd put at the top of my "must have" foods while on vacation.  Sometimes, though, I'll find something sweet that really makes an impression on me – something I like so much, that I'd make a point of eating it again.  This is the story of one such discovery.
Back in October, as Raymond and I were making our way around the World Showcase sampling the different flavors in the food booths and kiosks, he said, "When we get to Italy, there's something that you've got to taste!"  Sneaky guy – he'd managed a visit to this particular eatery on his own back in May and had found a wonderful treat.
Espresso Gelato "Affogato" ($9.75) "Italian Espresso poured over Fior Di Latte Gelato, topped with chocolate coffee beans.
According to Wkipedia, "An affogato (Italian, "drowned") is a coffee-based beverage. It usually takes the form of a scoop of vanilla gelato or ice cream topped with a shot of hot espresso.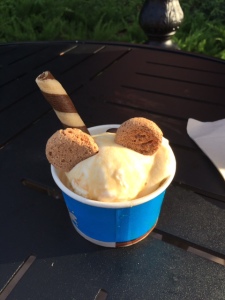 Some variations also include a shot of Amaretto or other liqueur."  According to the Culinary Institute of America, Fior De Latte (Italian, "Flower of Milk") gelato is "a simple gelato, very versatile; enjoy it plain, with fresh fruit, or to accompany a cake. This gelato is often used in the preparation of affogato al caffè, where the gelato is covered with brewed espresso and topped with whipped cream."
So now that we know what it is, technically speaking, let's talk about how it tasted – incredible!  I'd be remiss if I didn't add that as far as a cup of ice cream is concerned, this one's about as adorable as one could ever find.  Possibly, mere words cannot describe the subtle nuances of flavor, the well matched textures, the sophisticated combination of creamy gelato, espresso, cookies, and chocolate coffee beans, but I'll try:  This stuff was mighty tasty!!!  Very delicious!  Scrumptious!  A festival of flavors for your taste buds! …get the idea?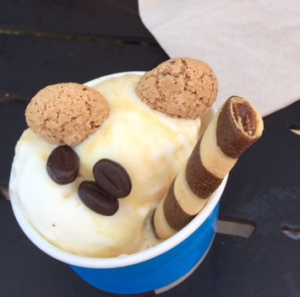 Because we were working our way around the Food & Wine foods and wines, we split this little paper bowl of deliciousness – which actually turned out to be a bit dicey.  We each got one "ear" cookie, we broke the pirouette cookie in half, used two spoons for the gelato, but there were only three chocolate coffee beans (and those babies are incredible).  There were a few tense moments once we realized the situation.  We each contemplated the potential outcomes of being the one to selfishly consume that third, and last, tiny morsel.  Then I came to my senses and ate it.  Problem solved!
If you like the flavor of coffee and are in the mood for a sweet treat, next time you're in Epcot, making your way around the World Showcase – stop at the gelato stand, lay down that $10 bill and prepare to be amazed.
Have you tried a gelato in Epcot?  Which one did you get?  How was it?