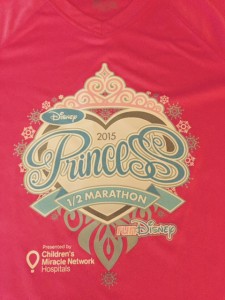 Finally, the day had come!  Of the three races I'd entered for the weekend, this was the big one!  The final race, the longest distance, the event that would make me a Glass Slipper Challenge finisher and show me exactly what runDisney is really all about.  Friday's Frozen 5K was fun, Saturday's Enchanted 10K was fantastic, and now, February 22nd, 3:15 am, it was time to get busy.  I'm not going to lie – in spite of careful park-touring plans designed to minimize walking and a post-10K restorative massage at the Senses Spa (Grand Floridian) – I was indescribably tired when the alarm went off.
My outfit for the Princess Half was my favorite of the three races' ensembles – In purple and black with a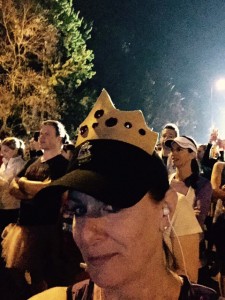 crown attached to my visor, I was channeling my inner Evil Queen.  I was up, dressed, and headed for the monorail once more before 4:00 am.  I felt a bit less lonely this time for two reasons – one, the crowds on the way to the race were both more plentiful and more excited than they'd been the two previous days and two, Raymond would be on the course today cheering me on.
With  other runners, I made my way to the initial holding area.  Streetmosphere Citizens were adding fun and the building crowd was enjoying the distraction.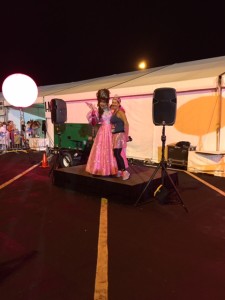 I met a group of friends with awesome Frozen-inspired outfits!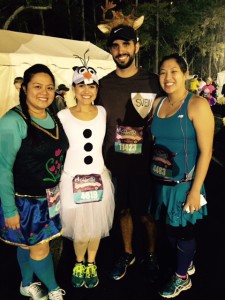 By far they had the best Frozen costumes I'd seen (and I'd seen hundreds!).  Then I stopped and spoke with precious twin sisters who were going to run together in gorgeous princess dresses their mom had made for them (yes, Pinterest).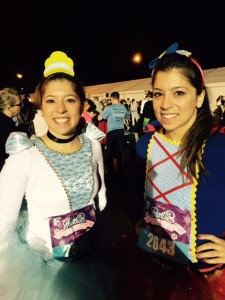 These two were beautiful and sweet and I enjoyed talking to them for a while.
Announcers encouraged the sea of runners to begin making their way to the staring area.  After what seemed like a very long walk, I finally stepped into corral F and immediately felt the pre-race excitement.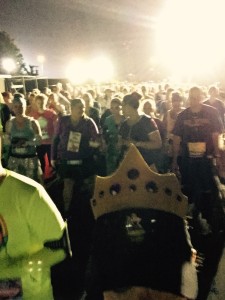 It was kind of surreal there in the darkness – waiting with thousands of others to begin something truly special.  Every runner unique, but all focused on the road ahead.  Finally, I was starting to feel more awake and visited with some of the people around me while we waiting for the National Anthem and then the other corrals to start every two minutes until it was our turn at the starting line.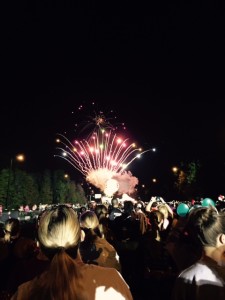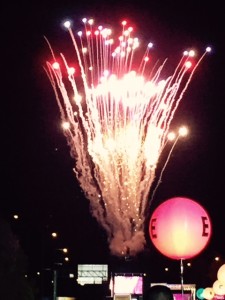 Every group begins the race with fireworks, which is an amazing way to start a race!
And we were off!  Everything you'd expect during a runDisney event was there…and so much MORE!  The aid stations, water/sports-drink stations, and port-o-johns were plentiful.  I expected there to be characters along the way, but nothing could have prepared me for what I saw.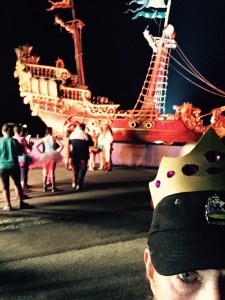 There was a pirate ship and Jack Sparrow, high school marching bands and church choirs,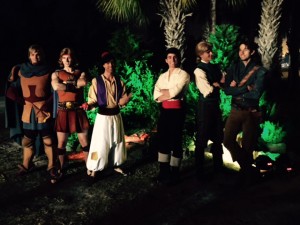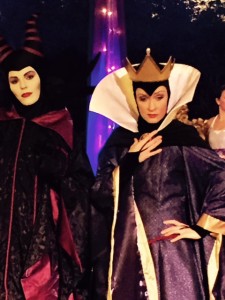 Disney Princes, Disney Villains, DJ's playing music, Cast Members cheering, Drummers from China,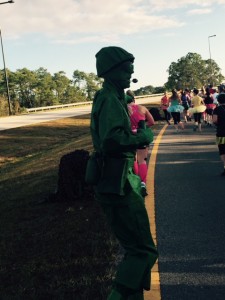 even a cheering Toy Story Green Army Man.  So many people and things to see along the way!
With the added entertainment, there's an emotional factor that began building when we ran beneath the Magic Kingdom's entrance sign.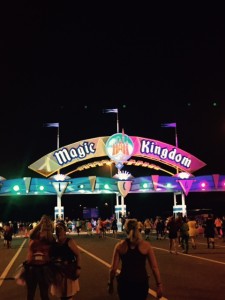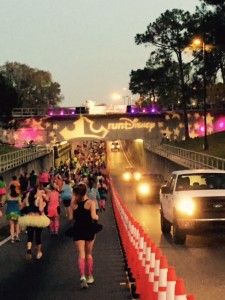 The road took us under the water bridge and past the Contemporary and Bay Lake Tower resorts.  This is where I saw Raymond waiting to take my arm warmers from me.  Due to security, there aren't a lot of places along the race course where spectators can get close to the runners – and this was one of them.  A kindly security guard helped me out and delivered got my arm warmers to Raymond for me.  I yelled out, "I love you, honey!" to Raymond and then so did the security guard – which was really funny and made the crowd laugh.
Before long we were entering the Magic Kingdom.  Nothing can describe the feeling of running down Main Street U.S.A.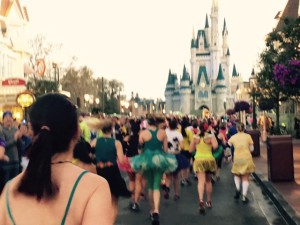 Cheering crowds are lining the street and the park looks beautiful in the early morning light.  From Main Street, we ran through Tomorrowland and behind the castle.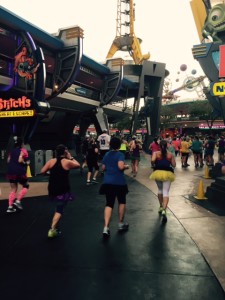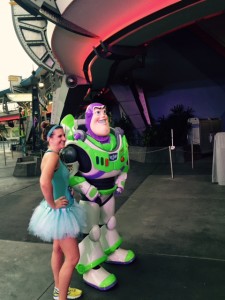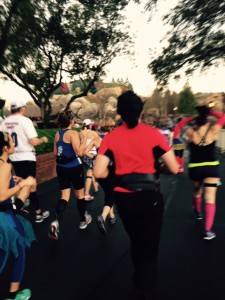 I know I'm not the only one who felt a swell of emotion because in Fantasyland, right by Prince Charming's Regal Carousel, we passed a long line of Cast Members, each holding a box of tissues for those who might feel a bit overcome by the experience.  (I was running behind a man dressed as Gaston and he was owning that look!)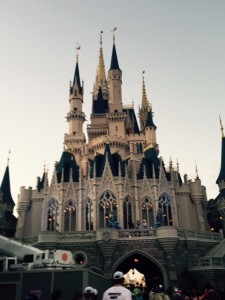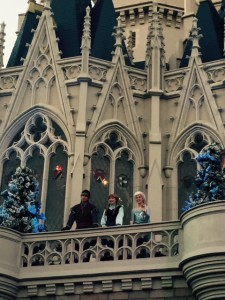 We left Fantasyland by running through Cinderella Castle where Anna, Elsa, and Kristoff were waiting to wish us well (and talk about ice).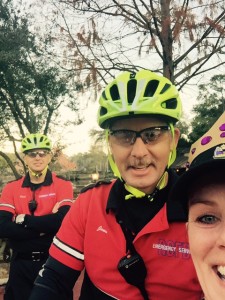 After leaving the castle, we ran through Frontierland (where I stopped for a selfie with some of the bicycle-riding support staff),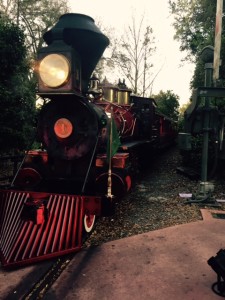 saw one of Walt's beloved trains, and headed back out onto the road toward the Grand Floridian and Polynesian.
At this point, we'd passed the halfway point, the sun had risen and the day was heating up.  I'd stopped to take pictures all along the way and actually Tweeted them out as I ran.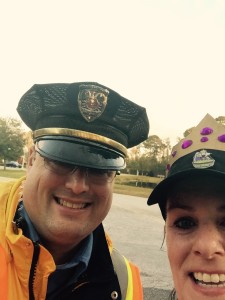 An Instagram friend was working along the course and I found him waiting exactly where he told me to expect him – of course we had to have a Disney fan selfie!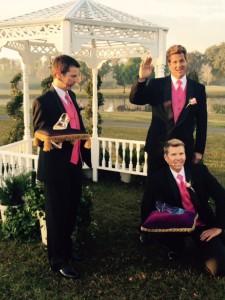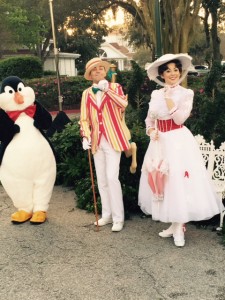 Raymond had planned to be roadside by the Polynesian, so after I took some pictures near the Grand Floridian of the Glass Slipper Men and Mary Poppins and Bert, I started looking for him.  Turns out, I was looking too late!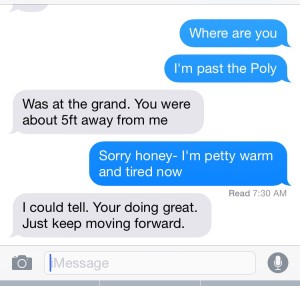 The two previous days' early mornings finally caught up with me around mile 8 and I felt I needed (deserved!) a couple of walk breaks.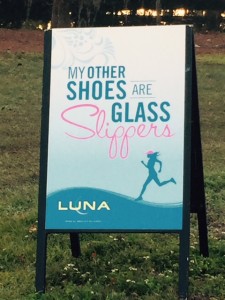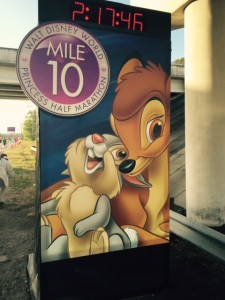 So I ran and walked alternately for a bit, taking the time to enjoy the encouraging signs.  Around mile 10, I felt ready to run steadily to the finish line.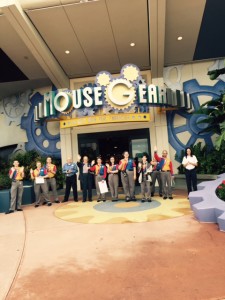 I remember one of my favorite moments during this part of the race was passing by MouseGear in Epcot, which is one of my all time favorite places to shop.  All of the Cast Members were outside, enthusiastically cheering for runners during the final push toward the end of the race.
Nothing in the world compares with the feeling of seeing the finish line just yards ahead and hearing the announcer say your name!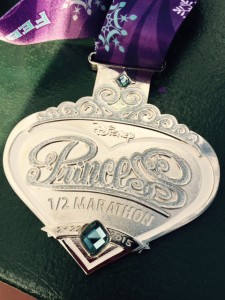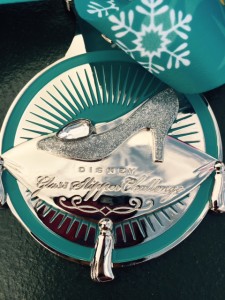 Elated runners all around me, I was welcomed by the most amazing group of friendly volunteers who made sure I received food & water, and my finishers' medals for both the Princess Half Marathon and the Glass Slipper Challenge.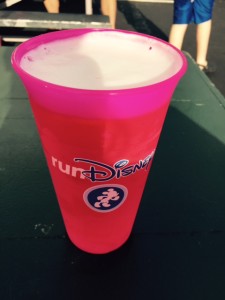 Raymond texted me his location and I easily found him – the two of us relaxed for a while at the post-race party where we enjoyed a couple of beers and the beautiful weather.  By the time we'd started the long walk back to the monorail, I was already planning to be back again in 2016.
Results:  Official Half Marathon finish time: 2:40:59.  #5514 out of 18,515 women finishers.  In the 50-54 women's age division, #259 out of 1106.