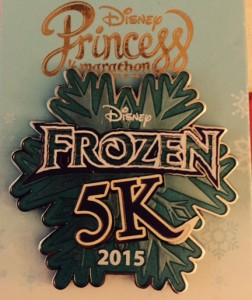 The runDisney Frozen 5K held on Friday, February 20th was quite appropriately named!  A very chilly 34 degrees at the race's 6:15 am start time, it was 3.1 miles of Frozen fun!  As you'd expect from a runDisney event, this one was packed with magical Disney details that did not disappoint.  Since the Frozen 5K was not my main objective during the Princess Half Marathon weekend, I felt no pressure to run fast.  In fact, I took my time and soaked up every moment of my very first runDisney event.
I got up early enough to eat an energy bar and a banana (my pre-race meal of choice) and don my "Tribute to Donald" outfit.  I wore an extra shirt and arm warmers under my outfit, added a warm headband to cover my ears and some gloves and was out the door of Bay Lake Tower to catch the monorail in the Contemporary and get to the starting area in the Epcot parking lot in plenty of time.  Disney's instructions on this are very specific – be on Disney transportation by no later than 5:00 am for this race.  I'd never done this before and wasn't taking any chances – I arrived a full hour before start time.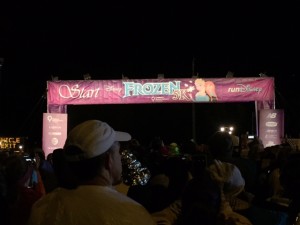 It was cold!  I can't even begin to imagine how early people had to arrive to get a place near one of the several heaters positioned around the runners' waiting area. The crowds around the heaters were huge!  I couldn't get close enough to feel even the slightest warmth.  I concentrated on checking out the interesting variety of costumes and assorted outfits people were wearing and tried not to think about how much I was shivering.  At least I was in the first group (A), so once we moved to the starting area, I didn't have much longer to wait.
Once the race began, it didn't take long to feel less frozen and more able to enjoy the sights and sounds along the race course.  Basically, the 5K course takes runners through the parking lot, into Epcot, around the World Showcase (just as the sun was coming up!), through a bit of Future World, and out to another Epcot parking lot to finish.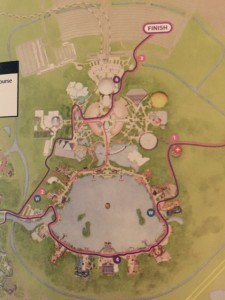 I did manage to take a few pictures – the one I really wanted of Anna, Elsa, and Kristoff in Future World, unfortunately didn't turn out at all.  I searched for Donald Duck so I could stop and have my picture made with him (in my Donald outfit), but didn't see him anywhere.  At about the two-mile mark I saw Goofy and decided I'd better stop or I wouldn't get a picture with a character at all.  Goofy noticed my outfit right away and gestured his approval which made me laugh.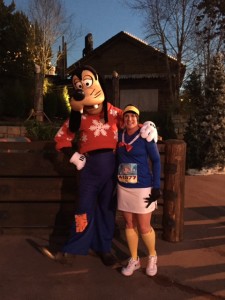 I have to say, the sun rising over the World Showcase Lagoon was incredibly beautiful.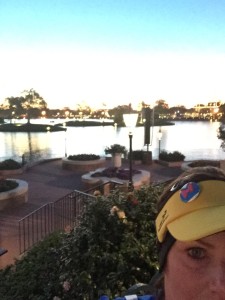 In about 30 minutes from start to finish, I was freezing once more and, with a small handful of other runners, making the very long walk to the monorail.  At the Ticket and Transportation Center, we were informed that the monorail to the resorts was down and we'd have to catch a bus.  This added much more time to my return trip to Bay Lake Tower, but finally I was back at our room where Raymond was waiting, ready to go spend the day in Epcot – where I finally got to see Donald!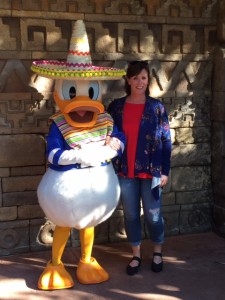 Have you entered a runDisney event?  What did you like most about it?  What lessons did you learn that could help readers who are considering their first runDisney race?