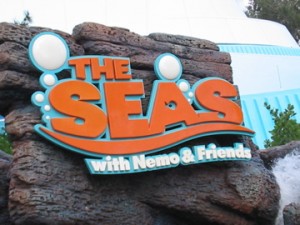 When you hear "Epcot", what's the first thing that comes to mind?  Spaceship Earth?  Soarin'?  Test Track?  The World Showcase, perhaps?  I don't immediately think of any of those things.  I automatically think about The Seas with Nemo and Friends.  You don't?  Well maybe it's time to give it another try.  There's so much packed under one roof in this (to me) underappreciated area in Epcot's Future World (West).  I encourage you to take a closer look and give it a bit more consideration.  It's a whole lot more than just place to escape for a while from the hot Florida sun or an afternoon rain shower…
"Oh, my God, Nemo's shwimming out to shea!" – Nemo's classmate, Finding Nemo
The Seas with Nemo and Friends began as The Living Seas in 1986 and was originally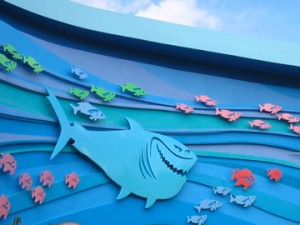 sponsored by United Technologies (until 2001).  Hydrolators (pretend under-seas elevators) took guests "down" to Seabase Alpha.  A pre-ride movie explained how the Earth's oceans were formed before vehicles called Seacabs took visitors on a tour of coral reefs.  In the early 2000's, the exhibit lost its sponsor and The Living Seas faded in popularity before being reinvigorated and re-named in 2006.
"Just keep swimming, just keep swimming, just keep swimming, swimming, swimming. What do we do, we swim, swim, swim." – Dory, Finding Nemo
Today visitors to The Seas with Nemo and Friends will find an exciting, fun, and educational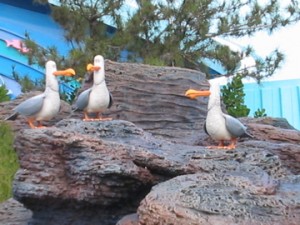 array of exhibits and attractions that offer something for everyone, every age to enjoy.  At the entrance, don't miss the seagulls that yell "Mine!"  Great photo ops start outside the building's entrance.
Here are the FIVE best things about The Seas with Nemo and Friends:
"It's awesome, Jellyman. Little dudes are just eggs, we leave 'em on the beach to hatch, and then — koo-koo ka-choo! — they find their way back to the Big Ol' Blue." – Crush, Finding Nemo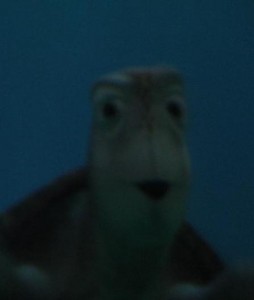 1.  Turtle Talk with Crush – DUDE!  This fantastically entertaining show provides guests an opportunity to interact with the coolest turtle in the seven seas.  Amazing technology allows Crush to see and talk to individual audience members – he tries to educate people about the lives of sea turtles while also asking people to explain strange and unknown things about humans to him.  Guaranteed laughs.  Amazing technology – No, I don't want to know how it works…it's magic!
2.  Manatees!  And other live animal exhibits allow visitors the chance to get up close with the likes of sharks, dolphins, rays, and more.  I particularly love the manatees (second level) – if you're lucky, you'll be there at the right time to listen to a Cast Member presentation about these endangered gentle giants.  Feeding time is also a lot of fun!  If you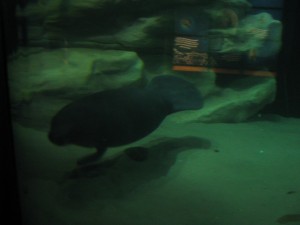 read my post on the Kilimanjaro Safari, then you know what happens when I see live animals.  Yep – I could stay right there and take pictures all day.  I have almost as many manatee pictures as I do of giraffes eating.  Don't miss Mr. Ray's Lagoon (first floor) for an up-close view of stingrays.
3.  Clamobiles!  Jump on into your ride vehicle and check out your favorite Finding Nemo characters as Marlin once again searches for his lost son – the show's characters swim alongside real fish in the aquarium.
Ohhhh, let's name the zones, the zones, the zones, let's name the zones of the open sea! – Mr.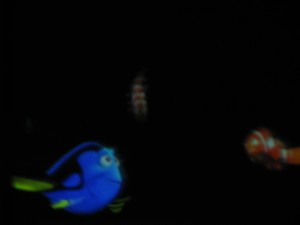 Ray, Finding Nemo
4.  Bruce!  Our favorite shark in all the seas has his own exhibit next to the Turtle Talk entrance.  Bruce's Sub House is a adorably crafted play area with many excellent photo ops – including posing as Bruce's lunch!  Anchor and Chum are there, too, in this great place to learn and explore.  A great opportunity for little ones to enjoy a break from the confines of a stroller and burn off a little energy!
"I am a nice shark. Not a mindless eatin' machine. If I am to change this image, I must first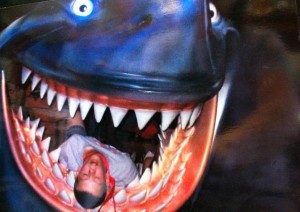 change myself. Fish are friends. Not food." – Bruce, Chum, and Anchor, Finding Nemo 
5.  Coral Reef Restaurant – Enjoying a meal in this restaurant's multi-level seating area is both a tasty and entertaining experience.  The main focal point for diners is a breathtaking view of The Sea's aquarium.  While food reviews have been mixed (and disappointing) of late, the menu offers a wide variety of options with and without seafood as a main ingredient.  We have dined here (usually lunch) on several occasions and have never had a bad meal.  Make an informed dining decision with info here from All Ears.Net.  I will add that if you're on the dining plan, Coral Reef uses one table service credit.
So?  You ready to give it another look?  If you've been to The Seas With Nemo and Friends lately, what did you think about it?