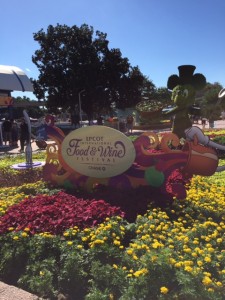 Our first Epcot International Food & Wine festival was a rousing success!  Maybe we should feel a little bit defeated because we didn't taste all of the dishes on our must-try list, but NO!  We're not sorry about that one bit.  We had a wonderful time and are formulating plans to return to Walt Disney World again in the fall of 2016 (right after Joseph turns 21!).
I could wax poetic for days about the delicious food, interesting wines and beers, festive party atmosphere, and fun fellow foodies, but instead I think this calls for a list!  Dear, sweet readers, I give to you our…
Top 10 Things We Loved at Epcot's International Food & Wine Festival (imagine "da-da-da-da" horns blowing here)
10.  The Rose & Crown Pub – Enjoyable anytime, this place is HOPPING during Food & Wine.  You'd think the kiosks & food booths would get all the attention, but no!  Those rediculously tiny beer samples that go along with the special food offerings seem to make people gravitate towards the places where you can still buy a full serving of adult refreshment.  We didn't stop at the Rose & Crown for beer on our initial trip around World Showcase…we'd heard about the very reasonably priced single malt scotch flight (Thank you, Mr. Dutch Lombrowski!) and dropped in specifically for that experience.  Excellent!!!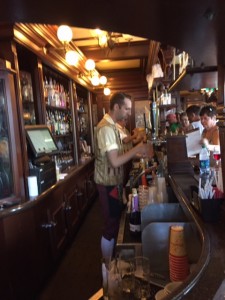 9. Boeuf Bourguignon and French Men Who Shout – Very delicious dish in France, that Boeuf Bourguignon, made even more fun by the tall, strapping young French lad working the food booth – He yelled out each order as they came in (each guest hands their receipt to the Cast Member working the booth) and when I yelled at him in French to say, "That's right! Very good, thanks!" – He yelled right back in French to say, "You're Welcome!!!"  Both of us grinning from ear to ear.  Good times.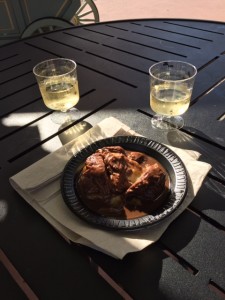 8. Two Hour Lunches With Lots of Wine – These were our splurges.  Would we have enjoyed the festival without them?  Absolutely, but I'm so glad we decided to book two very special experiences – The Italian Food & Wine Pairing (Via Napoli) and the French Regional Lunch (Monsieur Paul).  While I will write individual reviews on each, let me just say that these events are so much fun, one of our table mates (Hi Patti!) in Via Napoli admitting to being a repeat attendee – and she doesn't drink wine!  If you're anti-social or take your wine very seriously, these lunches are probably not for you.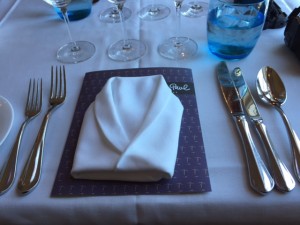 7.  Passport Stamping – Guests get a souvenir passport with each country's foods/beverages in it and can have a Cast Member in each country stamp the booklet as the booth is visited.  Simple, but fun!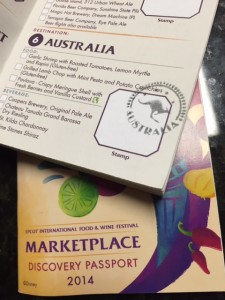 6. Pepper Bacon Hash – At the Farm Fresh booth.  Seriously – this was good stuff!  Hash, Hollandaise, jalapenos on top.  Had it not been so crowded (with lots of potential witnesses), we would have licked the empty container.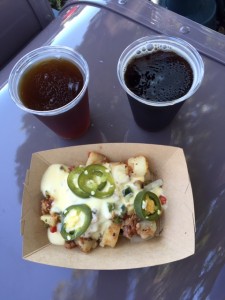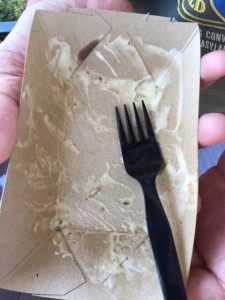 5. Sharing – This is the key to Food & Wine Festival happiness.  Knowing that sharing means you can taste more food and sample more beers and wines.  Also knowing when NOT to share is key.  More on that in a sec.
4. Glorious Weather and Beautiful Landscaping – We were so thankful for both.  Stopping to enjoy and appreciate the wonderful surroundings is important to us!  It helps us maximize our enjoyment of every single second.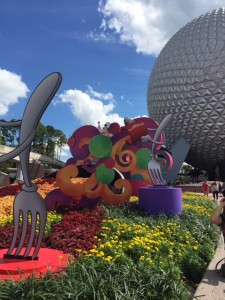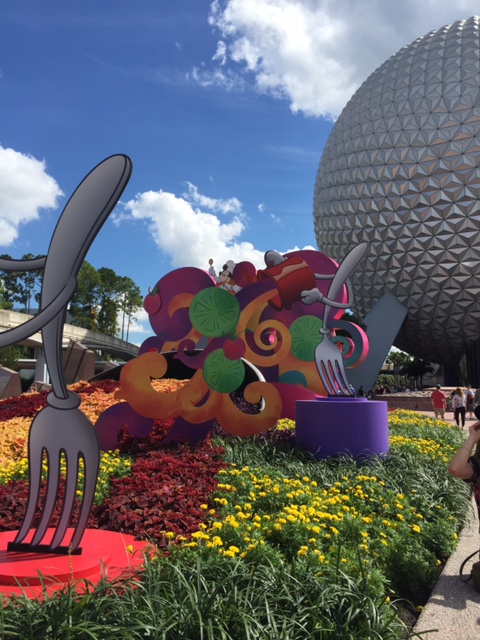 3.  A Seared Sea Scallop, Some Garlic Shrimp and Griddled Cheese – All were absolutely wonderful!  The scallop was from Scotland, the shrimp from Australia, and the cheese from Greece.  Oh, the FOOD!  These were among our absolute favorite flavors.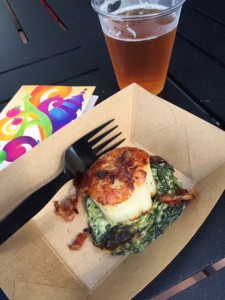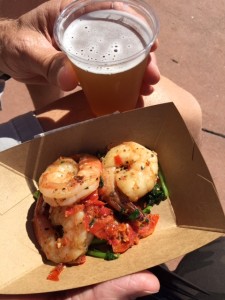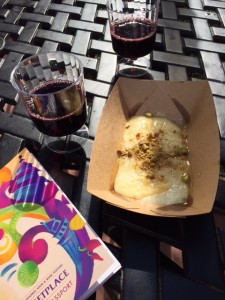 2.  Meeting Duffy the Disney Bear (and lots of other fun folks!) – Sounds weird, the Duffy thing, I know!  We knew where Duffy would be on the Mexico-side of the World Showcase's entrance since we saw him posing for pictures there in May.  I can think of no way to soften this – our kids loathe, detest, and despise Duffy.  So, being the loving parents that we are, we decided even before we left home for vacation that we needed to have our picture made with Duffy to send to the kids!  The joke was really on us – Duffy was hilarious and super sweet!  We loved Duffy in his cute little pumpkin outfit.  Sigh.  That Duffy!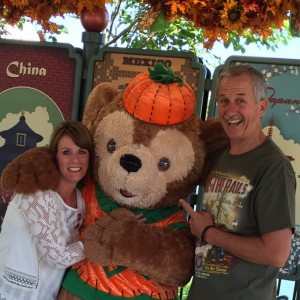 1. Crispy. Pork. Belly.  Just say it out loud once or twice and imagine how delicious it sounds… guess what?  It tastes even better!  This, we did not share.  You want to know how to stay married to the same person for 25 years?  Know when NOT to share.  Each of us had our own serving of this incredibly decadent Brazilian delicacy.  We may have made a couple of yummmm sounds, but we ate in companionable silence.  And were happy.