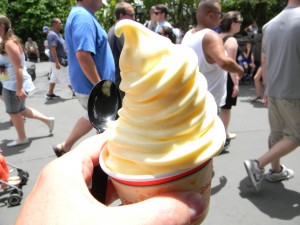 I did extensive research to come up with this list of food!  See, no sacrifice is too great for you and I'm carrying around a few extra pounds to prove it.  I made the most of the two-weeks-worth of Disney food consumption opportunities I had in 2014 and now organizing my thoughts on my favorite flavors and experiences is more challenging than I thought it would be.  Since we rarely eat out for breakfast (we bring granola bars from home), listing foods by meal is out.  I'm going with four categories:  Quick Service, Table Service, Snacks, and Food & Wine Booth Foods.  This is going to be fun!  Surely I'm not alone in the fact that when I think about Walt Disney World, I think about food first!
Best Walt Disney World Foods of 2014
Quick Service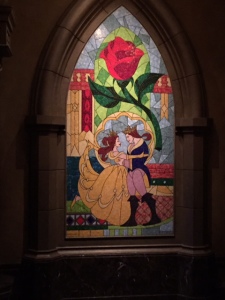 Overall Experience:  Be Our Guest (Magic Kingdom) – While I was not thrilled with the French Onion Soup or dessert, I was completely happy with the hearty and delicious braised pork (with mashed potatoes and green beans).  Beauty and the Beast is my favorite Disney movie and the details in Be Our Guest take you right into the movie in a way only Disney magic can create.  This restaurant offers quick service for lunch and table service for dinner.  After trying both, I highly recommend lunch over dinner.
Runner Up: Gaston's Tavern (Magic Kingdom) – The roasted pork shank is incredibly delicious.  The décor is pure Gaston!
Table Service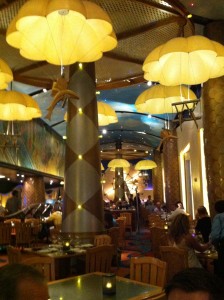 Overall Experience:  Flying Fish Café – the food and service stand out above all the other places we enjoyed this year.  And that's saying a lot!  We certainly enjoyed our dinners at Sanaa, Citricos, and California Grill, but there was something special about the Flying Fish.  We loved the location (on the Boardwalk), the atmosphere in the dining room, and the top shelf service.  The food was delicious.  From the artisanal cheese appetizer to the decadent chocolate dessert (with bacon on top!), everything was perfect.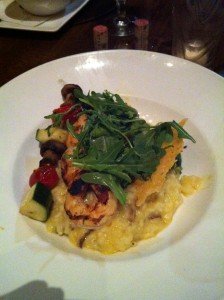 Runner Up:  Raglan Road – a perennial favorite for the food, atmosphere, and entertainment.  This year's visit was especially outstanding.  Not a place for a quiet meal, it's a little rowdy and a lot of fun.
Snacks – I consumed a LOT of snacks!  Strictly for research purposes.  It had to be done and I was up to the challenge.  Here are the winners!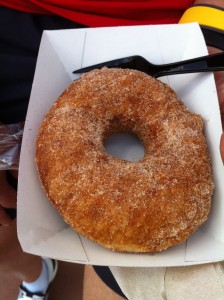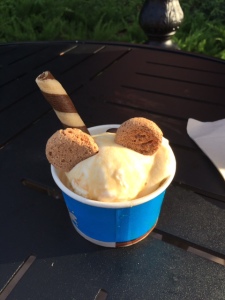 Sweet Snack (It's a TIE!):  Croissant Donut (a.k.a. Cronut) from Epcot's Refreshment Port and Espresso Gelato "Affogato" from the Italy Pavilion.  I couldn't choose a favorite between these two.  I loved them both the same.  One's a warm, flaky, cinnamon-sugar-covered morsel from heaven.  The other's cold and refreshing with a punch of espresso and cookies on top!  I'll have to try them both again on my next visit to Epcot and see if that'll break the tie.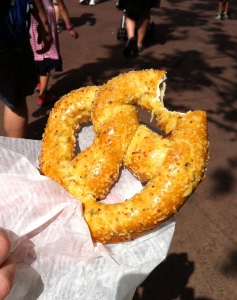 Savory Snack – Jalapeno Cheese Pretzel:  We enjoyed this surprisingly delicious treat in Animal Kingdom.  The blend of flavors was just right to make it a perfect salty snack.
Food & Wine Booths – We tried as much as we could and loved nearly everything we ate.  There were many more winners than losers in our taste-testing and not a single dish went unfinished.  Picking ONE best dish is very difficult, but if I have to…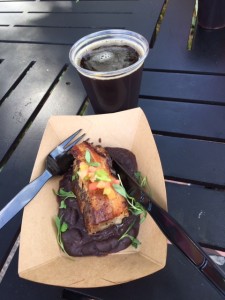 Brazil's Crispy Pork Belly – If you read about our experiences at the Food & Wine Festival, you'll remember how much we loved this treat.  A nice bit of "bacon" served on a bed of black beans.  Simple yet scrumptious.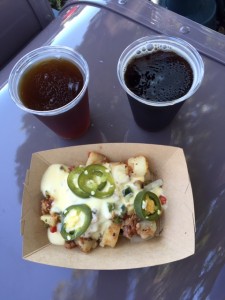 Runner Up:  Pepper Bacon Hash – are you sensing a theme here?  Maybe I'm pork-deprived in my everyday life.  This dish from the Farm Fresh Booth tasted like something you could make at home.  It combined hearty potato and bacon hash with a rich and creamy hollandaise sauce, then topped it all with a few jalapeno slices.  It was rich, a little spicy, and a lot delicious!
Have you tried any of my favorites?  What foods did you like best in 2014?