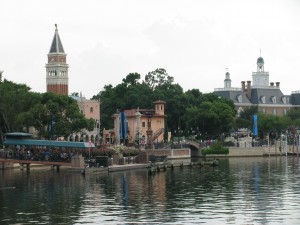 I can't even begin to imagine the calories, the cash, and the intestinal fortitude it would take to sample all the special dishes at all the food booths at this year's Epcot International Food & Wine Festival.  Think about it – there are more than 60 foods to choose from!  For our week at Walt Disney World in October, we're committed to trying a decent number of different samples, but we had to have some semblance of a plan (it's me, I'm the obsessive planner).
Because I will eat anything (Honest! With the exception of tuna casserole and black licorice) – I'm not at all a picky eater.  Raymond?  He's much more selective about food.  Much better now than he used to be, when we got married 25 years ago I only needed to learn how to cook five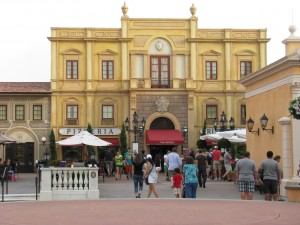 things and he was completely happy.  We've both come a long way since then – my cooking and his palate have both seen vast improvements!  Still, I thought it best for Raymond to peruse the food choices (all 60+ of them) and pick a top ten – a goal, if you will, for us to start with as we make our way around the World Showcase during the festival.
I'm pretty optimistic we'll get to all ten, so I've thrown in a couple of my own to round out the selection to an even dozen.  Note:  We are highly gluten tolerant omnivores.  Here are our picks!
1.  Australia – Garlic Shrimp with roasted tomatoes, lemon myrtle and rapine (a.k.a. broccoli rabe).  For a first choice, I have to applaud Raymond's bravery – I had to google lemon myrtle!  This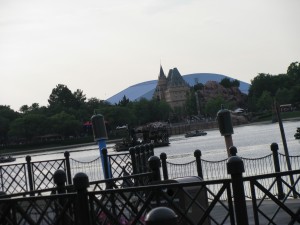 sounds completely delicious to me.
2. Brazil – Crispy Pork Belly – seriously…say it out loud now, "Crispy Pork Belly" – just saying it tastes delicious.  Can't find fault with that choice!  (Good job, Honey!)
3. France: Boeuf Bourguignon: Braised short ribs in cabernet with mashed potatoes.  Sounds like another winner.  In fact, this recipe was on my 2014 Disney New Year's Resolution list and I haven't gotten around to cooking it yet – this will let me find out how it's supposed to taste!
4. Greece – Griddled Greek Cheese with pistachios and honey.  This sounds amazingly delicious to me.  We are cheese people!  And, living in the South, we love our vittles griddled.
5. Hops & Barley – Baked Lobster Alfredo.  Let us pause for a moment and consider the potential for happiness this dish could provide.  Boy, oh, boy!  It better deliver!!!  The calorie count…no, don't think about it.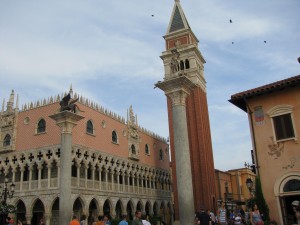 6. Italy – Ravioli alla Caprese:  Cheese ravioli, tomato sauce, mozzarella, parmesan, and basil.  All things we love to eat, but this is one dish I'm iffy on.  It's simple – so it's got to be authentic and really fresh.  We'll see, won't we?
7. Morocco – Spicy Shrimp Roll with cilantro and mint sauce.  Well this certainly sounds tasty!  That's two shrimp dishes – we can do a whole compare-and-contrast thing.
8. New Zealand – Venison Sausage with pickled mushrooms, baby arugula and black currant reduction.  Honestly, we all know that a mushroom, pickled or otherwise, will never pass beneath Raymond's mustache.  I'll be polishing those off.  Venison is very popular here in the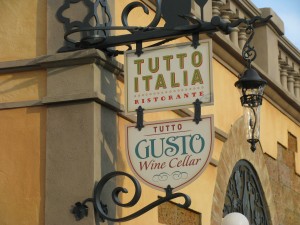 Sportsman's Paradise, so it'll be interesting to see how it's prepared by non-Louisianan chefs.
9.  Puerto Rico – Friturias: Sorullitos (sweet polenta fries) and bolitas de queso (cheese fritter with mayo ketchup).  Polenta's a LOT like grits (which we eat every week at our house) and we've already confessed our love of cheese.  This ought to be amazing!
10. Scotland – Seared Sea Scallop with spinach-cheddar gratin and crispy bacon.  If Raymond hadn't picked this one, I would have waited in line all by my lonesome for this dish.  This is one I'm not going to want to share.
The next two are all mine, baby!
11. Hawaii -Kālua pork slider with sweet and sour Dole® Pineapple chutney and spicy mayonnaise.  Boom!  How can you go wrong with that?
12. Italy – Filetto di pollo, con funghi al marsala: Chicken tenderloin, cremini mushrooms, marsala sauce and ciabatta bread.  Ah, Italy – the source of all my most beloved foods!
What do you think?  Enough?  Too much?  Have you tried any of these and hated them?  Save us from ourselves – if you have intel, speak up and leave a comment!
Yikes – we haven't even thought about beverages!  There's a certain beer flight at the Farm Fresh booth I've gotta try!
The Disney Food Blog's excellent Festival coverage is here.