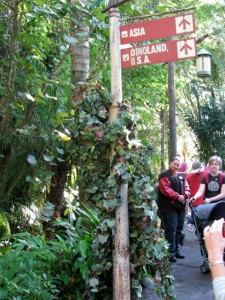 I'm always talking about the special things that Disney does that they don't have to do.  Would I still have a super fantastic time riding Spaceship Earth in Epcot if I didn't smell Rome burning?  Sure.  Would I still be thrilled by Rock'n' Roller Coaster if the limo's license plates weren't completely awesome?  You betcha!  Would anyone even notice if the sound of chainsaws and trees falling was missing from the queue for Kali River Rapids?  I think not.  See?  You get the idea, right?  One of the absolute best things about a Walt Disney World vacation is all the little things you can see, feel, smell, experience – that Disney doesn't even have to do!
If you've run from attraction to attraction at Disney's Animal Kingdom park, you may have missed one of the truly special details of the Disney-doesn't-have-to variety.  If you've considered Animal Kingdom a (gasp!) half-day park, you may have left too soon.  Disney's Animal Kingdom is a park best experienced more slowly rather than in a rush.  Strolling rather than power-walking, meandering rather than bee-lining, if you will, opens up opportunities one may never have considered.  Specifically, I'm talking about DiVine!
Surely you've at least heard of DiVine, right?  She's incredible, unbelievable, unpredictable, a real treasure!  You won't see her if you rush – she hides in plain sight, but often goes unnoticed.  She's part of the surroundings, blending, chameleon-like into the abundant vegetation.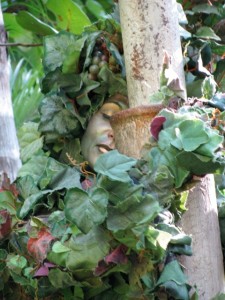 DiVine is…well, a vine.  About ten-feet tall!  Vibrant green leaves, slender, delicate limbs, a slow, creeping gait – DiVine is much more flora than fauna, but she's as alive as she can be and completely amazing.
Next time you find yourself rushing down the path from Asia to Africa (or from Africa to Asia), slow down.  Take a look around – check out the scenery, particularly the lush, tropical foliage. See a slight movement?  Look a bit closer….
Have you met DiVine at Disney's Animal Kingdom?  Were you trying to find her or did she take you by surprise?