When I was growing up as a city girl, 12 acres was a lot of space.  Having spent the last (almost) 30 years surrounded by Louisiana farmland, 12 acres now seems pretty small.  It's about the size of 9 football fields and also the size of Animal Kingdom's new land.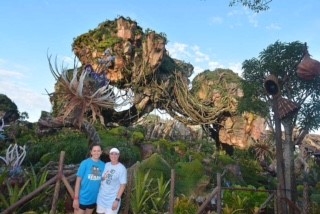 Disney's Pandora – World of Avatar – First Impressions
Exploring Pandora was the basis for our Mother/Daughter Disney Summer Road Trip and we made sure we'd have plenty of time to see and do everything this new area has to offer.  Okay, except the face painting.  We're not exactly into face-painting (unless you count Snapchat filters).  Add the June Florida heat and face painting was definitely off the table.  Aside from that, we managed to at least sample all Pandora had to offer.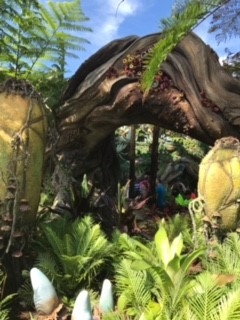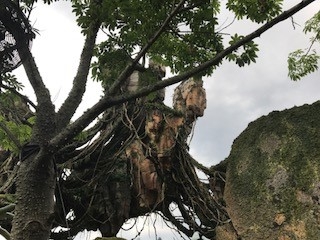 What we noticed immediately was that in Pandora, there's a lot going on.  The land is wild and overgrown around a collection of worn down buildings and abandoned equipment.  Lush and colorful landscaping, water features, and pathways surround Pandora's attractions, gift shop, restaurant and beverage counter.  Nothing feels mass-produced.  In fact, the accessories and decorations are decidedly handmade.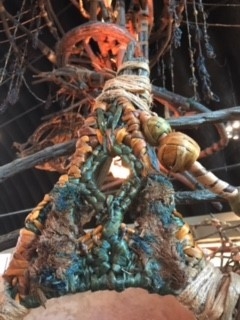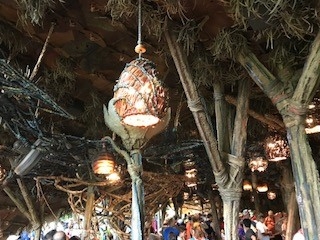 There are a variety of interesting lanterns and light fixtures that add to the natural feel of the area.  Plants unique to Pandora are interspersed with more recognizable foliage.  In the Disney way, large and small details work in harmony to create a stunning effect.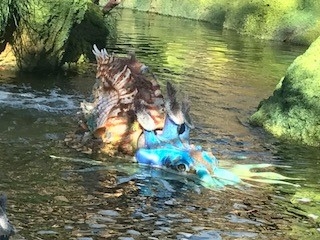 Aside from the amazing visual impact, Pandora offers guests a symphony of sound.  The abundant waterfalls create a constant background for the unfamiliar sounds of what I'm guessing are the (unseen) insects, birds, small and large animals of Pandora.  This particular detail, the unusual sounds, enhances the impression of being on a foreign planet.  It's pretty darn cool!  There's also a drum circle with several different drums and other percussion instruments for guests to play and those sounds add even more depth to what guests hear in Pandora.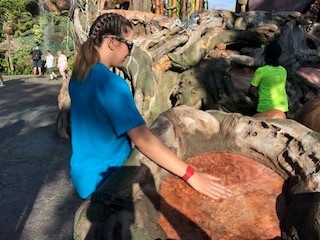 Enjoying the luxury of having lots of time, Megan and I took a leisurely approach on our explorations.  We were able to meander along the different walkways and bridges.  Looking up and down as we walked along, we thought the floating mountains looked most impressive from the area directly beneath them and managed to locate at least one Hidden Mickey.  We rode both the Na'vi River Journey and the Flight of Passage, we had breakfast in the Satu'li Canteen, tried the green beer from Pongu Pongu, and gave the Windtraders gift shop a good bit of our attention (and money).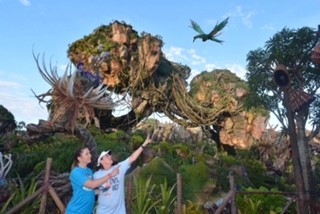 Pictures don't do it justice!  Pandora is a feast for the senses and did not disappoint.  Fans of Avatar, the movie, are sure to be pleased by the overall experience and fans of Animal Kingdom should be satisfied by the new land's conservation and preservation messages.  If you haven't seen Avatar, I recommend you watch the movie before you go to Pandora if for no other reason than to appreciate how the Na'vi people, plants and animals from the movie are duplicated in the land.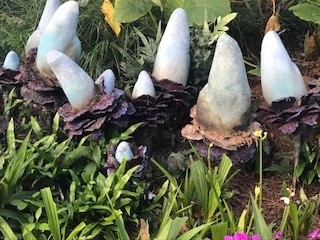 Have you been to Pandora yet?  What did you think about the area's details and attractions?  What do you want to hear about next?  Na'vi River Journey?  Flight of Passage?  Let me know and I'll get right on it.