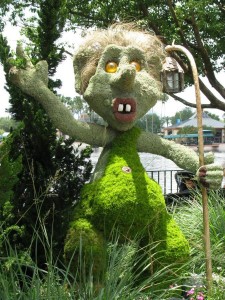 Epcot's Norway Pavilion
Situated between Mexico and China and designed to look like a Norwegian village, this little corner of Epcot's World Showcase is an absolute gem.  If you happened to read my post about a certain hat from the Norway pavilion, then you know how near and dear we hold this particular area of Epcot.  What is it about the Norway pavilion?  I'll tell you…
Five Great Things about the Norway Pavilion in Epcot:
1.  The Norwegian Cast Members – As far as we can tell, Norway's citizens are among the kindest, most attractive people on Earth.  Every Cast Member in Norway is easy on the eyes and very engaging.  We've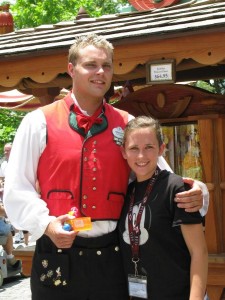 been charmed by their ready smiles and willingness to answer all our questions about their homeland.  I don't know about you, but pretty much everything I know about Norway I learned in Epcot.  I adore their costumes especially.  They're a representation of traditional Norway folk costumes called bunad.
2.  Maelstrom – As far as World Showcase attractions go, this one's a winner.  Board a Viking ship and learn all about Norwegian folklore as you sail the Scandinavian seas.  This log-flume dark ride holds more than a couple of surprises for guests of all heights and ages!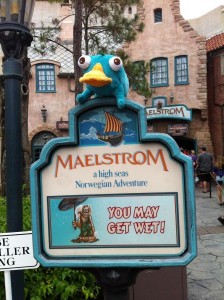 3.  The Giant Troll – Located in The Puffin's Roost gift shop, this gigantic troll has become a "must see" at Epcot.  What's not to love?  The troll is always smiling for pictures.  A bonus is the store's merchandise – a wide assortment of clothing, toys, fragrances, and accessories – not to mention Viking helmets!
4. Kringla Bakeri Og Cafe – Home of the beloved, the famous, the much discussed School Bread.  Go on and give it a try.  Even if you are not a fan of some of the ingredients, you will find when they're combined in this particular way, they are magically transformed into a delectable treat.  Don't let the fact that it's a coconut covered, cream-filled cardamom bun put you off.  Fans are legion.
5. Akershus Royal Banquet Hall – Need a princess dining experience and want to enjoy wine with that dinner?  Can't get an ADR for Cinderella's Royal Table?  Then Akershus is the place for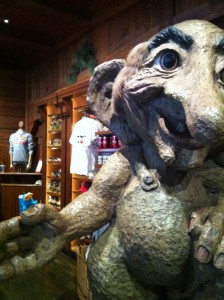 you.  Designed to replicate an actual medieval castle near Oslo, Akershus contains all the right elements to make it suitably royal.  Exposed dark wood beams, huge chandeliers and hanging banners adorn the ceiling.  White washed walls, arched doorways, and heavy furniture all combine to make you feel just like you're dining in the real castle.  Then brace yourself for a princess palooza!  Belle, Aurora, Ariel, Cinderella, Snow White, and even Mary Poppins (oddly enough) may all be on hand for the feast (some or all may appear, princesses may be subject to change without notice).  Dressed in their regal finery, the princesses mingle with diners and offer excellent photo ops for adoring commoners.
Are you a fan of Epcot's Norway?  What's your favorite reason to visit?