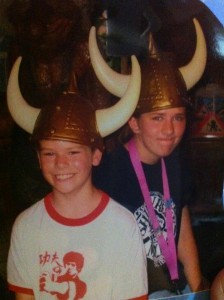 We can't be the only family with, ummmm…let's call it an "odd" Disney vacation tradition.  Yes, I know the usual ones, eating at a particular restaurant every visit, having a certain first-day-at-Disney ride or attraction, always buying a certain type of souvenir like a tee-shirt or a Christmas ornament on each visit.  But what about a tradition of a more unusual sort?
Annnnnd begin flashback: 
During a visit to Disney World many years ago, I thought it would be fun to take pictures of us trying on some of the different hats in the World Showcase at Epcot.  I particularly love all the shapes and sizes of the Viking hat in the Norway pavilion.  Megan?  Not so much.  She'd reached that age – you know what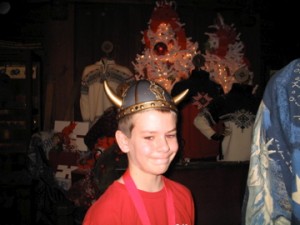 I'm talking about.  So after I coaxed her into posing for a picture with Joseph in THE hat, she made this face – the face that perfectly captured her feeling of "okay, if you make me, but I'm clearly doing this against my will – you are so embarrassing".  I put that picture in our Disney vacation scrapbook and it became the source of much teasing and inside joking at home.
So the next time we were at Disney World, Joseph grabbed a different version of the hat and said, "who am I?" – posing with Megan's same expression!  Then, it just became a family tradition during every visit!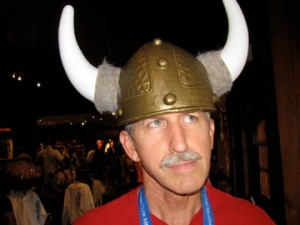 Megan's been a good sport about it because even she can see the humor in how much this hat has come to mean to us.  Well – also the male Cast Members in Norway are notoriously handsome.  Oh, wait a minute *head smack* here I thought all this time Megan wanted to go to Norway for the hat tradition!  Oh, wow.
End result – we have a lot of pictures from Disney World of us all wearing the same hat in Epcot.
What's your favorite Disney vacation tradition?