Walt Disney World offers plenty of choices to grown-up guests looking for vacation libations.  For those of us who like trying new foods and drinks, flights have become a popular way to enjoy adult beverages while sampling new flavors.  From beer and wine to whisky, rum, and tequila, there are options all over the place! (As a mom, I feel compelled to add:  Please drink responsibly.)
Disney Vacation Libation – Flights Around the World
This list is in no way all-inclusive.  Rather like the flights featured, this selection of options is but a small sample of the many choices available in Disney's many pubs and lounges.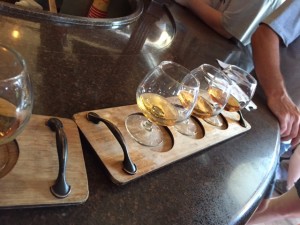 Rose and Crown – I've described in detail the single malt scotch flight in a previous post.  I highly recommend it if you're a scotch fan and currently priced at $20 for samples of Glenkinchie, Oban, and Lagavulin, it's a pretty good value.   The next time we stopped by this lively bar in Epcot's UK Pavilion, we were pleasantly surprised by the rare availability of a table.  Hot, thirsty and with plenty of time to spare, we ordered up a couple of Imperial Sampler beer flights ($12) and sat down to enjoy the atmosphere and tasty flavors of Bass, Harp, Strongbow (cider), Boddingtons, and Guinness – that's five beers to try (5-ounce pours of each).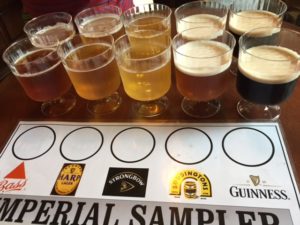 Trader Sam's Grog Grotto – Even if you're not into the specialty cocktails this pub is famous for, Trader Sam's has something for you.  The Kona Beer Flight is an excellent choice (5-ounce pours each of Longboard Island Lager, Fire Bock Pale Ale, and Castaway IPA).  Trader Sam's also offers a Rum Flight which includes 3/4-ounce pours each of Bacardi 8-year, Pyrat XO Reserve, and Ron Zacapa Centenario 23-year.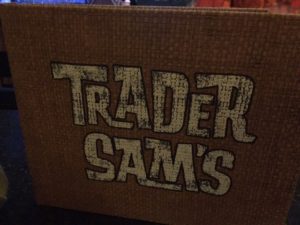 On Our To-Do List…
La Cava Del Tequila – This very popular (but tiny) spot in Epcot's Mexico Pavilion offers a highly touted Tequila flight that's on my must-try list.  Described on the Menu as "La Cava Tequila Flight  22 Casa Noble Blanco, Partida Reposado, and Ambhar Añejo".  I know next to nothing about tequila (except for a few ill-advised shots in college) and I'm interested to learn more.  Per several sources, the best time to visit this establishment is in early afternoon – could be dicey imbibing in tequila that early in the day, but I'm game.
Possibly Extinct…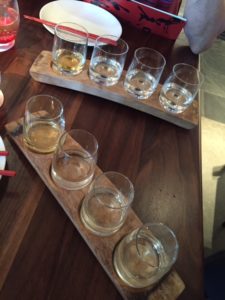 Morimoto Asia – The Sake Flight may be gone now.  We loved this option during lunch last December and now it appears to have disappeared from the menu.  We thought it was a fantastic way to try different sake styles and had planned on a repeat during our Christmas week visit this year.  Maybe they'll bring it back or perhaps if we ask the amazing wait staff will work something out for us.  At about $35 per flight, it was pricey, but we thought it was worth a special treat.
What about you?  Have you tried a flight (or more) at Walt Disney World?  What would you recommend?