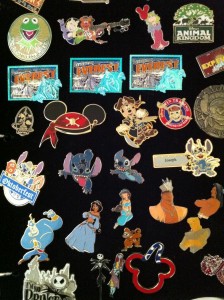 If you've not tried Disney pin trading – It's a great big bunch of fun!  Disney pins make great (and affordable) souvenirs that don't take up much room in your suitcase.  Once you get the hang of trading, pins take on a whole new meaning – they're not just souvenirs anymore!  They become a vacation activity that allows you to meet new people, treasure hunt, and discover new and exciting things about Disney through the enormous variety of pins available. 
Once upon a time The Fam and I were new to pin trading and at first we were a little intimidated – especially at our first pin trading event – there are some very serious pin collectors out there!  If you'd like to give Disney pin trading a whirl, here are my top five tips on getting started: 
It doesn't have to be expensive.  You'll need some starter pins for trading, but you don't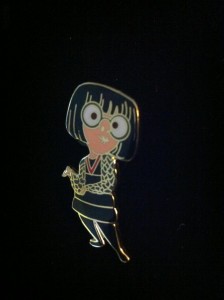 have to buy them at a Disney store.  There are several sellers on eBay and Amazon that offer pins in lots of 25, 50 and even 100 for very reasonable prices.  As with any online purchase, you'll want to buy from well-rated, reputable sellers.  Pin purists may argue that you might end up with counterfeit, bootlegged, or "scrapper" pins, but there are plenty of authentic pins for sale on eBay and Amazon.  I have also found the Disney pin guides on eBay to be very helpful.  A great article here offers other tips for saving money on pins. 
Lanyards are optional.  A lanyard allows you to proudly show off some of your favorite pins and display pins you're interested in trading.  For little ones, it's great to purchase a pin trading starter set – a lanyard and pins sold together.  Wearing a lanyard is very convenient, but not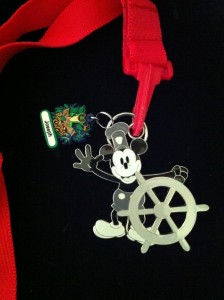 absolutely necessary to pin trading enjoyment.  Joseph's a good example of someone who trades pins from time to time, but does not wear a lanyard.  He just carries a few pins in his pocket so when he sees a pin he really wants, he's ready for trading action.
Cast Members have some of the best pins for trading!  If they are wearing a lanyard, it will have pins displayed that are all available for trading.  You may need to be a bit patient if the Cast Member is performing some important job – there may be a wait for a moment when the pin exchange can occur, but it's worth it.  Cast Members often have unusual pins from other locations (like Disneyland Paris) that can add new variety to your pin collection.  As long as you have an official Disney pin to trade that is not already on their lanyard, the deal is good!  Disney World Cast Members wearing green lanyards only trade with children (age 12 and under) – take advantage of this if you have little ones!
Find and try out a pin trading event.  Even if you don't want to trade any pins, it's pretty cool to see the collections of pins people bring to these meet-ups for pin trading superfans.  You can find event locations, dates, and times at the Disney Parks Merchandise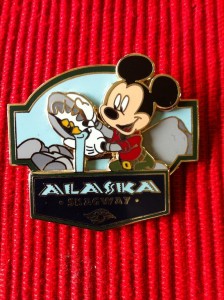 website.
Trading is not just in the parks!  Pins available for trading can be found at Disney resorts – check with the resort's main giftshop for information.  Disney Cruise ships  are also a fun place for pin trading and collecting – Cast Members have pins for trading, onboard pin events are scheduled, and the giftshops have pins to buy and for trading (ask at the counter).  Finally, you can ask your resort bus driver if he has any pins to trade – you might be surprised at the great stashes of pins some of the drivers keep! 
Resources: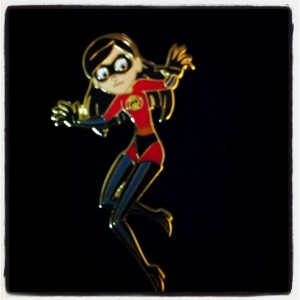 Here are some great Disney Pin Trading articles and tips from others you may find helpful:
Guidelines for pin trading straight from the folks at Disney Parks Merchandise.
Disney Insider has these Perfect Pointers for pin trading.
Disney Pins Blog – everything Disney Pins in one place!
Pin Trading Basics from Laughing Place
Pin Trading Tips from Disney Tourist Blog
Pin Trading Tips for Children at WDW Hints