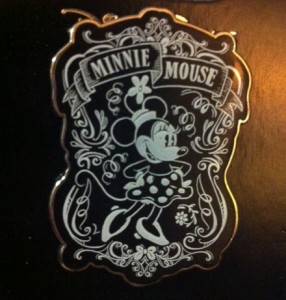 You don't have to be a Disney pin trader or even a pin collector to appreciate what great souvenirs the right pins can be.  Commemorating a special milestone, a beloved ride or attraction, a favorite character – is easy and relatively economical with Disney pins!
We do like to pin trade – as entertainment versus serious hobby.  We love searching out pin boards and books at out of the way locations.  We also like meeting and visiting with Cast Members as we peruse their pin collections.  Mostly, more than anything, each of us loves to find a pin or two that we…gosh, "connect with" is such a weird choice of words here…find meaningful, I guess, would be more what I mean.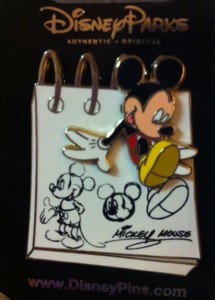 I can't speak for the rest of The Fam, but I can browse rows and rows of pins in stores and spin those pin display racks for a long time and still walk away empty handed.  Then, once or twice during each Walt Disney World visit, I'll see a pin that just grabs my interest!  Maybe it's a particularly cute version of a classic character that I've never seen before.  Maybe it's a double pin set (Doug and Mr. Fredrickson, for example) that is too cute to resist.  Maybe, pins with a certain year on them – seriously, I normally don't care, but this year was an important year in MY life, so having a pin with the year on it meant more to me.  You get the idea.  I love it when I find a pin I'm sure Raymond, Megan, or Joseph would LOVE and I can buy it on the sly and surprise them with
it later – sometimes, on rare occasions, I can curb my enthusiasm enough to hold on to a pin until Christmas and slip it into someone's stocking.
If you've never visited the Disney Pins Blog, it's a really fun place to hang out – even for us casual pin traders/collectors.  I particularly love looking at the upcoming releases of Disney Cast Member pins – I formulate plans for how I may score one or two (or five) on an upcoming trip.
Pins come in singles, doubles, collections, mystery sets, and more.  Currently, though, according to the Disney Pins Blog, the color-coded pricing of general pin stock is as follows:
GREEN = $7.95
RED = $8.95
BLUE = $9.95
YELLOW = $11.95
PINK = $13.95
Think about it – if you're looking for an easy to carry souvenir, a keepsake, a memento – for a maximum of $13.95, you can take home something durable – a lasting, timeless piece of your Walt Disney World vacation to remind you, in the years ahead, of a very happy and special time.
For my tips on getting started with pin trading, read this.  For an explanation of Chaser Pins, check here.  Want to make pin collecting into an adventure?  Read this.
Do YOU love Disney pins?  What's your favorite pin?  What pin do you want to get next?