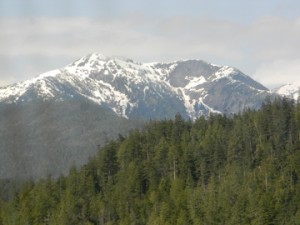 Magical Memory Monday – Skagway! Alaskan Cruise 2011
I can't say enough about how much we enjoyed our opportunity to visit and learn about the great state of Alaska aboard the Disney Wonder.  Skagway was the second of four ports on our cruise.  Our departure was from Vancouver (loved!) before the ship visited Skagway, Juneau and finally Ketchikan (more on those another time).  We also spent a day aboard ship in Tracy Arm Fjord which is a destination (allows you to see the Sawyer Glacier), but you stay on the ship to enjoy it.  We booked excursions in three ports (Skagway, Juneau, and Ketchikan) through Disney Cruise Line, and while all of the excursions were enjoyable, our favorite by far was our adventure in Skagway.
We like thrills, we like action, and only one of us is afraid of heights – so we thought zip-lining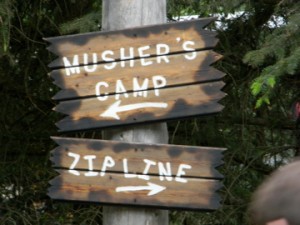 sounded just right for us.   We met with our group on the ship at 8:45 am before heading off on our bus ride which included a short tour of Skagway before taking us to basecamp in Dyea.  The scenery is spectacular and, this may sound weird, but the air is the cleanest, freshest air – more on that in a minute. 
Once we reached the "Musher's Camp" area, we boarded a Unimog for the upward climb to the zip lines.  A unimog is an open air, all terrain vehicle (Mercedes) that gained its fame during World War II.  Along the way, our driver pointed out the abundant sphagnum moss growing in this scenic rain forest –  he told us that sphagnum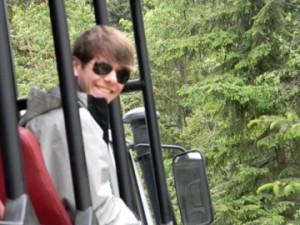 only grows where the air and water are both extremely clean.  So as we rode in the chilly air, we all stuck our faces out into the breeze and took deep breaths of the clean air – heading up, up, up towards our ELEVEN zip lines and four suspension bridges which would take us over glacier fed waterfalls and rapids in the incredible wilderness.  FYI:  The moss is extremely think and spongy on the ground – you can actually bounce on it.  If you ever find yourself standing on moss in the Alaskan rainforest, give it a try.  
First we were given our equipment (harnesses, helmets, and gloves) and received an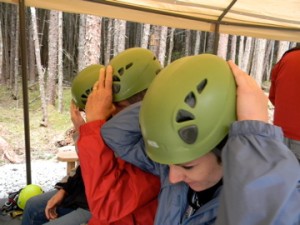 instructional lecture before practicing on the training line.  This line was short and low to the ground – easy.  We were ready!  Our small group consisted of the four of us along with a mother and her tween-ish son (also from our cruise).  Our two guides, young men both with a great sense of humor, were from other parts of the U.S., just summering in Alaska to work as zip line guides (we thought that sounded like a lot of fun).
The longest line was about 750 feet, but all the lines were a LOT of fun.  Megan is a tiny bit afraid of heights so we thought we might have to, well, ummm….shove her off the platform when her turn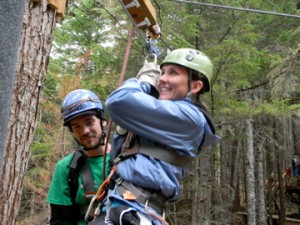 came, but she surprised us all with her bravery!  We all had a fantastic time and would do this excursion again in a heartbeat.           
Mammoth Waterfalls & Ultra Zip Line Adventure – was the name of the Disney Cruise Line excursion when we were in Skagway.  I see the name has been changed to Grizzly Falls Ziplining Expedition.  It is listed on the cruise line's current excursion menu at $169 per person.  If you are booked on an Alaskan cruise, I highly recommend this activity IF you're traveling without children or if your children are at least 10 years old.
Have you ever cruised or thought about cruising in Alaska?  I'd love to hear about it!